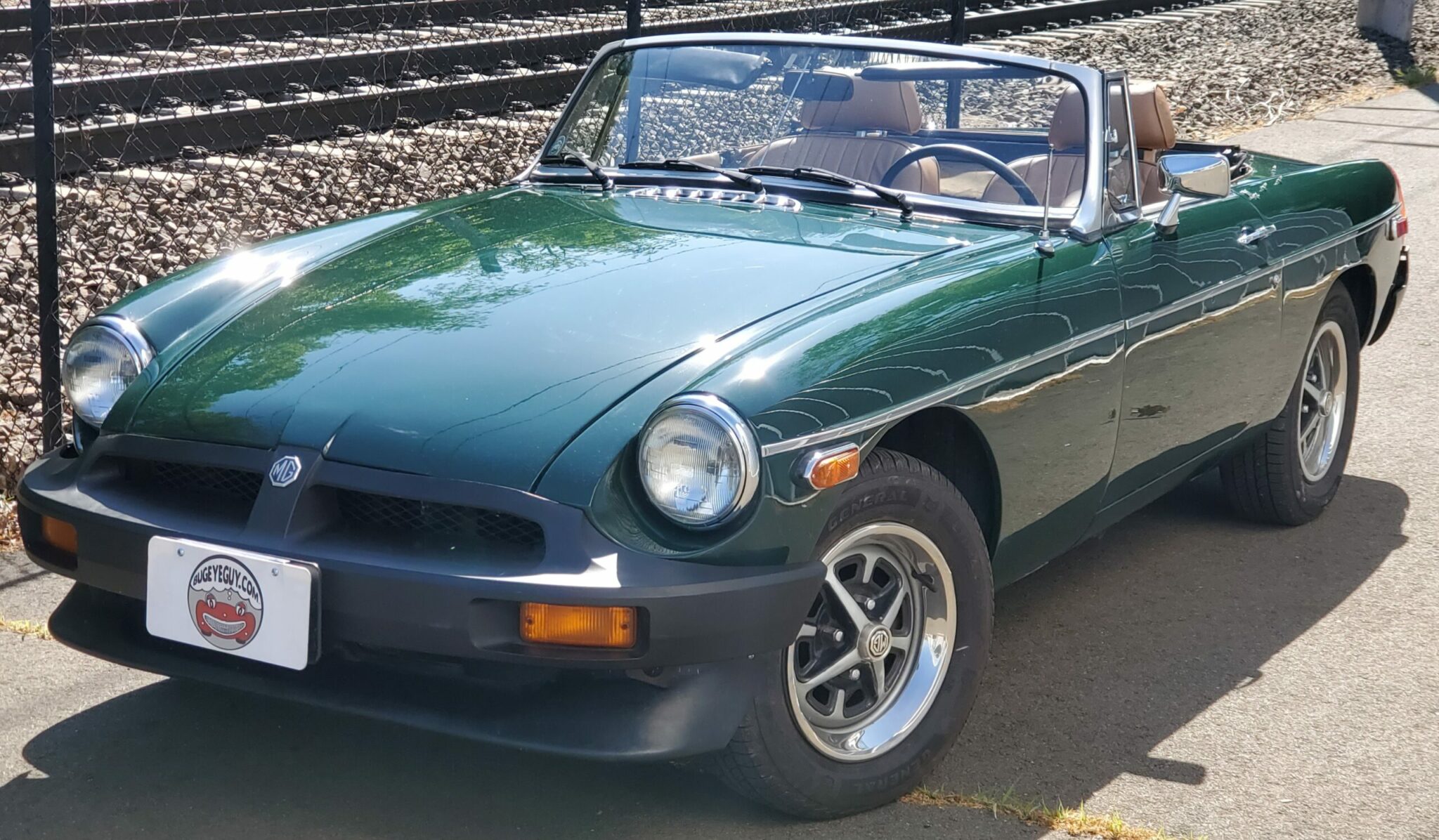 Now SOLD to Bill in Washington State! This awesome car is geting some interior improvements and headed to the PNW!
If you are looking for a fun convertible to enjoy this summer with overdrive, here's a sweet ride at a reduced price!
"Toby" is among the nicest rubber-bumper MGBs we have come across, and we would love to see this BRG beauty go to a loving home. Toby features all-new reupholstered seats and a low-mileage rebuilt engine with an upgraded Weber carburetor. Ride around this summer in comfort with Toby, now at a special new price of $15,995! Give us a call if you'd like to know more!
"Toby" (GHN5-UH410916G) is a 1977 MGB that came to us from a very conscientious owner who sorted-out all the mechanicals to make this is a really nice MGB that you can drive anywhere! She runs and drives extremely well and the electric overdrive is a dream.
The prior owner had this car for 26 years. He purchased it in in 1997 with about 90K miles on the clock, rebuilt the engine, transmission and overdrive, installed a new Weber carb and recored the radiator. He also addressed any rust on the car and had it repainted at that time. The car now shows about 115k miles, so there are only 25k miles on the rebuilt engine and transmission.
The car is also fit with an exhaust header (and no catalytic converter). The car has a very nice exhaust note.
This is a special car for a lot of reasons. The rubber bumpers allow for an easier time parallel parking than, say, an earlier MGB with lower chrome bumpers. Its larger size makes it easier to get into and out of compared to a Sprite or Midget. The car has a rebuilt engine and has been well-restored.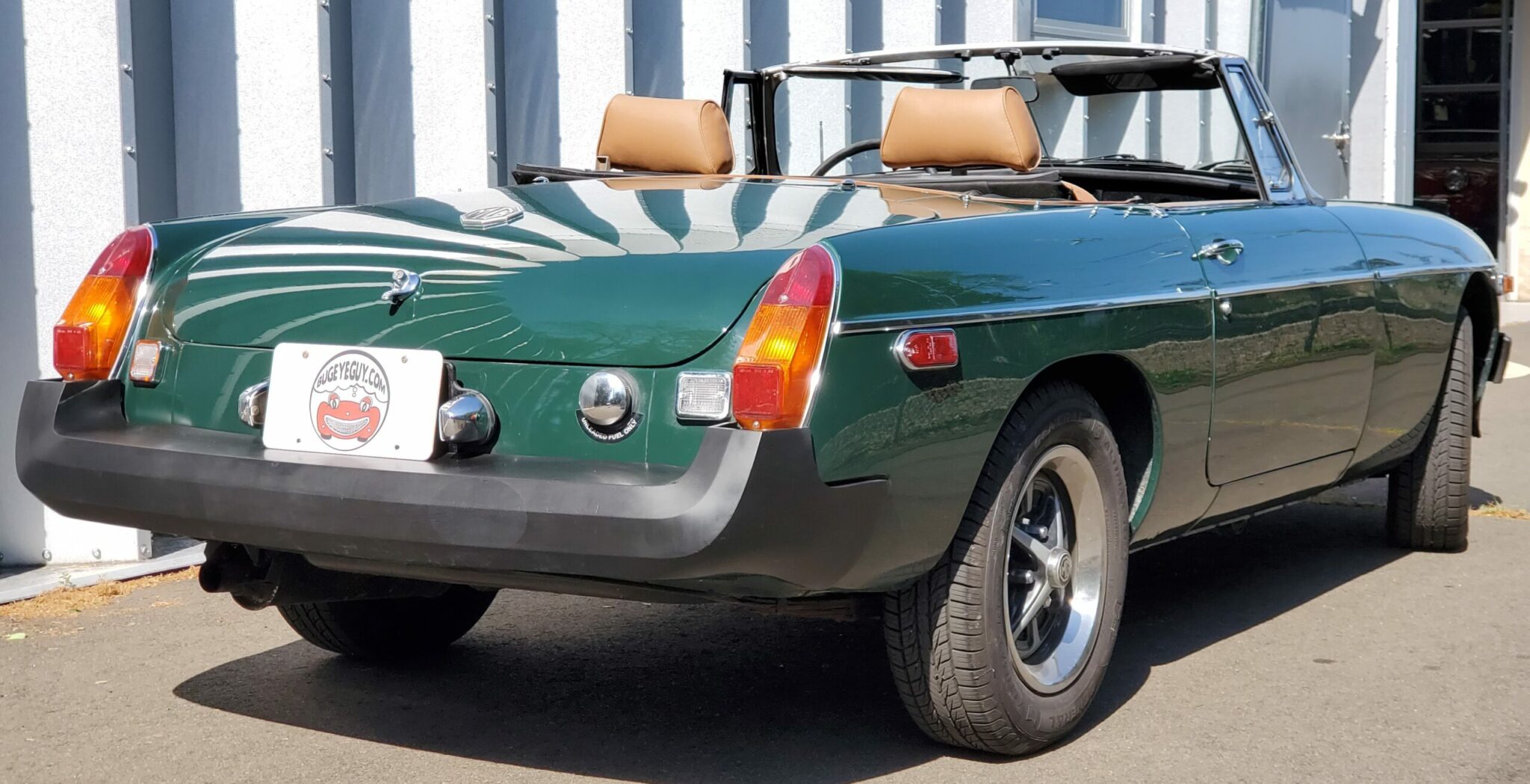 Toby just this week received brand new seats, which are very comfortable and contrast well with Toby's British Racing Green paint. Note that we replaced all the seat components… all new foam and diaphragms reside under the nice new covers, for the most comfortable ride. This car has also been the recipient of a Weber carburetor, a significant upgrade over the factory-original Stromberg carburetor originally installed on this era of MGB.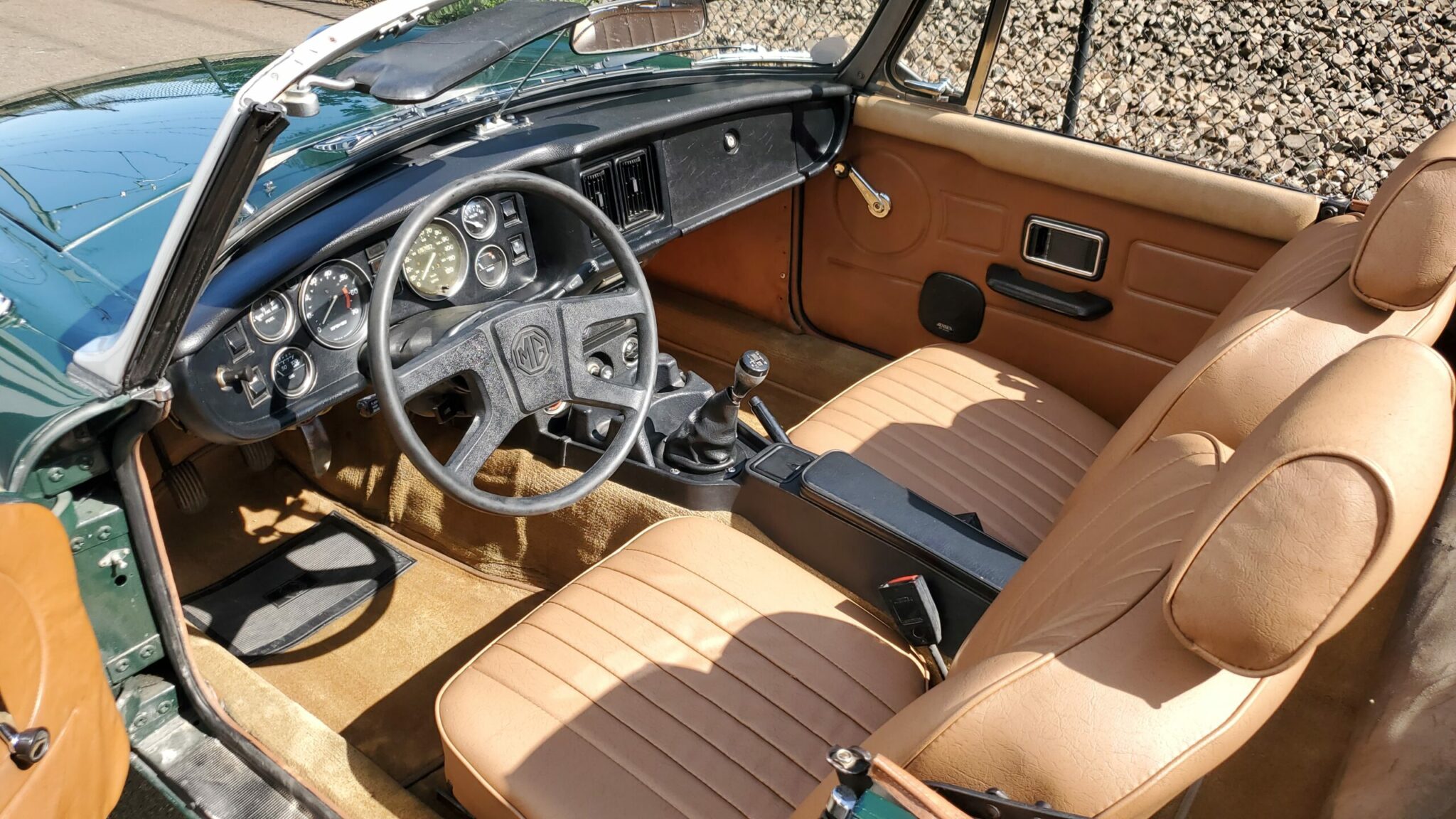 Toby also has electronic ignition, which is more reliable than the original points and condensor. Electric instrumentation means no tach cable, allowing for more accurate RPM readings, and no tube filled with ether to leak and cause the temperature gauge to stop working (as on older chrome bumper MGBs). Toby also has an extra electric cooling fan installed for improved cooling performance, with an additional manual override switch on the dash. The Laycock overdrive unit (operated via a thumb switch on the shift knob) means improved cruising at highway speeds. It's a lot of fun to slide that switch… it makes me smile every time since it's a very nostalgic reminder of the days before paddle shifters were invented. Comfortable and sustained highway cruising are easy with the overdrive engaged.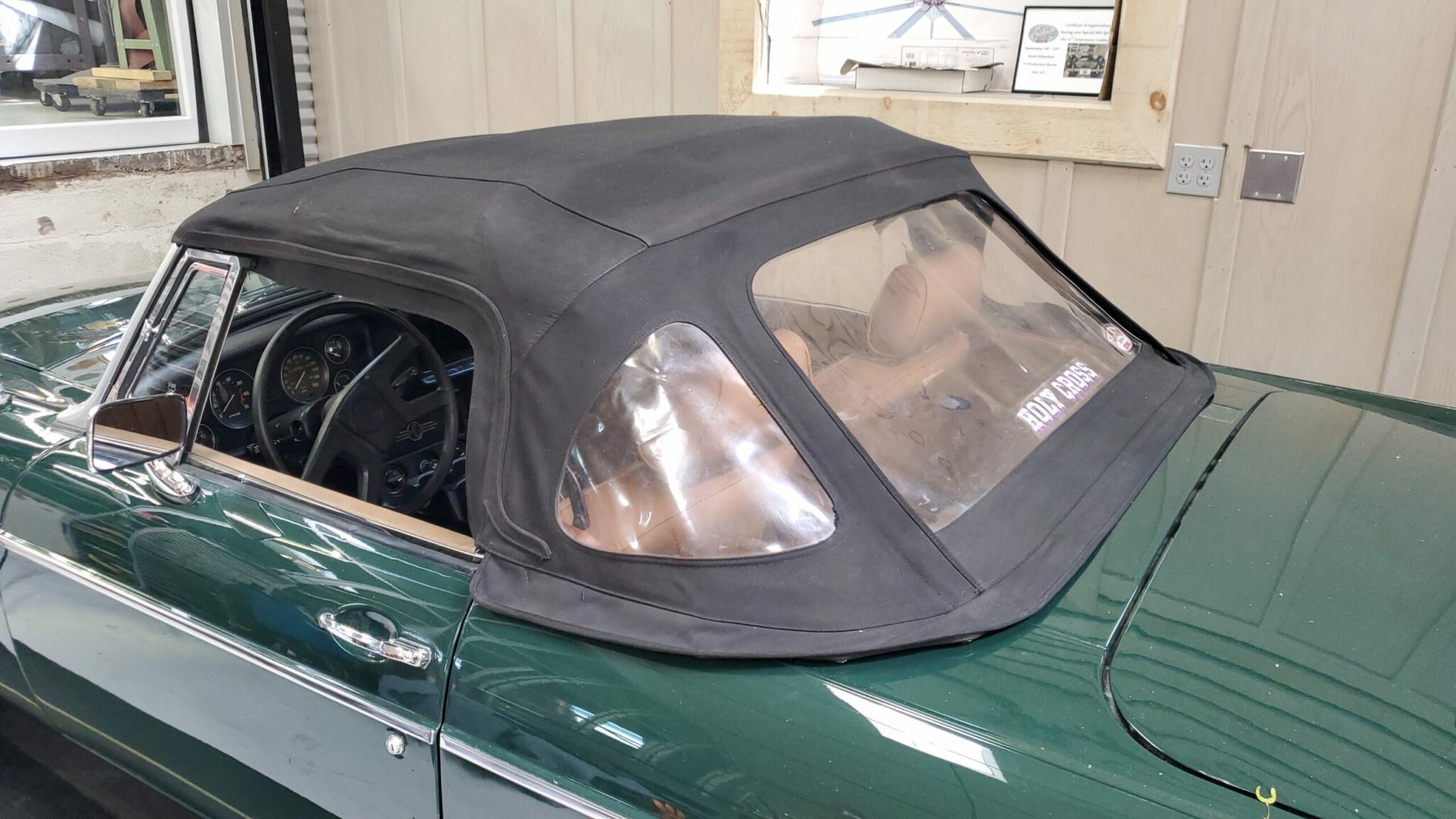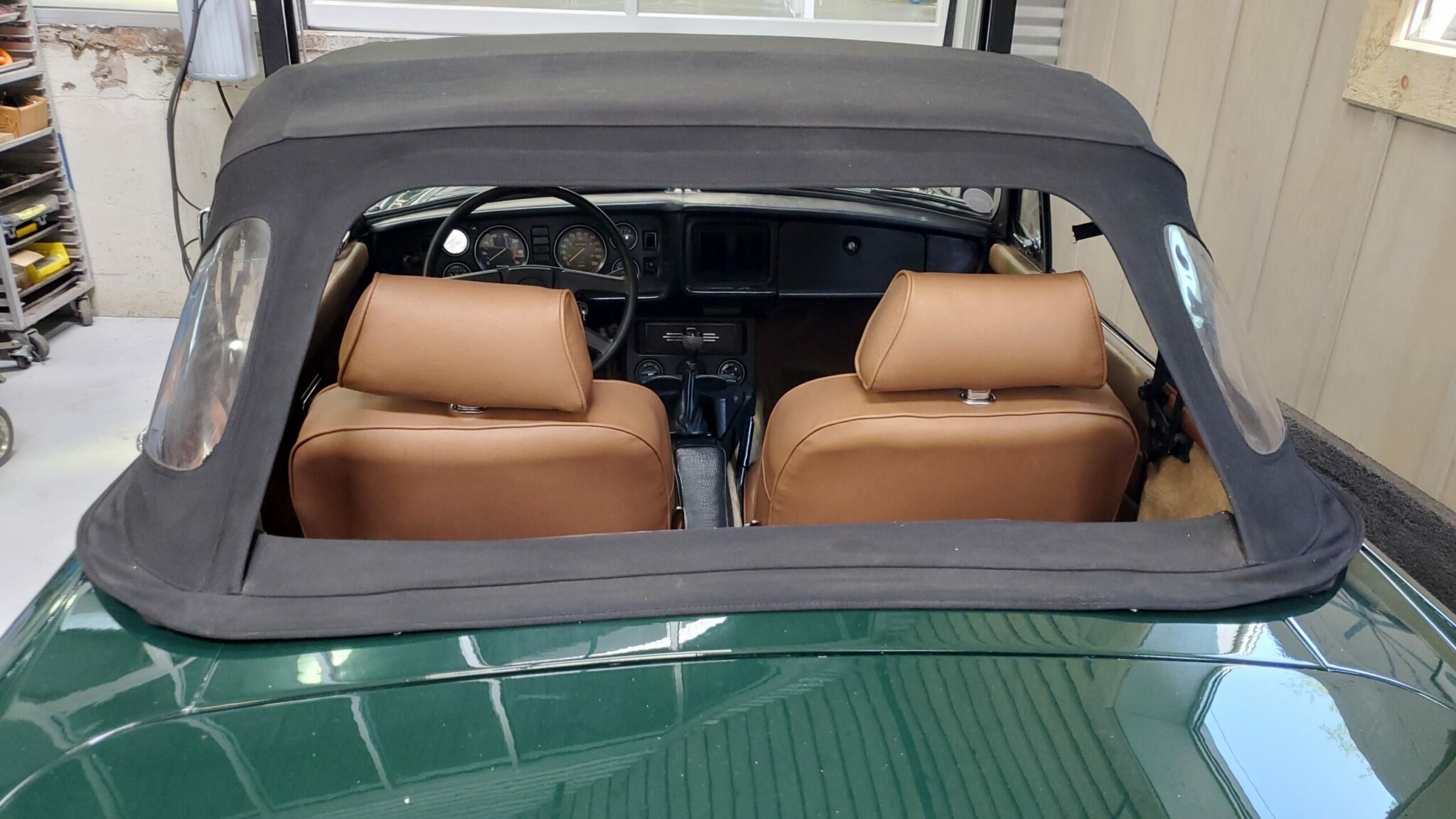 Toby's convertible top is upgraded and premium stayfast material (more like canvas, or what you would find on a Germany convertible). The rear window shows its age but is still a nice top. The top also has an awesome zip-down back window to allow for airflow through the cockpit while the top is up, helping keep the sun off of your head while still being able to feel the wind through your hair (or what's left of it).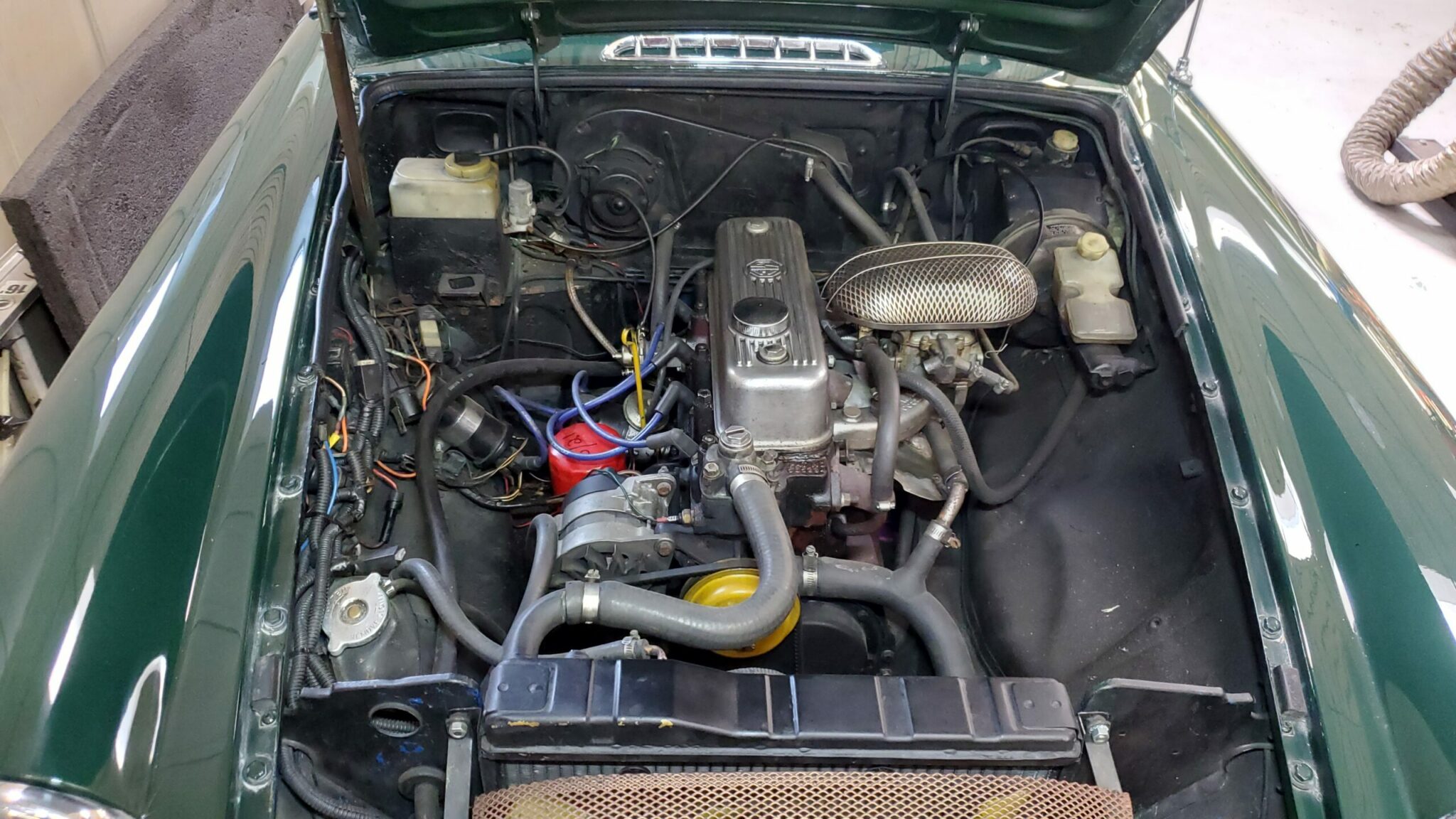 There are a couple of minor things that Toby could use to further make him better. The driver's side mirror is loose and will require replacement, and the add-on manual choke cable needs its bracket secured up under the dash, and perhaps we can replace the rear window on the top, but none of these affect its drivability and we would be happy to remedy these items for Toby's next owner!
Check out the driving video above and give us a call if you want a shiny and sharp overdrive-equipped MGB (in the right colors) this summer! NOTE: Headrests are now new to match the seats, and were removed temporarily only for the video…