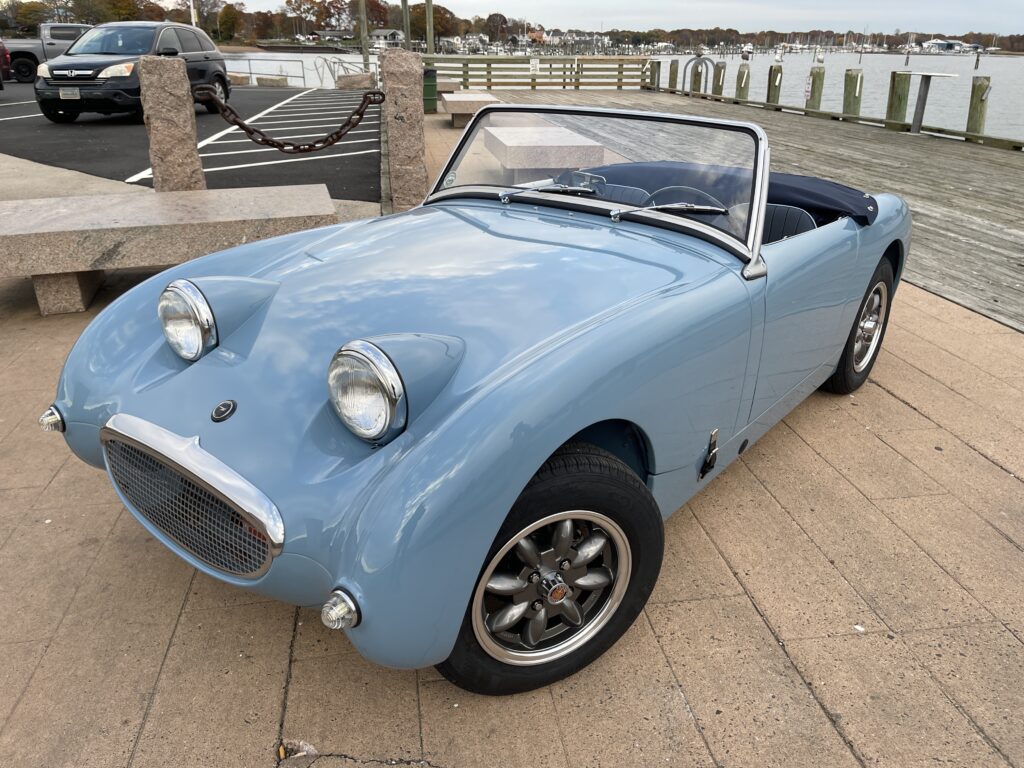 Ever since we got into building and selling classic cars about 17 years ago, we've been trying to build the most reliable Bugeye on the planet to provide a headache-free experience for our customers. This electric FrogE is the closest we've come to delivering on that commitment. I am well aware there are some people out there who are really resistant to electric classic cars in terms of removing what they see as the soul of the car and replacing it with electric components. For those people, we still have many gas-powered options. But for anyone looking for practicality, reliability and ease of operation, this configuration is worth a serious look. While there is no exhaust note, it's so fast and smooth that the extra power is an attractive trade-off for many customers. You can have super speed with electric or super sound with ICE. It's your choice. Regardless, the FrogE gives us one more platform to offer new customers and if it breaks down any barriers to entry, we're all for it. This is one more way to keep these cars alive for generations.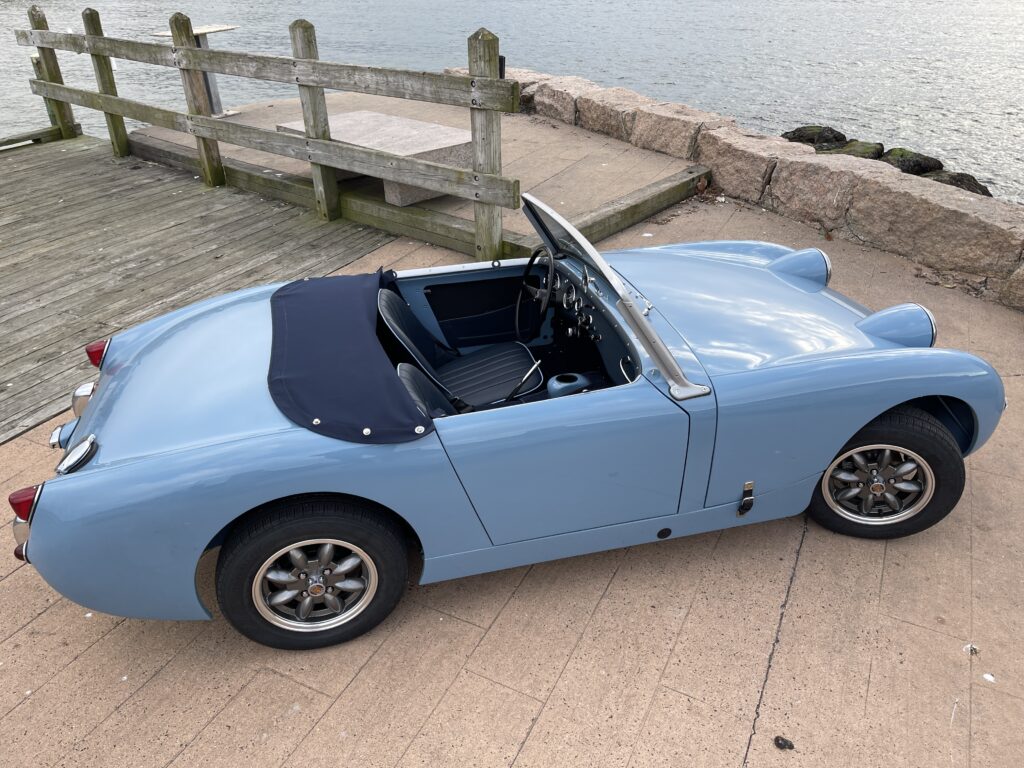 This particular car is the fastest Sprite we've ever built with a 0 to 60 time of 7.29 seconds, which is at least 30% faster than our previously quickest Sprite (which was gas powered). That's fast.
We've completely restored this Sprite from the ground-up and then added the electric components which include five Tesla batteries from a low mileage Model S (that was totaled). These batteries give us 32 kw of capacity which is good for about 95 miles of range if you use the car in a spirited manner (as I have been). If you are conservative on the accelerator, you can probably get more than 100 miles of range. Temperature matters too… if you're in a temperate zone you'll get more range than we're getting right now in 40° fall weather in New England.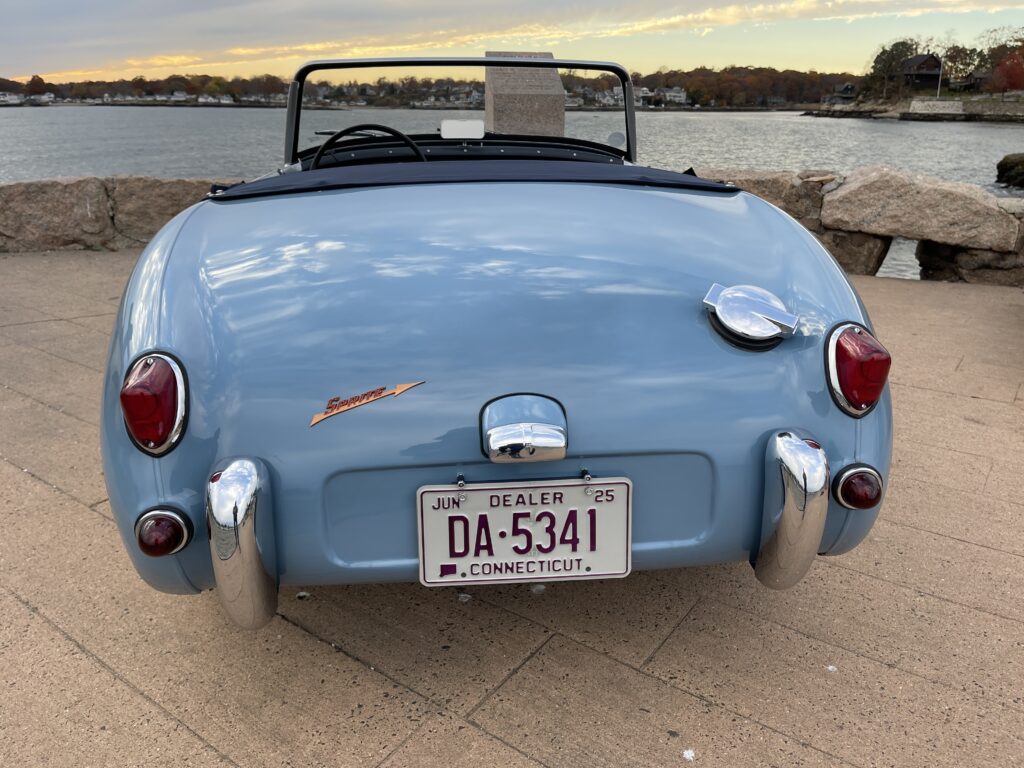 This car is a dream to drive. It has no bad habits and no issues- it just goes (and will continue to go) for a lot more miles than any gas-powered classic car engine will ever go. You will have to maintain the lever shocks (although we have a tube shock conversion that might help expand the longevity), and there are still rear wheel cylinders to wear out eventually (we do have a rear disc brake upgrade that would increase the lifespan of the rear brakes as well) so there is a little bit of maintenance. You'll need new tires at some point (they're brand new now, but they'll eventually age out) but other than that, the motor is bulletproof, so is most everything else!
These batteries should degrade no more than 10% after 10 years and we made the system modular so that in 50 years the batteries can be removed and upgraded or replaced. Other than that, you've got an amazing reliable and consistent platform. All you have to do is charge it and we've made that easy as well with the flip-up fuel cap on the rear deck.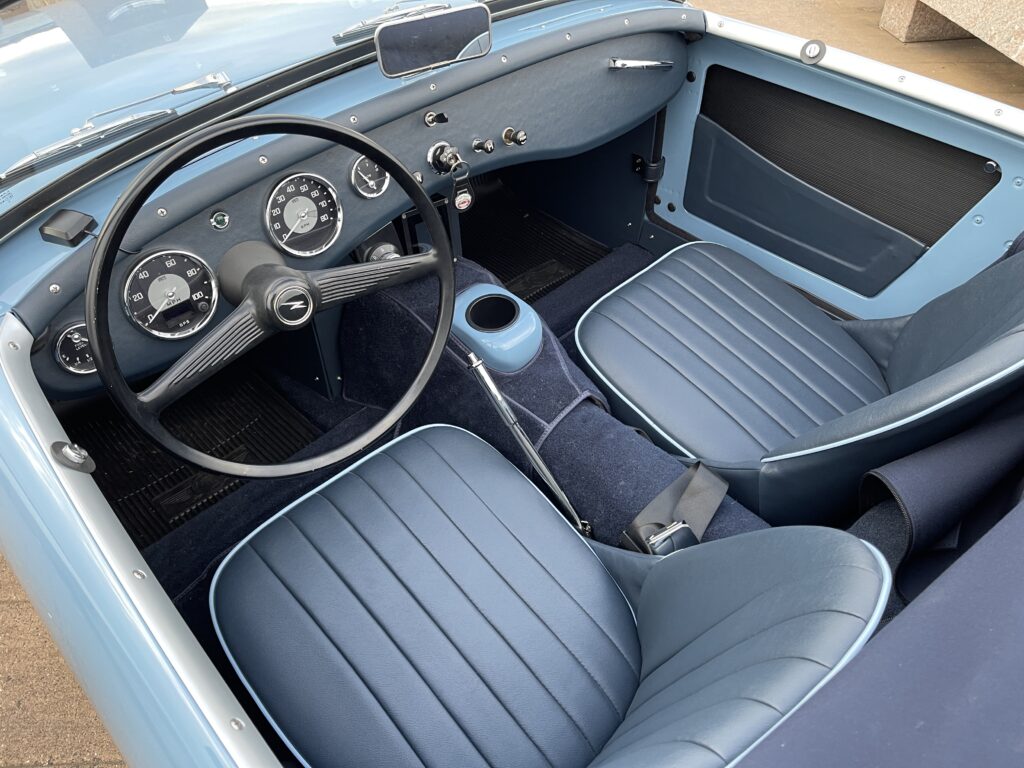 Is this the future of classic cars? Time will tell, but in the meantime, we've got a really impressive way to live with a Bugeye. You can drive it with one pedal. The regenerative braking is impressive and all you have to do is regulate how much you back off as you decelerate for a stop sign to increase or decrease the regenerative braking and alter your rate of deceleration. It's a lot of fun! You don't need the brake pedal often and that will also increase the lifespan of the brake system.
I've become quite a convert; I spend my days driving gas-powered bugeyes and other classic cars, but there's something very refreshing about this electric platform because it feels very low stress and peaceful, especially the traffic lights where there's no fumes and no oil spots on the ground and no vibration and no carburetors to manage there's just a deep well of torque anytime you want.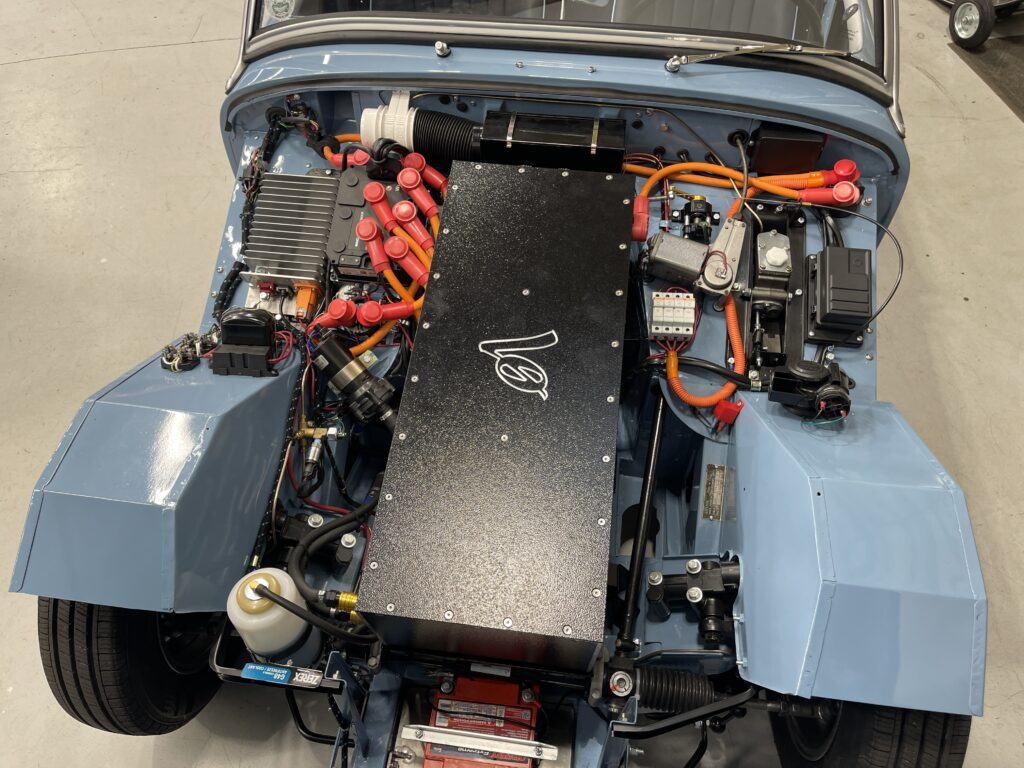 If you're interested please give a call. We are selling E3 and we will also be happy to do a conversion of your classic British car to make it electric powered as well. People ask me for kits all the time and unless you are a highly qualified builder, I don't recommend a kit… it's very difficult to make these work, and we're lucky to have the experience to be able to do that for you. Rather than purchase a kit, I'd encourage you to send your classic to us and we will do the conversion here and leverage our experience to get the job done promptly and safely!
Click "read more" below for a full compliment of pictures and give us a call if you're interested!