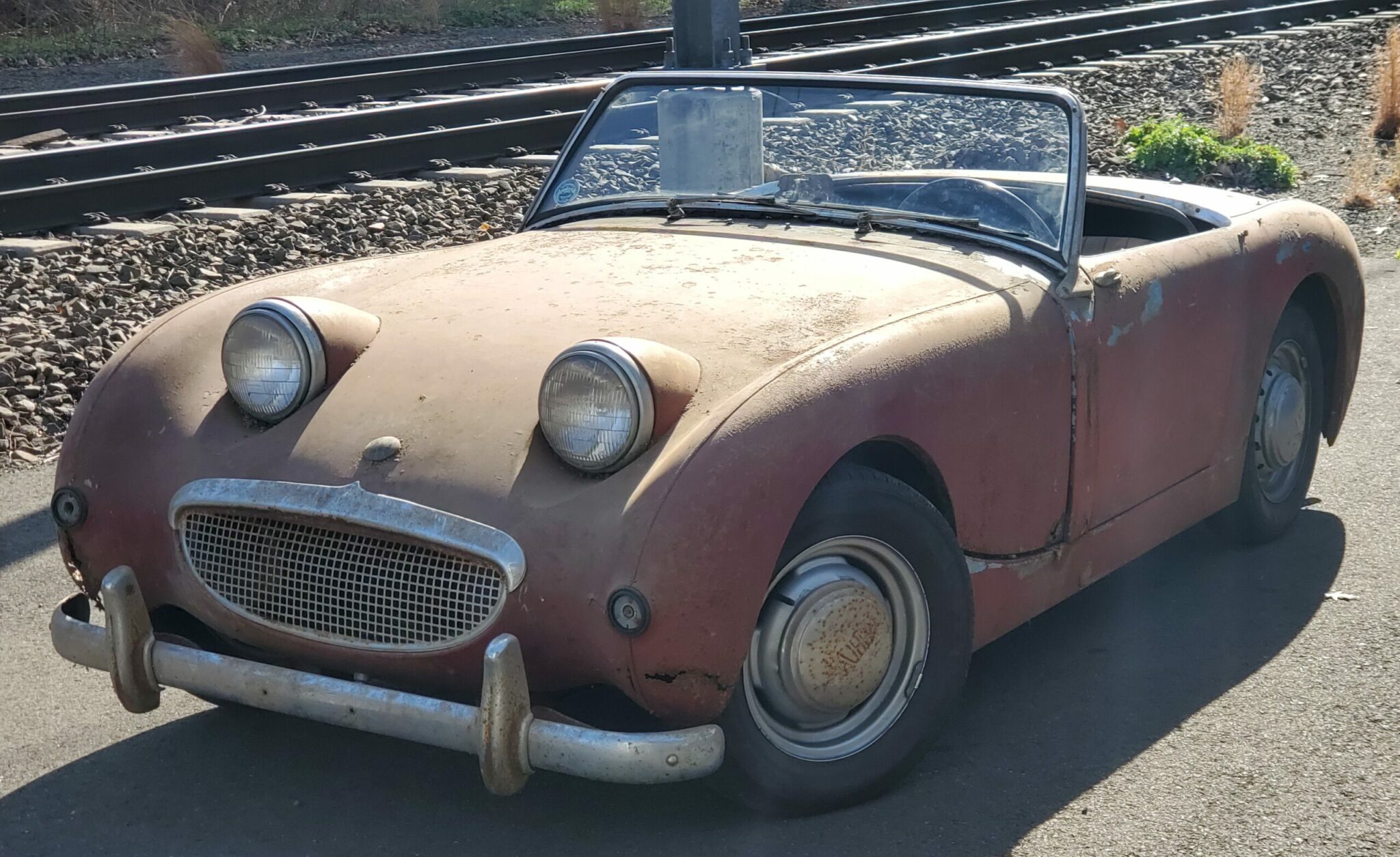 Now SOLD to John in Massachusetts! Bugeye #385 is headed to Cape Cod!
If you're looking for a complete project bugeye, take a look at "Poochie" (AN5L 5716), an early '59 Bugeye Sprite that was originally Iris blue. This is a project car that has been sitting forever and was most recently in storage in Connecticut for the last 25 years, awaiting restoration. The prior owner sold his property this month, so he needed to move this to a new home and we were delighted to retrieve this car and help the Pooch find a new home.
While it will need a complete restoration, Poochie's in better condition than many of the project cars that we've found of late. This is also a relatively early car with the original tunnel mat still in place, and period seat belts similar to the belts we have in Sea Biscuit. There is also a wonderful 8-track player inconveniently mounted behind the driver seat, well worth keeping just as a reminder of how far we have come!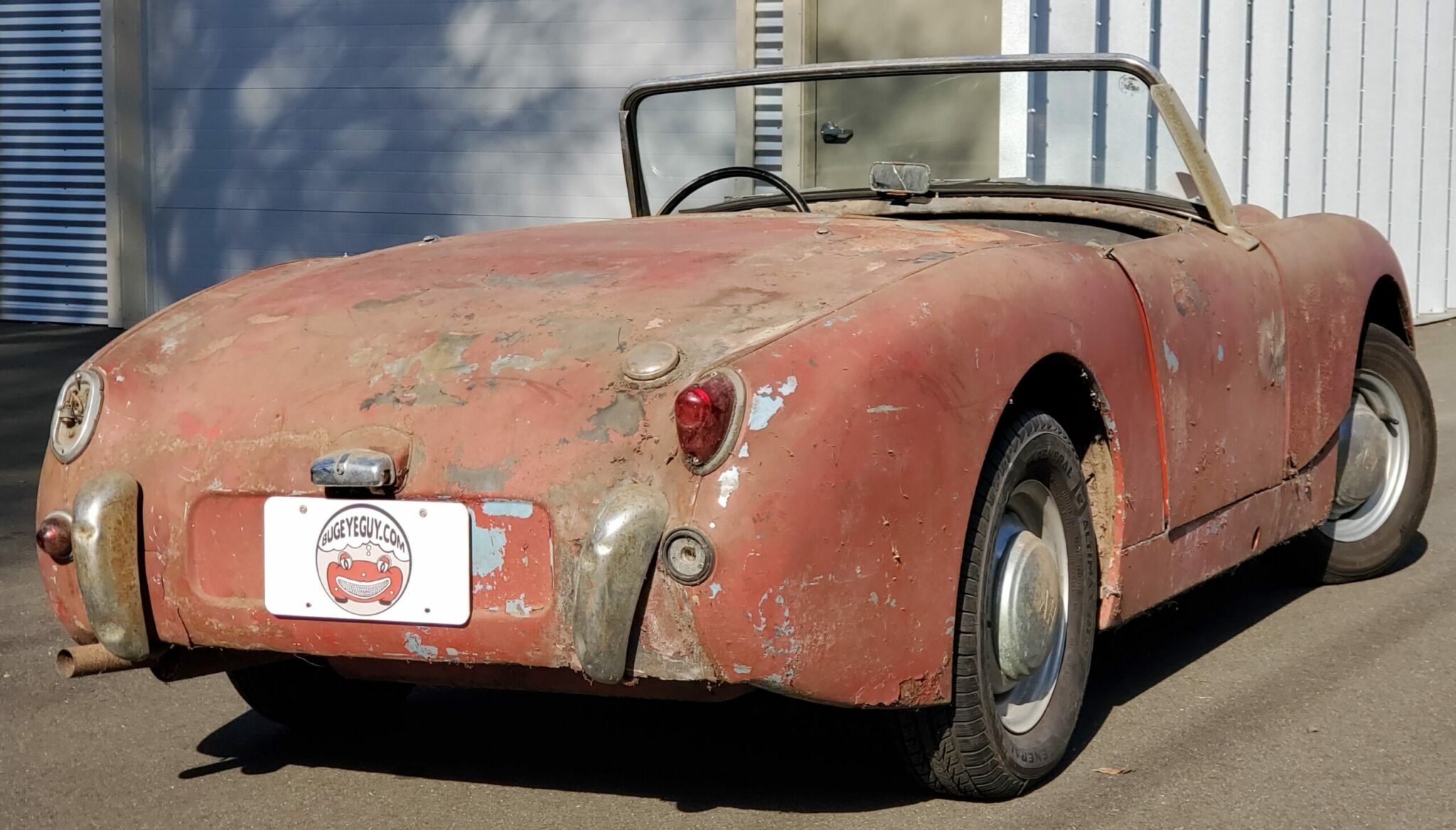 It's becoming more difficult than ever to find a perfect project car, so we just have to deal with the inventory that shows up, and we're delighted to help facilitate bringing another one of these great cars back onto the road.
What's wonderful about this car is that the body has not been bashed and abused; there are almost no dents on the panels and the panels fit quite well throughout.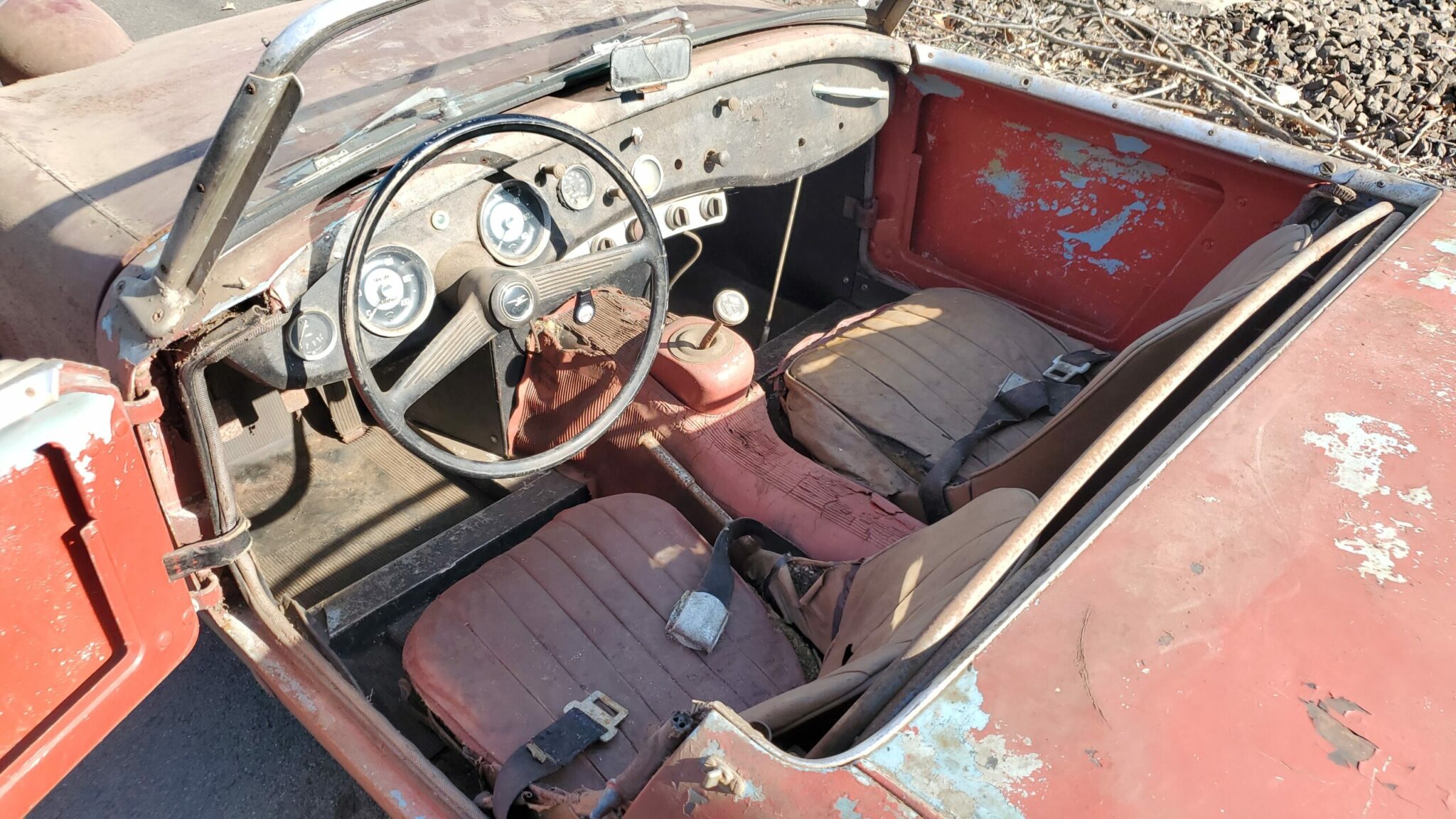 The rear deck is clean and has not been used as a storage shelf (and thus dented), and the rear end has not been smashed, so all of these things will help the restorer save quite a bit of time in the restoration because the actual skin is in reasonable shape.
Where this car will need extra help is in the spring box areas, which are rusted. We have all the parts to repair them but it's going to take some labor to make that right. The floorboards are also rusted, especially in the footwell area, but those are pretty straightforward to cut-out and weld.
Also, the bottom of the nose outboard of the grill has rusted away, so repair is needed in this area as well. The rest of the nose is in respectable shape.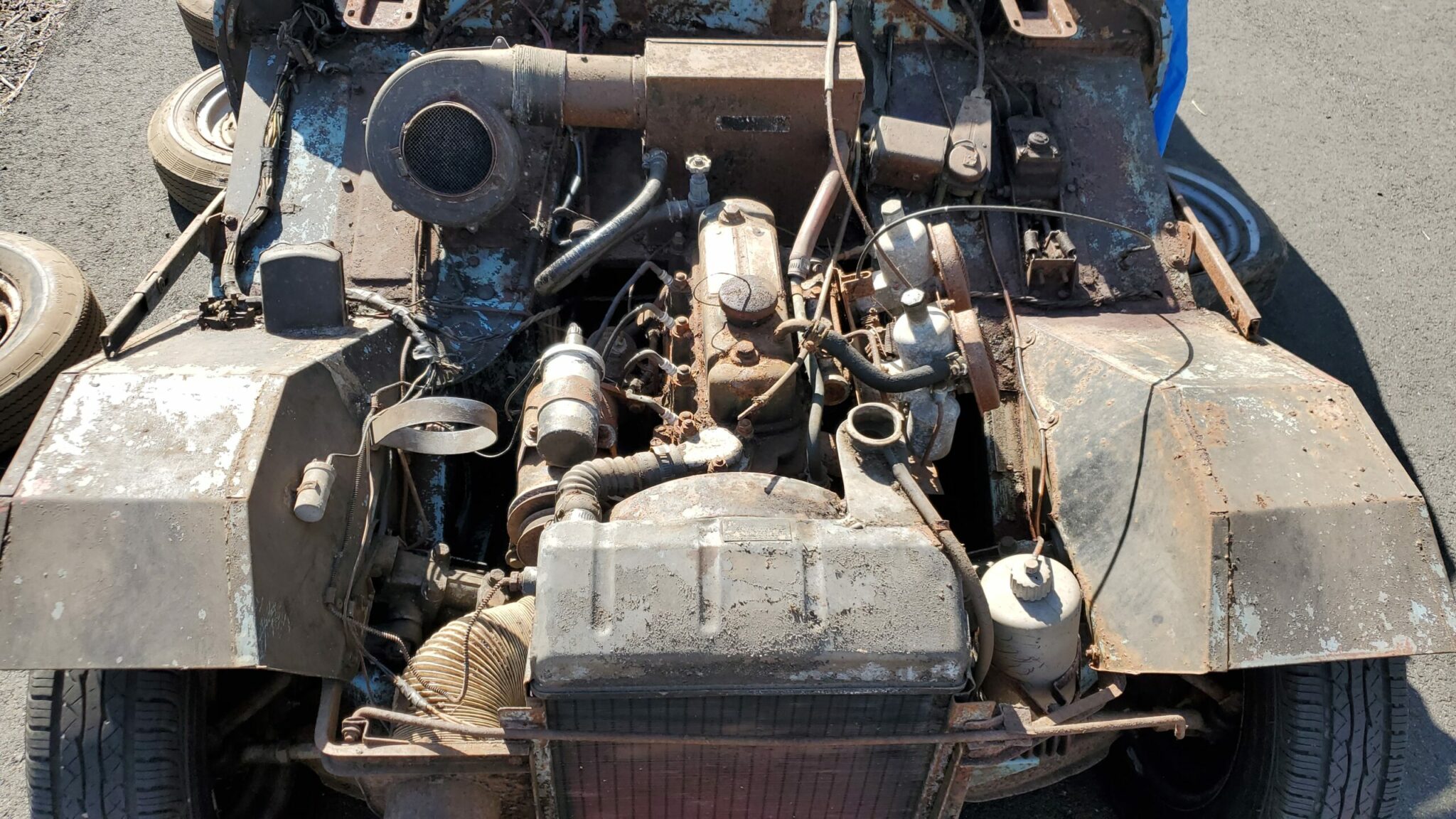 All the mechanicals are going to need to be refurbished and we have all the parts for that. For example, we have rebuildable engine cores (although this one should be a good core), good used engines, and rebuilt engines available, as well as rebuilt smooth and ribbed-case transmissions, so whether you're looking to build Poochie to stock or performance specifications, we can help the restorer get this car moving nicely.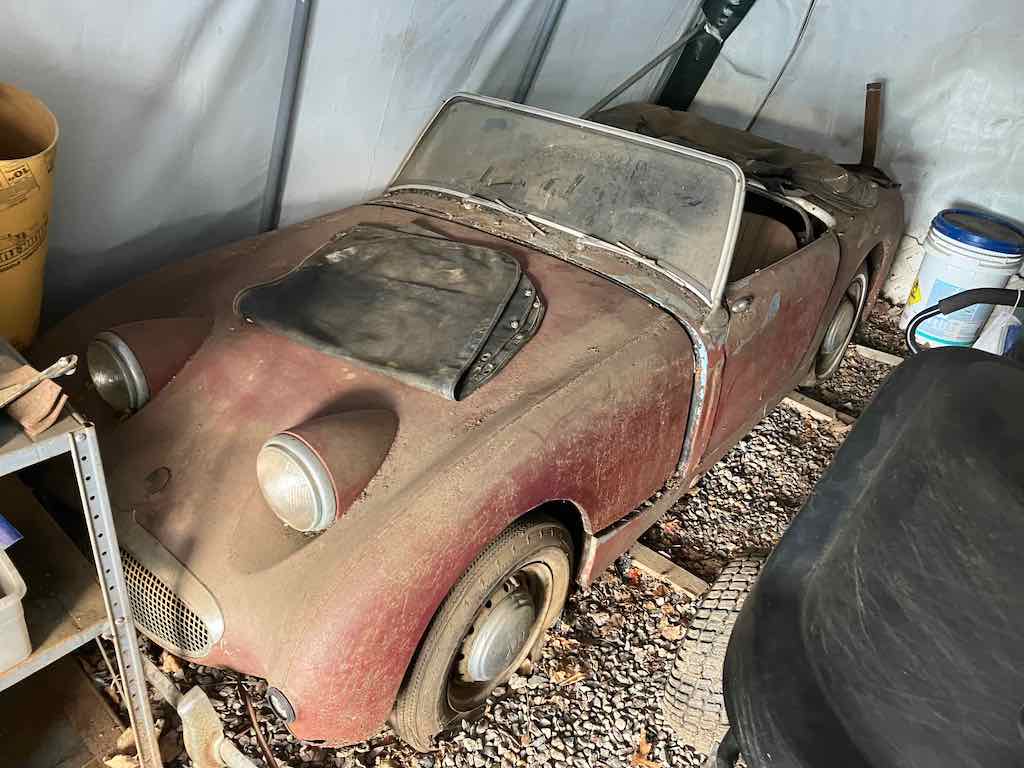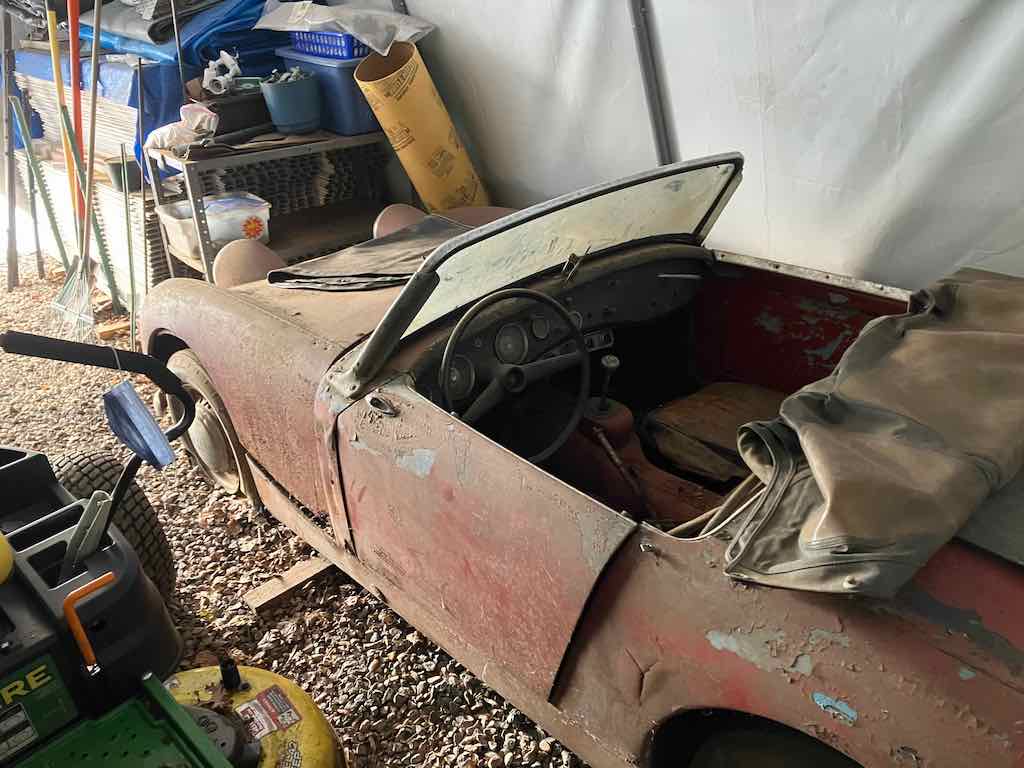 If you're someone looking for a wonderful project, please rescue this Bugeye! We'd be delighted to ship this car to your door. We've put recent tires on the car so she rolls nicely and will be easy to relocate to your shop.
Give us a call if you need further information or are interested in taking Poochie home today!