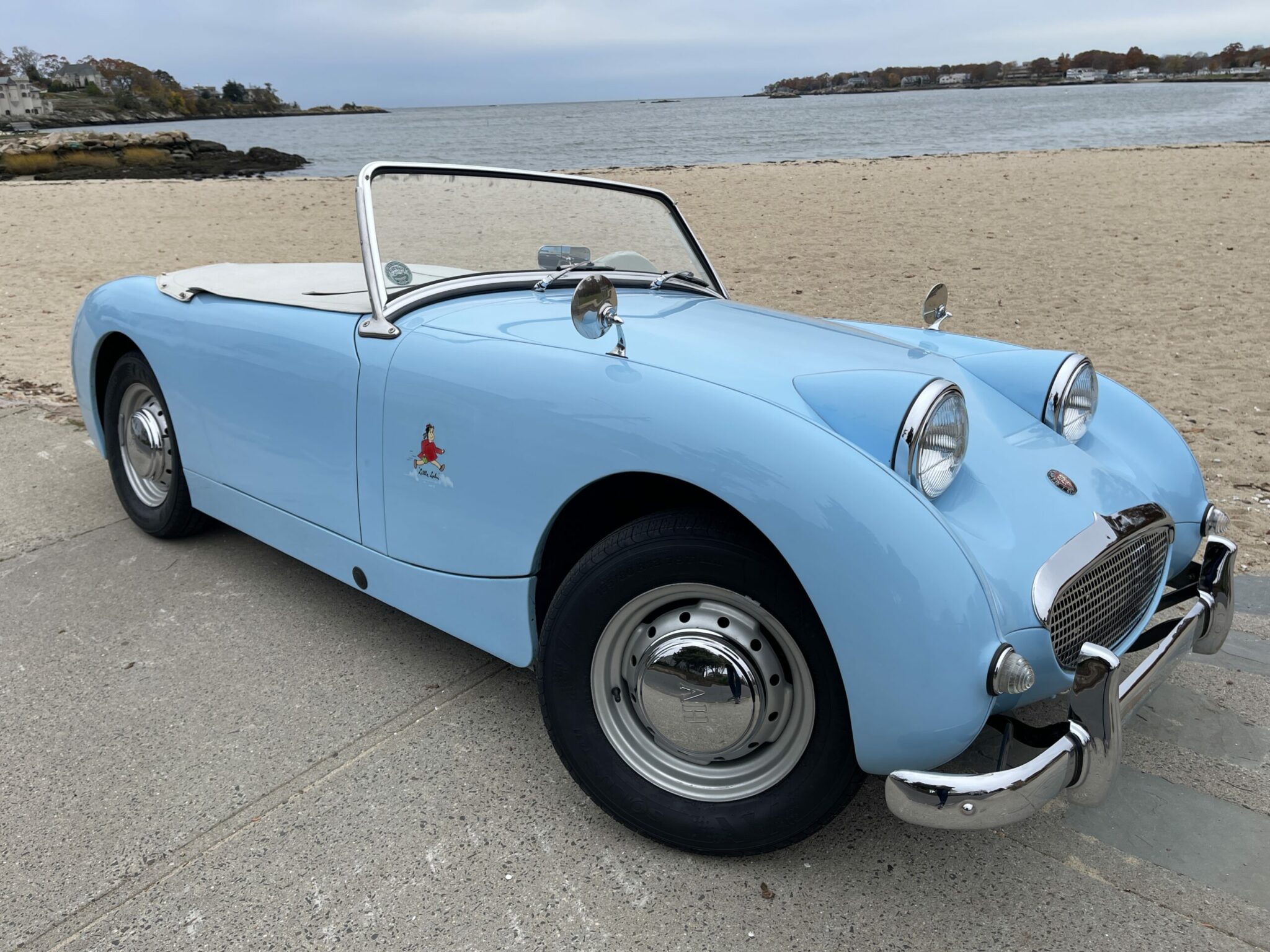 NOW SOLD to Matt from New Jersey! Believe it or not – Matt actually previously owned this car! We're glad to be able to help re-unite the two! Congrats on taking home Bugeye #400!
The car has had a number of significant upgrades since you saw it last… Lulu is now a whole new machine!
If you are new to our site, Lulu (AN5L 45678) came out of Arizona, where are the car has lived for the past 11 years, purchased shorty after restoration by a prior owner. During that time it was driven little, as it was primarily in storage in the garage of the owner's second home.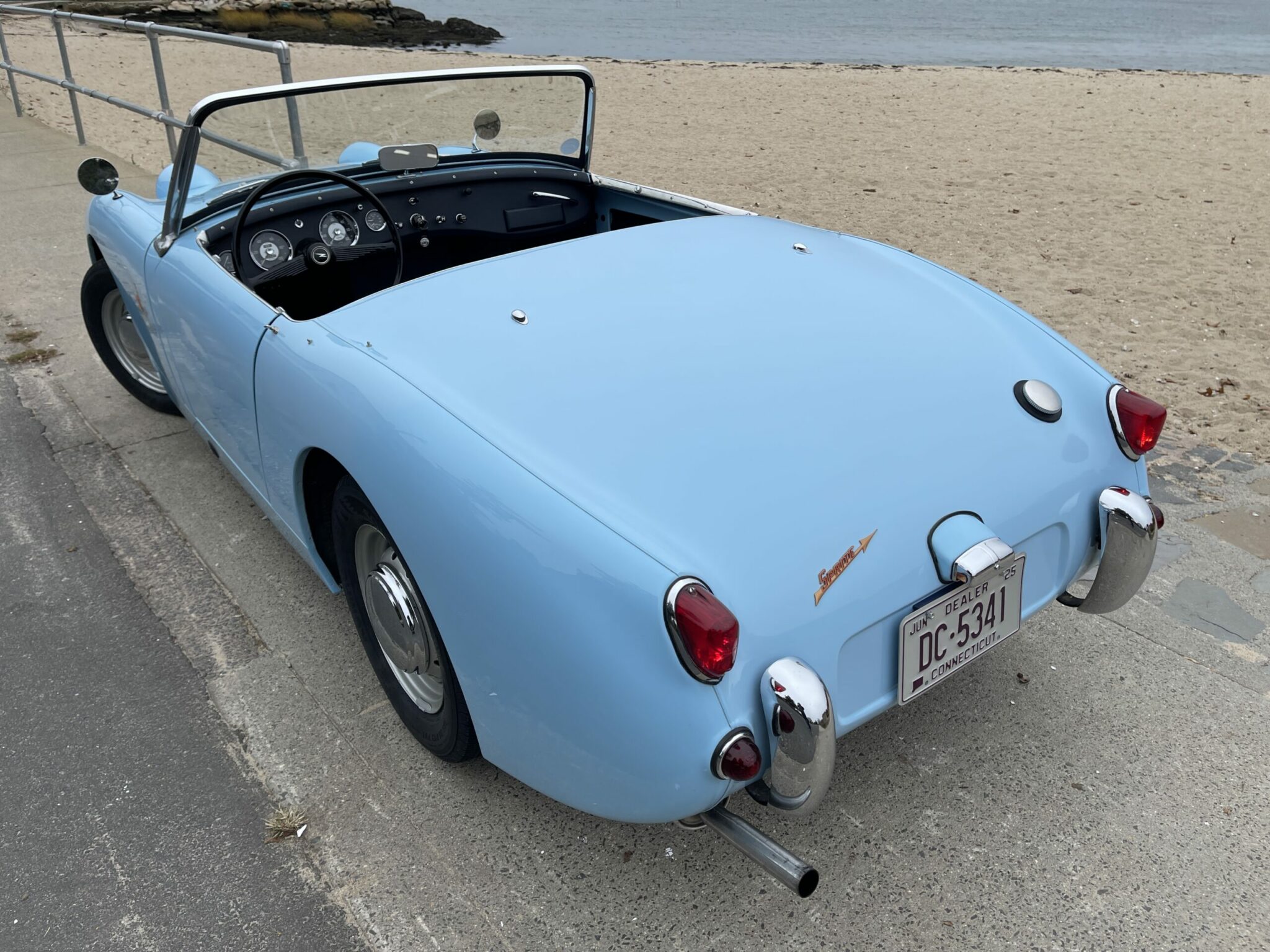 When we got the car, brought the car up a few notches when we gutted all the wiring and installed a new factory reproduction wiring harness. We also went through the hydraulic system and completely replaced all the hoses, wheel cylinders, master cylinder and slave. We also tuned the car after installing a positive-ground Pertronix electronic ignition distributor, new coil, plugs, and wires.
A few weeks ago, we sold the car to a buyer for whom we performed a new and lengthy set of upgrades (listed below). He recently decided to go in a different direction so the next Lulu buyer will enjoy a long list of improvements on this now extensively upgraded (but still very stock-looking) spectacular car.
During these past few weeks, we have eradicated any remaining issues on this car, and upgraded the engine, cosmetics and cooling system. We have also completed all punch-list items. Now that these lists are complete, the new owner will enjoy a car that has been through an extensive upgrade process and has also been through our meticulous departure checklist, a list that was generated based on the 399 other Bugeye departures that came before.
Lulu is now ready to go!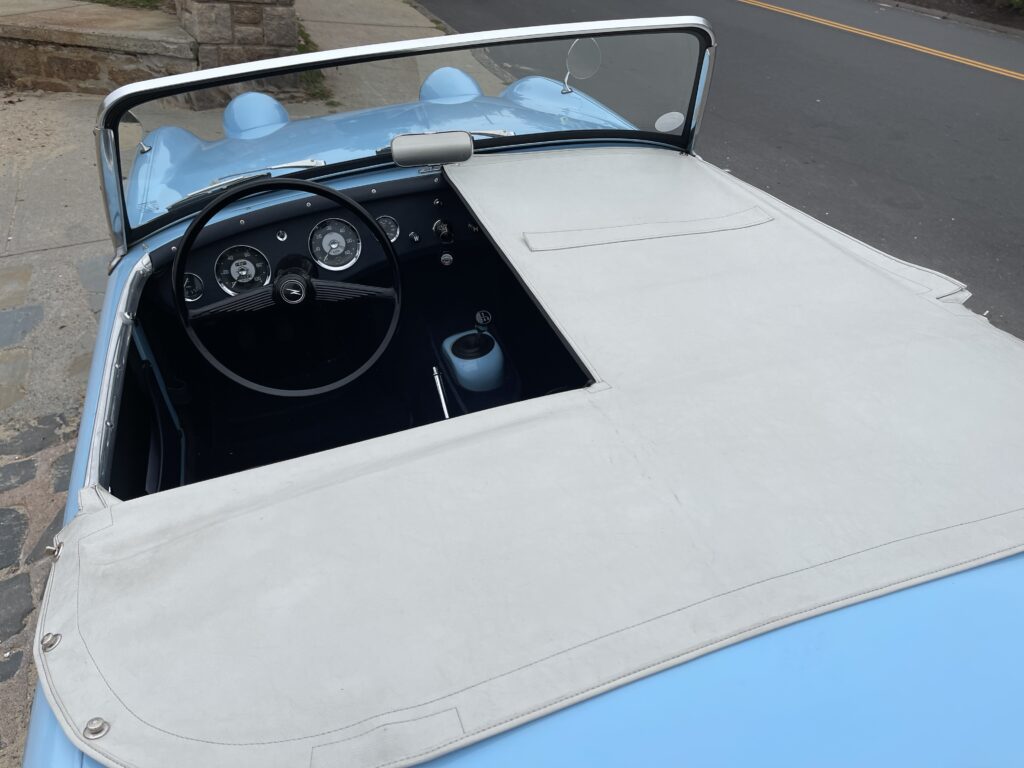 The upgrade list is extensive… for example, we changed the wheels to a much nicer set of original factory steel wheels, added 5 new 155 series tires (the spare is now a matching wheel and new tire), removed and replaced all the carpet in the car with a brand new blue set (including trunk mat), replaced the door seals with proper factory accurate seals in the correct original configuration, installed new tri bar headlights with upgraded H4 bulbs, installed new lifetime K and N lifetime air filters, installed a new aluminum radiator for optimal cooling in hot climates, new factory style choke assembly (for an accurate dash knob), new original style windscreen washer pump, and we have even installed new chrome period correct lap belts. We also upgraded the fuel tank to a new unit with a Viton ethanol-proof sender gasket, which is pressure-tested and ready for a long, new life.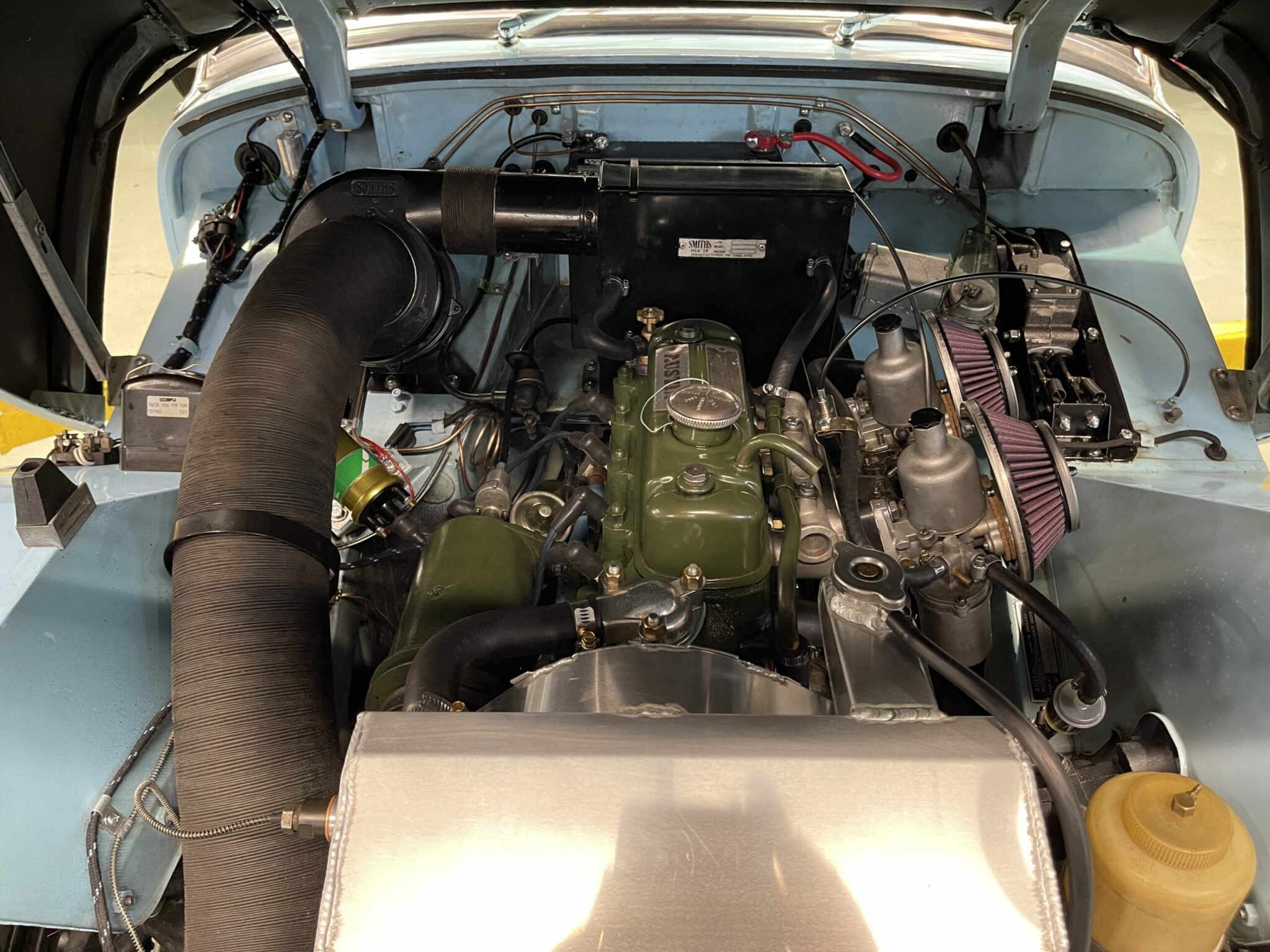 The 948 engine also enjoyed a long list of upgrades such as a new ported 1098 head with larger valves and hardened valve seats, completely rebuilt HS2 carburetors, a new lightened aluminum flywheel, a new stainless steel exhaust header, new larger center pipe and new muffler. We've also upgraded the front of the engine with an upgraded vibration damper, for a smoother ride.
When all that upgrades were complete last week, I personally drove the car about 25 miles so we could find and eliminate any remaining squeaks or rattles, and now the car is completely ready for a new home.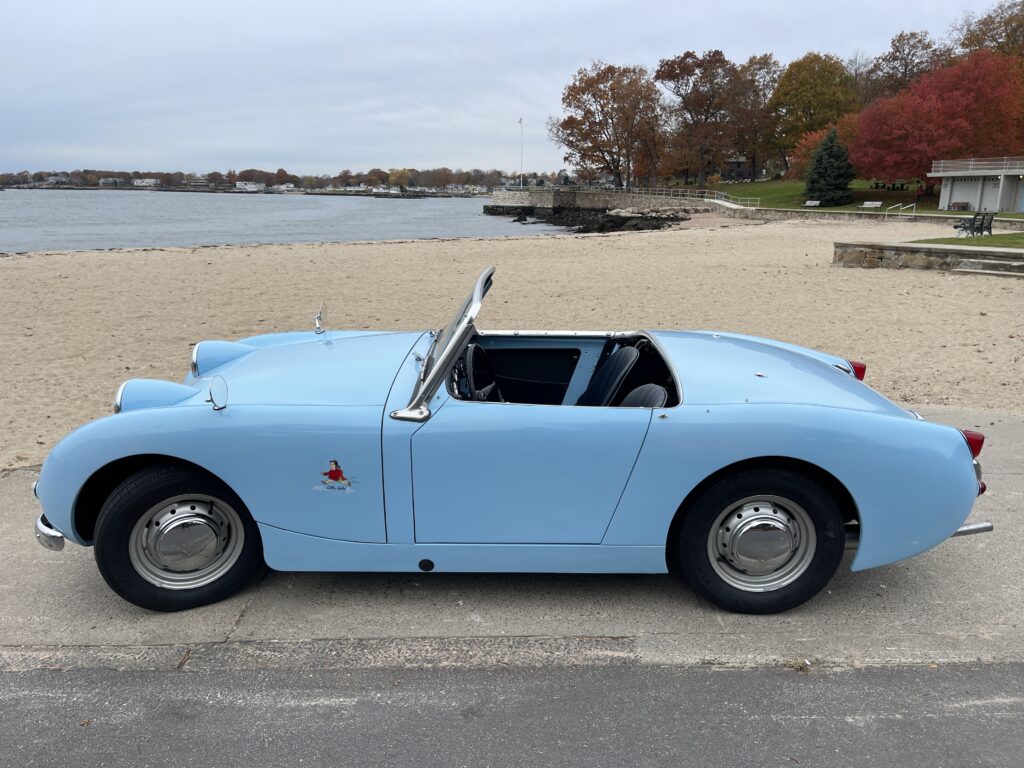 Everything has been double-checked.
Wow, that's a lot of upgrades! While we are sorry the car didn't go to the last fellow, the car and the new owner are both big winners, since Lulu has taken a leap to the next level, befitting of our "genuine build" sticker, which I have affixed and personally signed. As this was our 400th car sold and it is now even more special with all the listed upgrades, I have labeled this as our 400th build and it will stay as our number 400 in perpetuity.
The new owner will also receive a special 400th Bugeye commemorative t-shirt (staring Lulu!) signed by all of our team (everyone in our building had a hand in making Lulu great). This is our first car that has her very own t-shirt!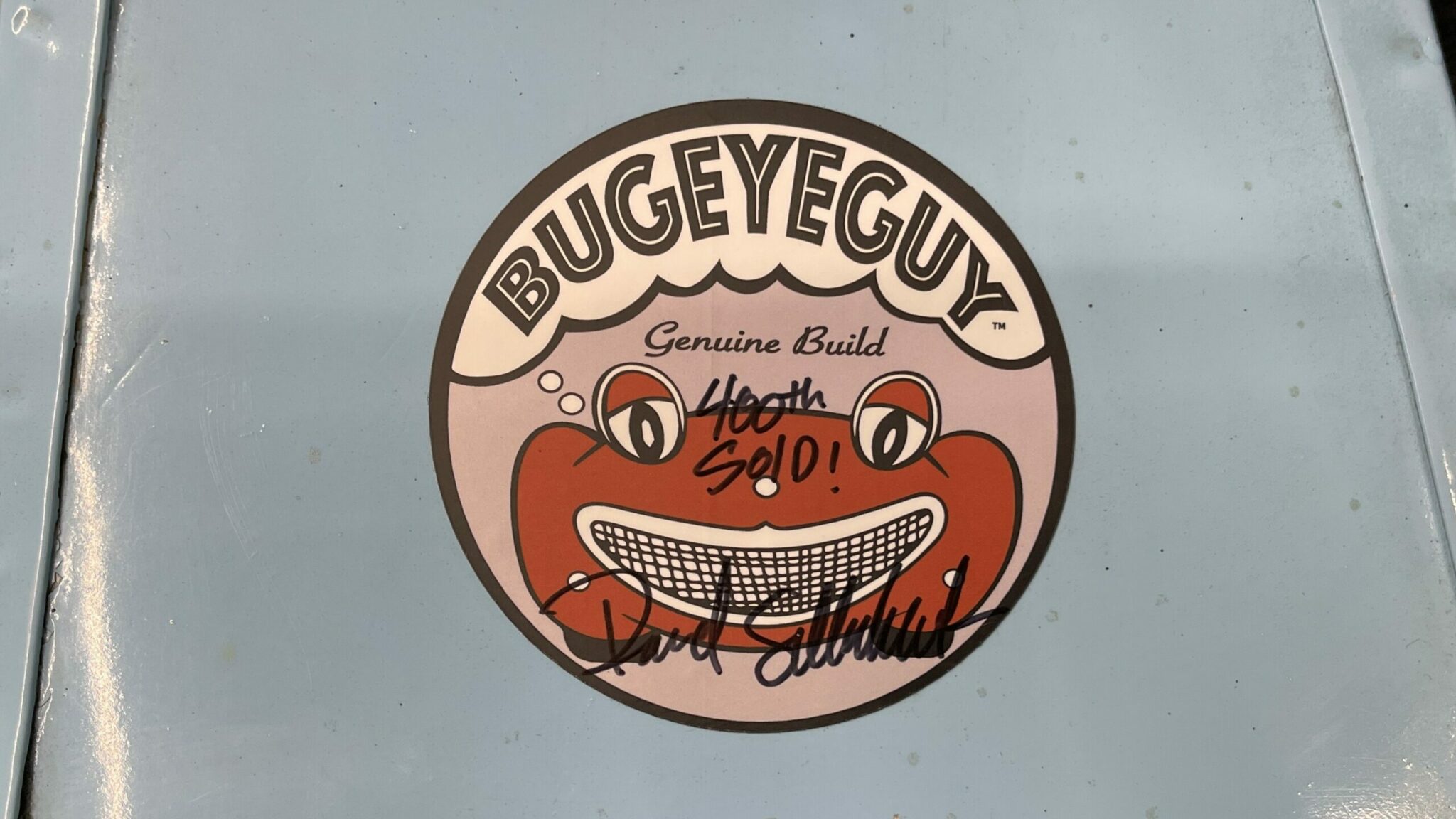 So here we have a completely sorted, evaluated, upgraded, tested and ready-to-depart Bugeye, which can be in your driveway and ready to enjoy in a matter of days! Lots of people claim to sell completely sorted cars… after 399 of these, we have a lot of confidence here… I put my name on it!
This one has been built with the experience you can only gain from 399 repetitions that came before, and as a result, this is a great product… Lulu looks original with a 948 engine and drum brakes all-around, but she's superior in many ways, courtesy of a long list of discreet upgrades.
The car comes with a white vinyl convertible top and matching white tonneau, both of which fit the car nicely (see photos). The side curtains that could use new rubber seals but are otherwise are in good condition. The picture gallery below shows the condition of these items. The tonneau and side curtains also come with a carrying pouch for protection! The top currently does not have a protective bag but we sell nice top tubes and would love to add one to this car for its next owner!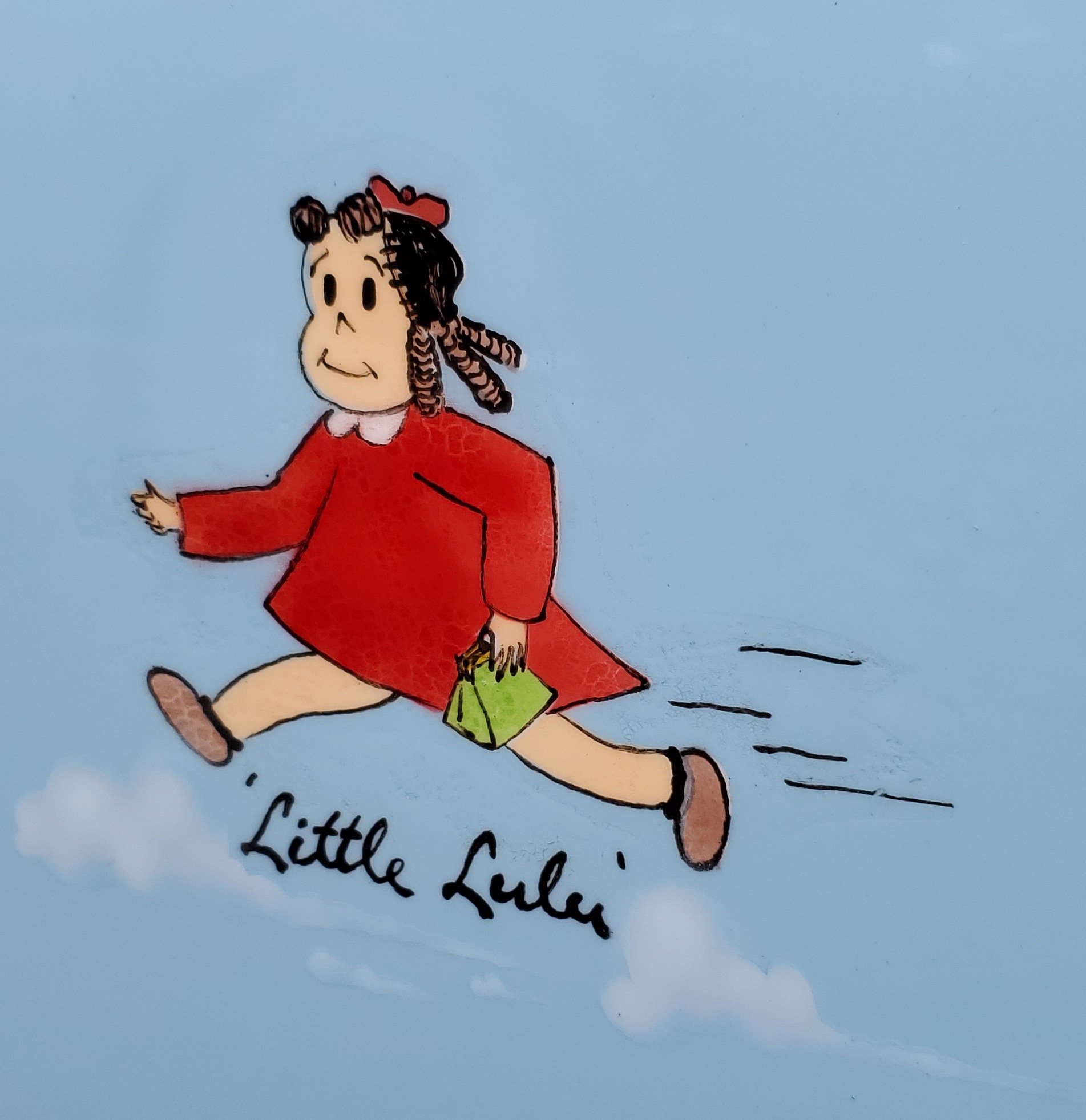 If you have followed us for a while, you know that we name all of our cars… the cars have so much personality that they each warrant their own personalized identity! And of course, we use those names to distinguish the cars in our shop so that we're able to identify all the cars in our care with ease ("not that blue bugeye, the other blue bugeye!"). This one was easy to name because it has really well-executed, hand-painted "Little Lulu" artwork on the fenders. If that's not your thing, the artwork can be removed, but we'd recommend leaving it on there… from driving this car around town for a bunch of miles, I noticed that people were really drawn to the artwork, and the name fits the car so nicely that I would leave it be. A few times, I heard:
"Hey, Lulu! Nice car!!!"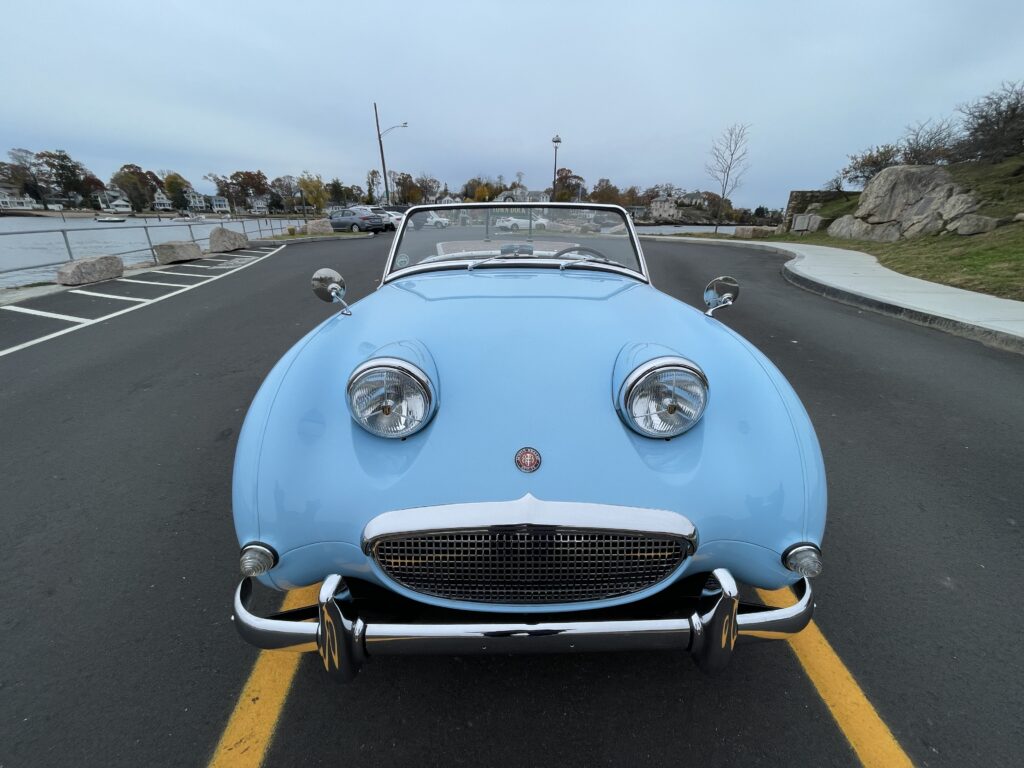 It's all good fun. I hope you will give Lulu serious consideration! Click "read more" below for more photos!