Black Friday/Cyber Monday price is $35,995!
That's a great value for this restored truck with great features like Ancara headliner, new seats and a highway capable five-speed transmission. Defenders routinely trade for much higher numbers but we have made the price really attractive to make space in our building, so feel free to call if you want a really fun truck!
This is a very cool vehicle we received in trade. It drives wonderfully! Check out the copy below that was written by the restorer, the car was imported from the UK and completely rebuilt just a few years ago by Mad River Imports in Durham NC. It's a very high quality build, and anyone looking for a tight, restored, Defender will enjoy this ride! The truck is currently registered in CT, and comes with all the paperwork to register it anywhere in the world!
You can read Mad River's description of the vehicle in italics below: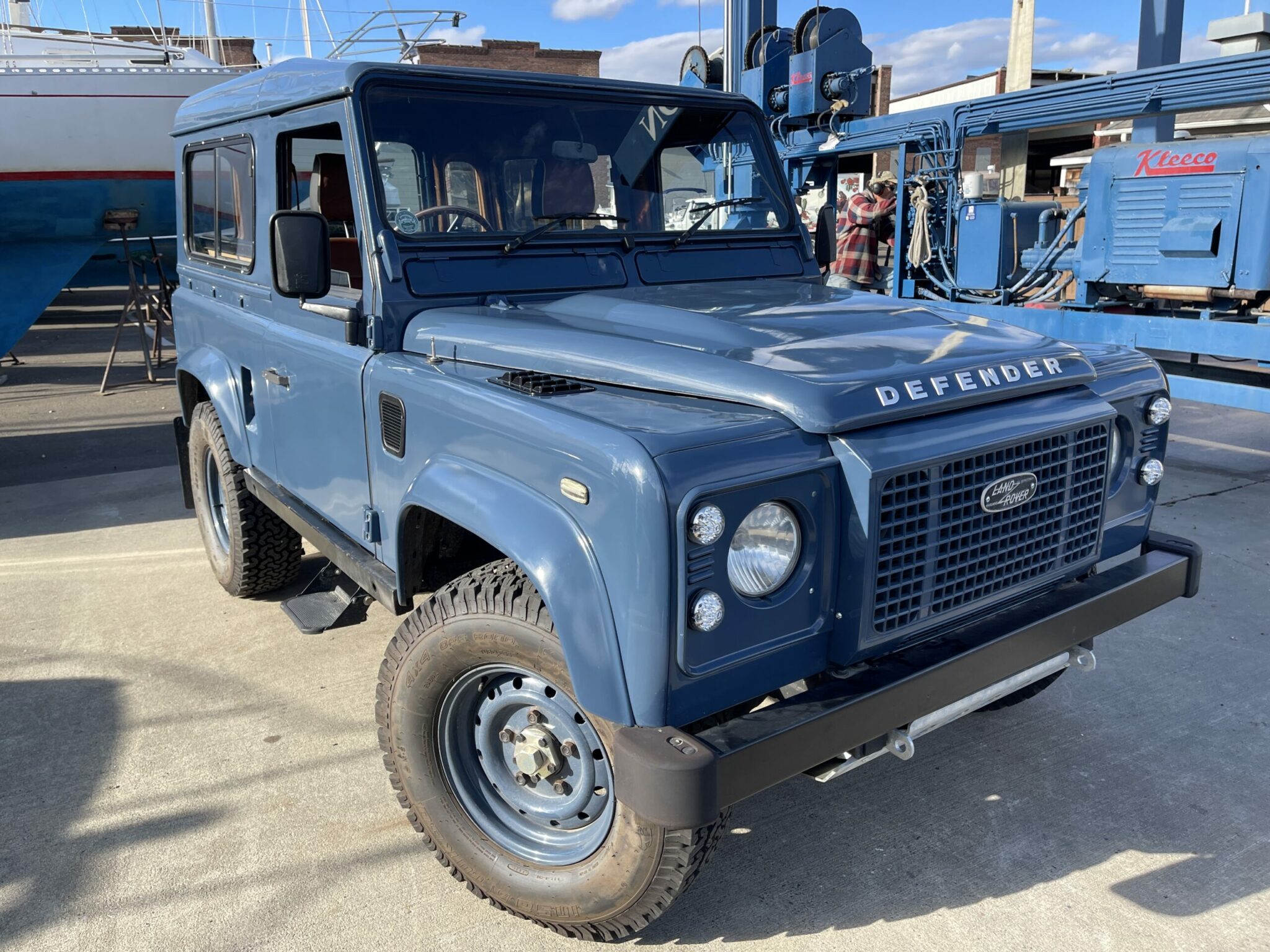 This is a classic and retro styled 1995 Defender 90, fitted with a 300Tdi diesel engine matched to the R380 5-speed manual gearbox. It's a right-hand drive, true to form, classic example. This is a perfect cruiser with all the character and charm you need for that ultimate driving experience.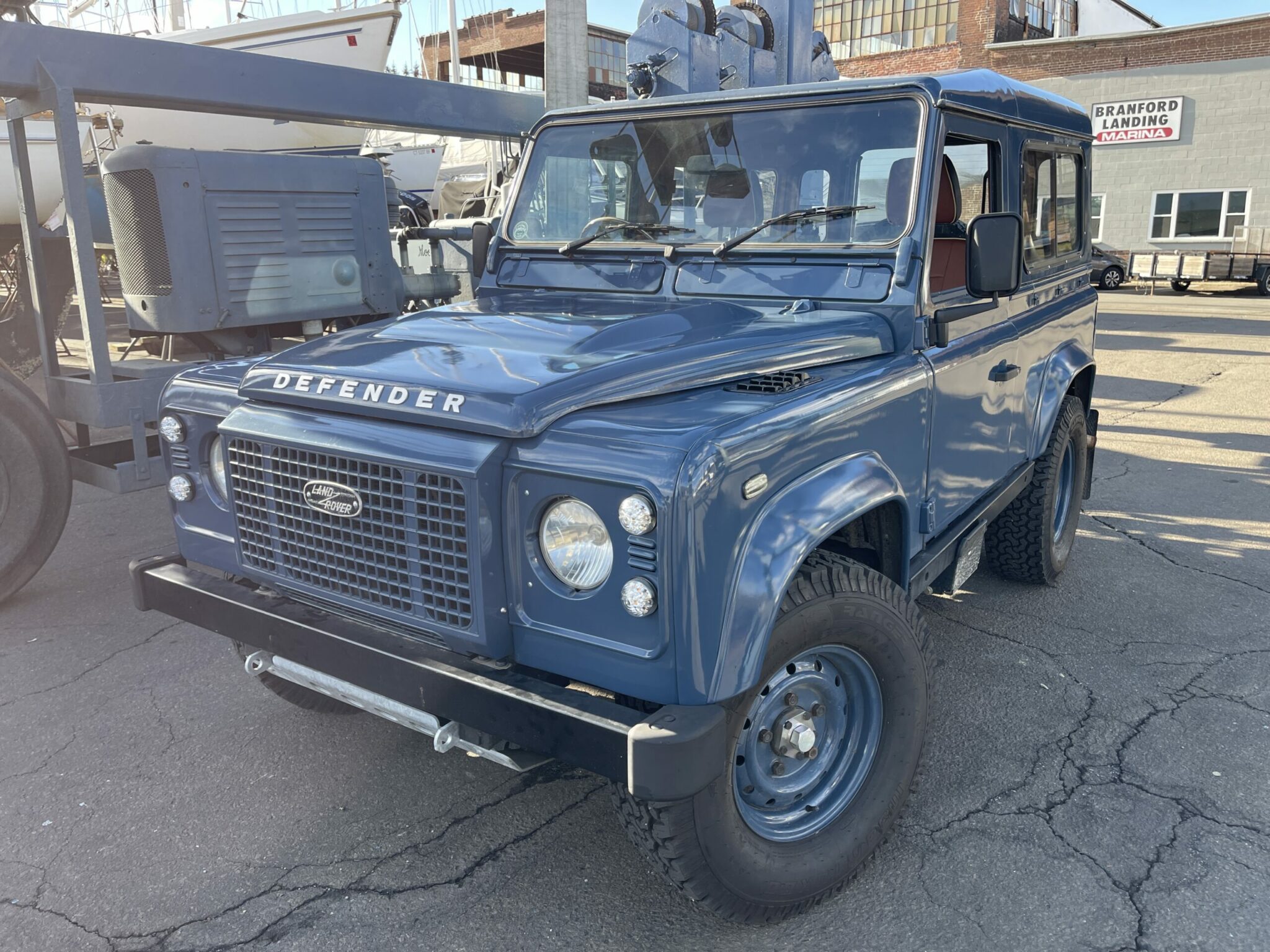 The body is nicely finished in timeless Land Rover Arles blue all over with color coded Wolf steel wheels to match. With bulletproof diesel power for ultimate reliability in the harshest conditions, there's simply nothing that can beat a Land Rover diesel engine. The aluminum bodywork is light but strong and all those right angles and sharp corners were designed for it to be rugged and tough out in the wildlands. This retro classic is ready to be enjoyed regardless of whether you take it on the streets or get it dirty on the trails. It's a very quintessential British and iconic Defender 90. Distinct, intimidating, and genuinely rugged, this Defender 90 is the ideal 4×4 to take you on any adventure.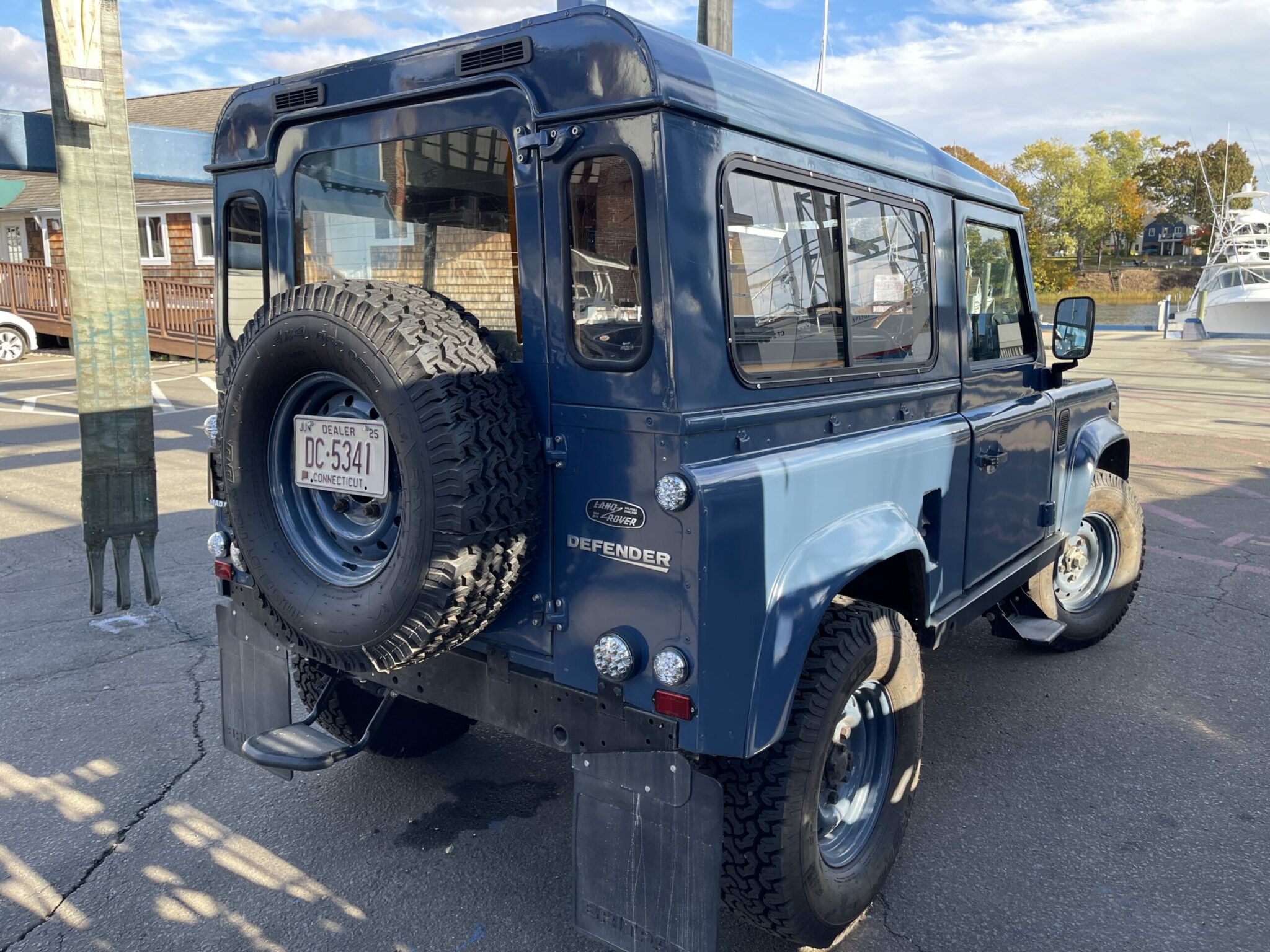 Another great reason to have a RHD Land Rover originally built for a foreign market is what lies under the hood. Diesel power provides the best torque to get you through or over anything (which was never available on US spec vehicles). It's equipped with one of the best diesels, the robust 300Tdi engine with a R380 5-speed manual transmission, regarded by many in the Land Rover world as their best engine produced, and it has earned a tough-as-nails reputation over the years. The 2.5-liter 4-cylinder turbo diesel engine in this Defender has just 88k original miles and runs very well. Paired with the R380 5-speed manual and 3.54 Rover axles it moves through the gears well and it has no problem keeping up with everyday traffic, around town or on the highway.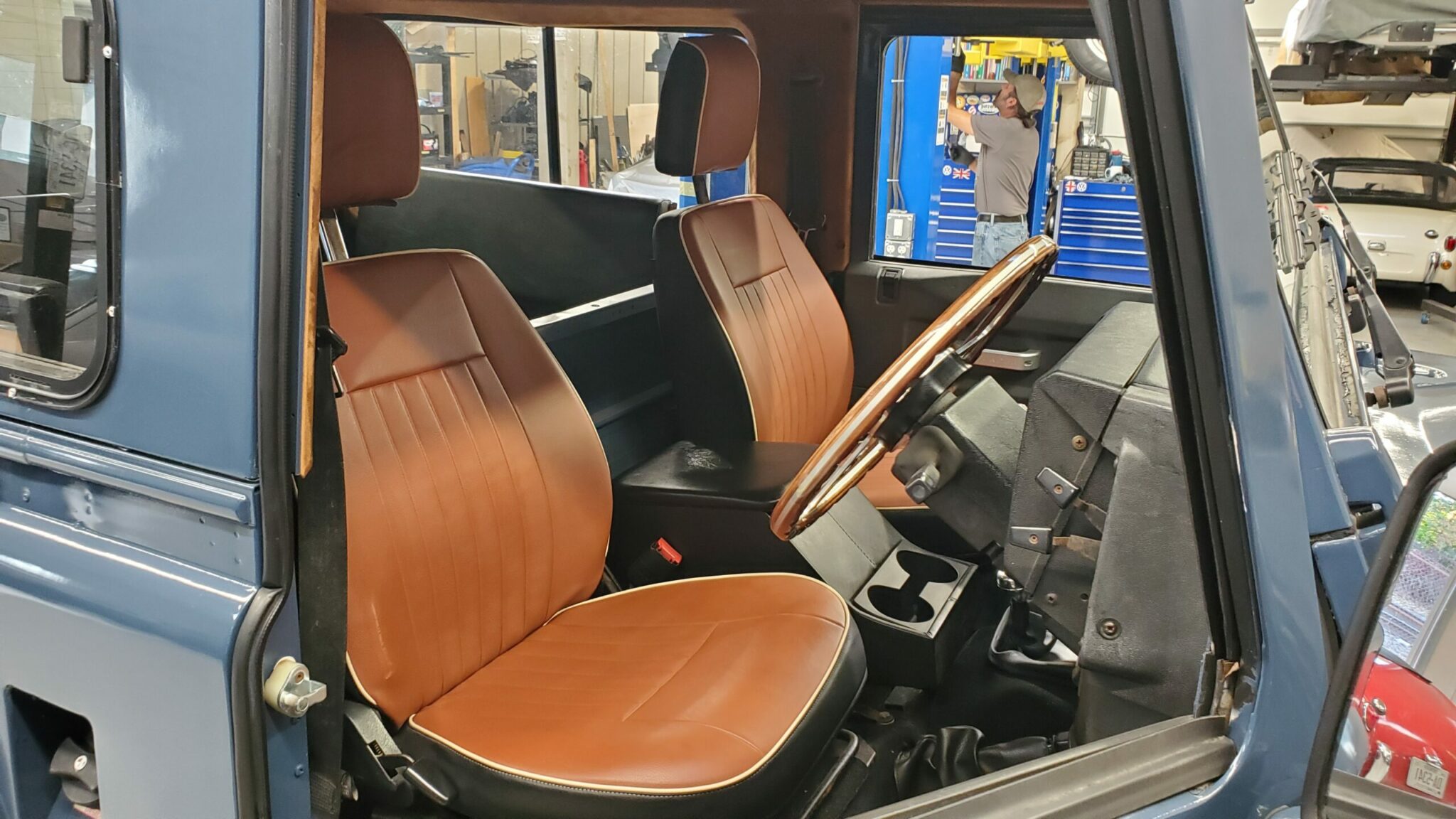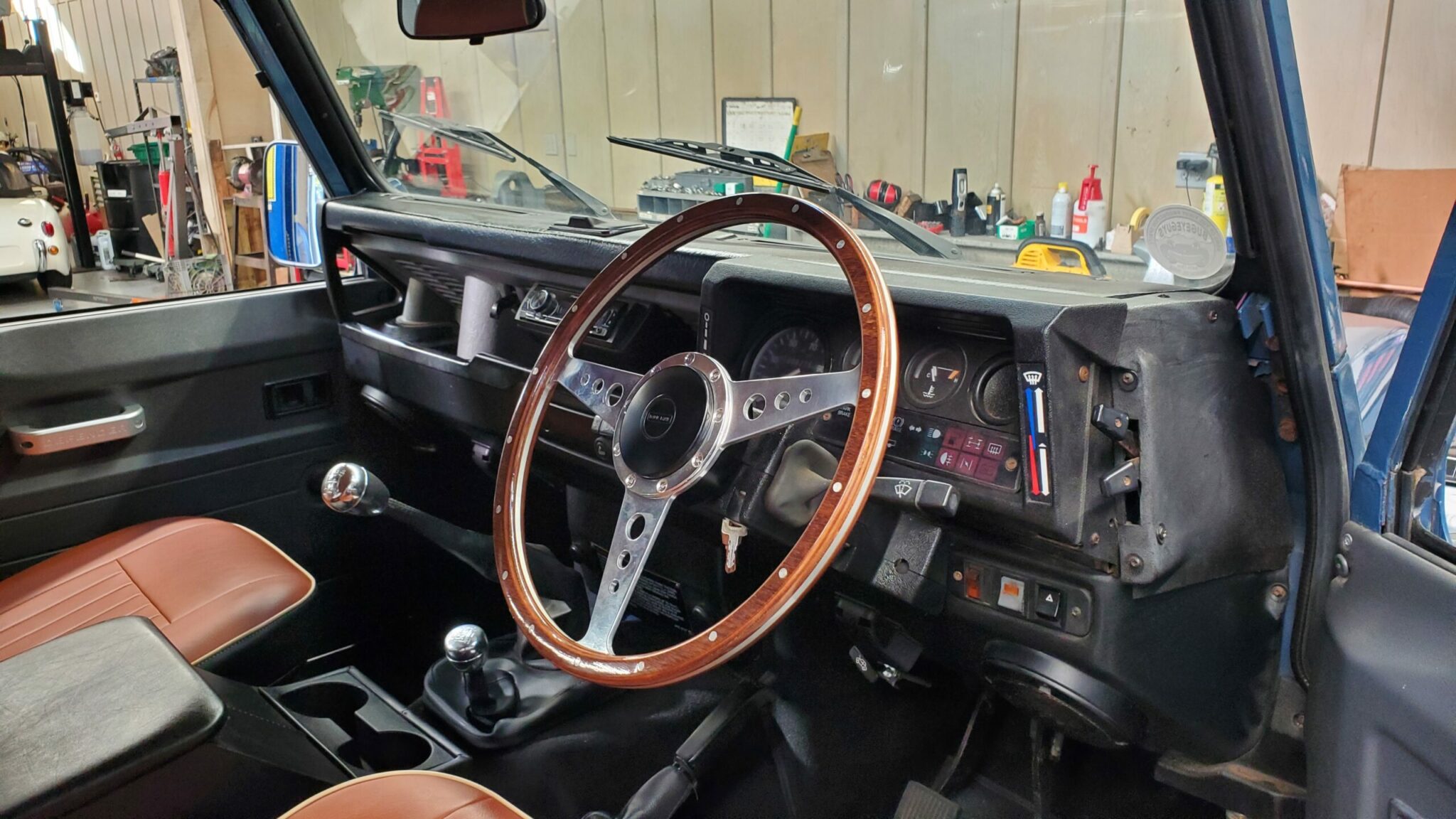 Shifting action is light and smooth with the R380 gearbox, the clutch take-up is clean and with power steering and disc brakes all round, it feels competent on or off-road. No other 4×4 vehicle has the pedigree and track record like a Land Rover, a Rover of the Land. Not only was it one of the first, but it also remains the world's benchmark off-road vehicle, exhilarating to drive, highly reliable, and simplicity to maintain. It provides high performance on-road with the capability to tackle the worst off-road conditions and in nearly every driving environment the world has to offer.
It's a lovely retro and vintage styling D90, that's been nicely refurbished inside and out, featuring new gleaming Arles blue paintwork, LED lights, PUMA hood, full Exmoor Trim premium carpet, new door hinges, hardware, bolts, and a lovely Exmoor Trim Lignum wood rim steering wheel.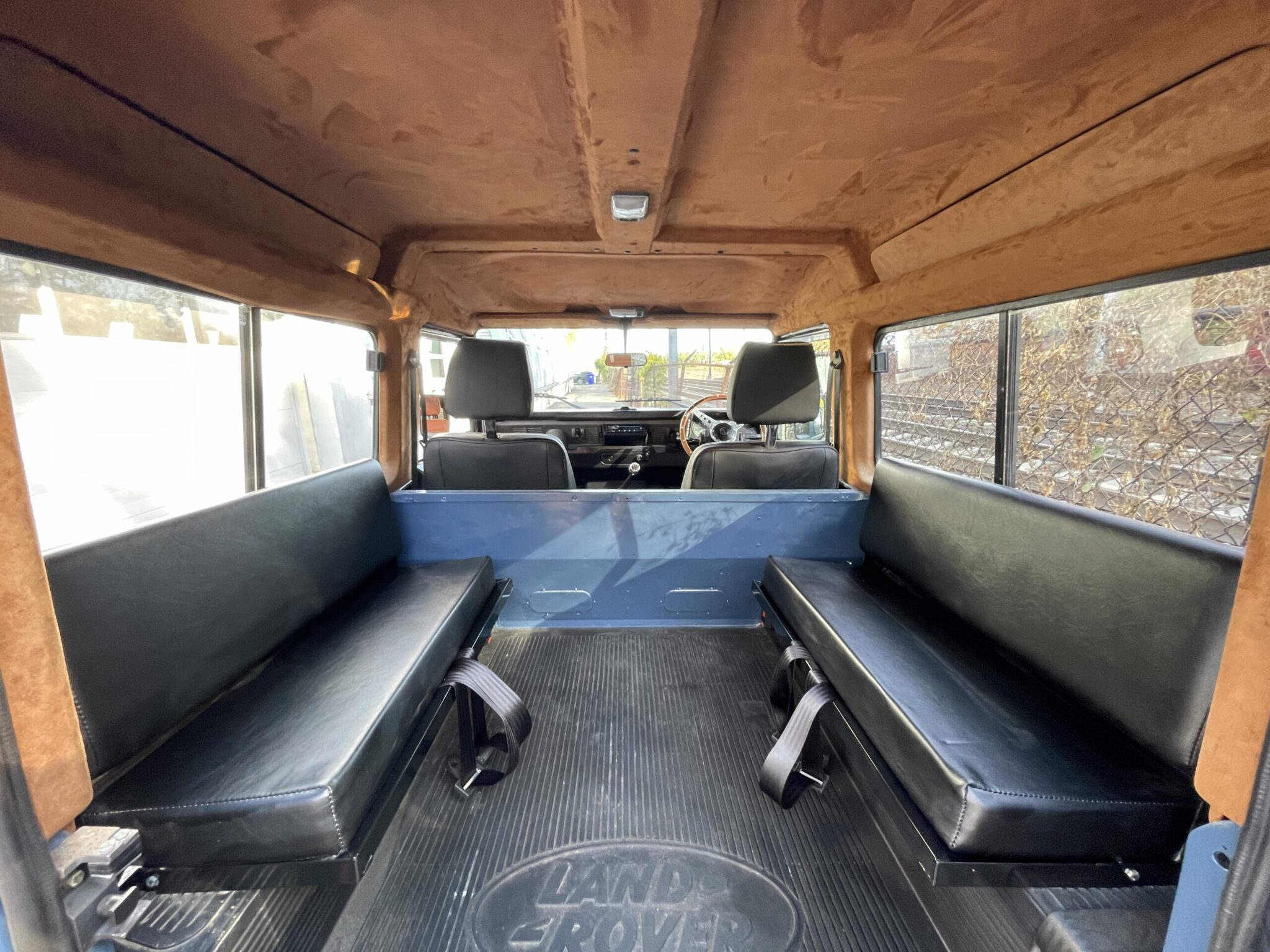 Inside it's as simple and minimal as you would expect, with brand new Exmoor Trim carpet, new brown re-upholsted front seats, and it even still has its original Land Rover AM//FM radio. It has a very stylish and new Alcantara headliner fitted.
The cargo bay offers enough room for storage and for extra passengers as well. It comes with traditional Land Rover side-facing bench seats in the rear cargo area with lap belts.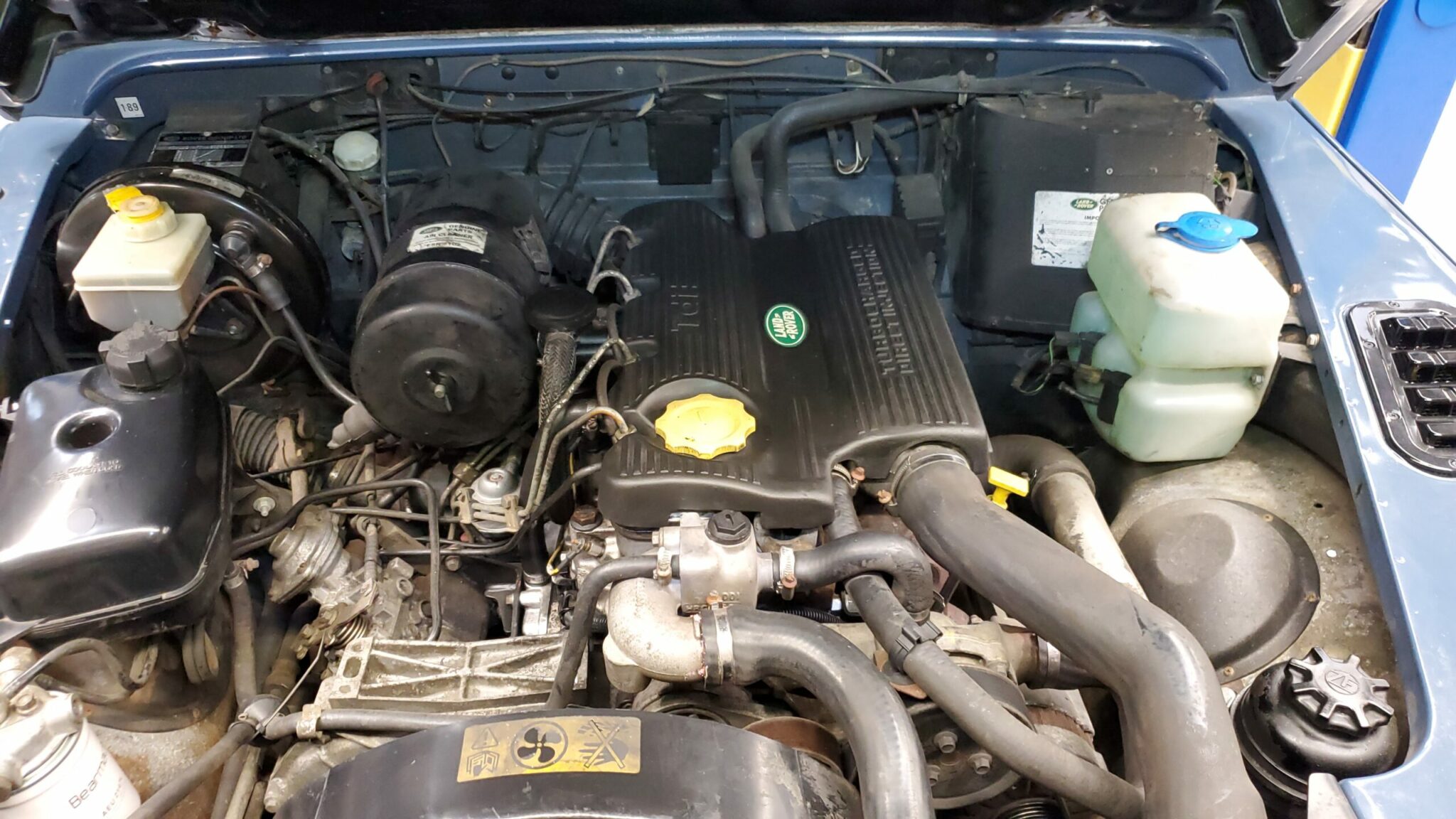 Factory gauges cover the basics and the controls. The control levers manage the 5-speed manual transmission and 2-speed transfer case/hi-low range/diff lock and there's a center cubby box between the seats. All lights, heater, wipers, and gauges work, as they should. It sits on Land Rover 16" heavy duty Wolf steel wheels wrapped with all new 265/75/16 Ranger Insa Turbo A/T tires and heavy-duty drive flanges, which give it that classic look and heavy-duty styling. The chassis, bulkhead and doorframes all show in great condition. It also comes freshly wax oiled underneath for extra protection against the outside elements. This is a legendary 4×4 that has both style and substance. Overall, this is one stylish, retro, and quintessential British Defender 90 ready to be enjoyed!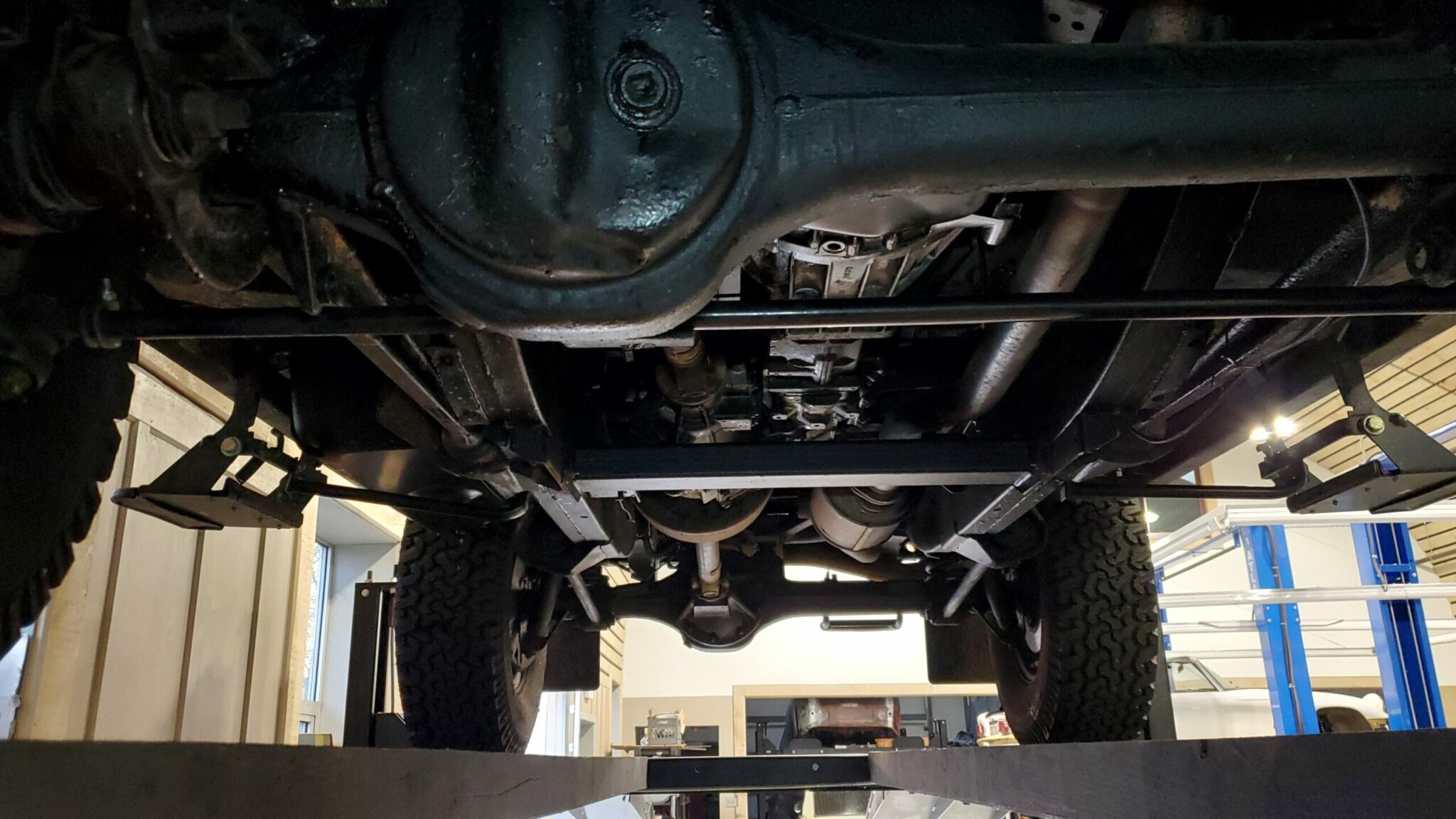 The vehicle was serviced in 2021 with new oil and filter, new fuel filter, new air filter, new front heavy duty drive flanges, new fuel tank, and new panhard bushings. Drives beautifully with no issues, ready to enjoy.
Click "read more" below for more photos and give us a call if you're interested in this special machine!