NOW SOLD to Tom in Florida! Congratulations on taking Bugeye # 396 home!
$17k in recent mechanical and interior upgrades!
"Mooney" (AN5L 17816) is a Bugeye we sold last spring and added more than $17k in upgrades, all of which were installed for the prior owner just one year ago! (see list of upgrades at the end of this post). The prior owner has moved to a new location and couldn't bring the car, so we were happy to buy it back, to pass it on to a new owner. The massive list of upgrades were all done in our shop just a year ago, making this one a delight to drive. Don't be fooled by the exterior (It's weathered and can use a paint job); a 1275 and rib-case transmission lurks underneath this patina is the car is quick and shifts nicely! If you like cars with patina, here's an opportunity to buy a ton of already-installed upgrades at a dramatically depreciated rate.
We invested a lot of hours into the revival of this car, which came to us initially after a long hibernation. We completely rewired the car with a new wiring harness; we also put in all new brake lines (hard and soft lines) and hard lines for the fuel system, and changed all the hydraulic parts. We restored the dashboard (removed, welded shut extra holes, filled and recovered the dashboard) and installed an upgraded GPS speedometer and electronic tachometer. We also fit a new ignition switch and locking guillotine and we changed the dip switch harness and the headlight harness. Everything now works as it should.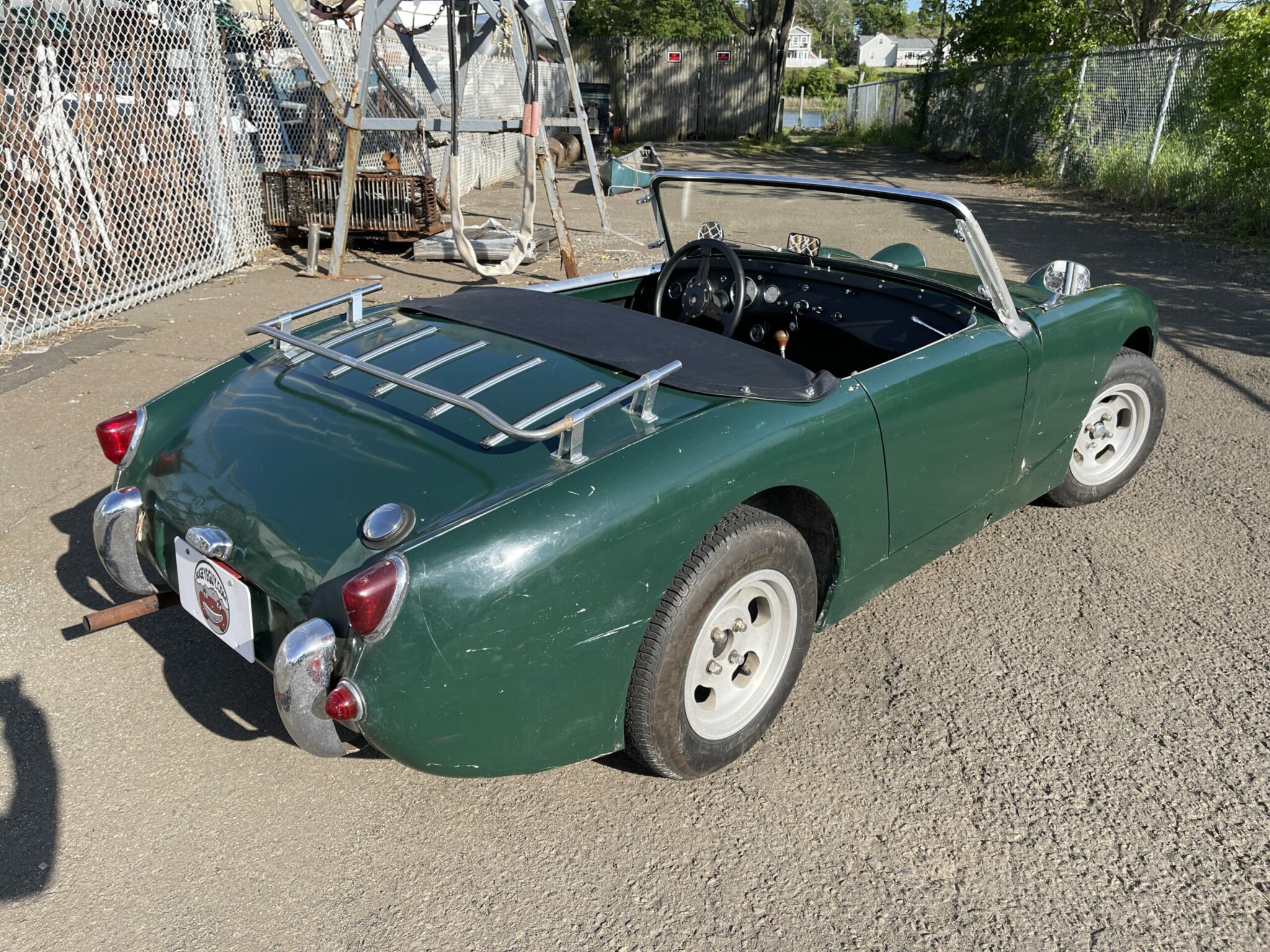 We fit a brand new premium tonneau and great top, and we used premium new hydraulic parts throughout the car. We also put in all new piping for the oil pressure gauge, a new panel light switch, choke cable and original fuel gauge and a new combo gauge as well. There's also a brand new aluminum radiator and all new water hoses, a new starter cable, a new water pump as well as a solid-state voltage regulator. Also a brand new premium fuel tank, sender with metal float and fuel pump. The battery is new, as are the cables. We further upgraded the car with rebuilt carburetors, a new brake light switch, new front shocks and radius arms.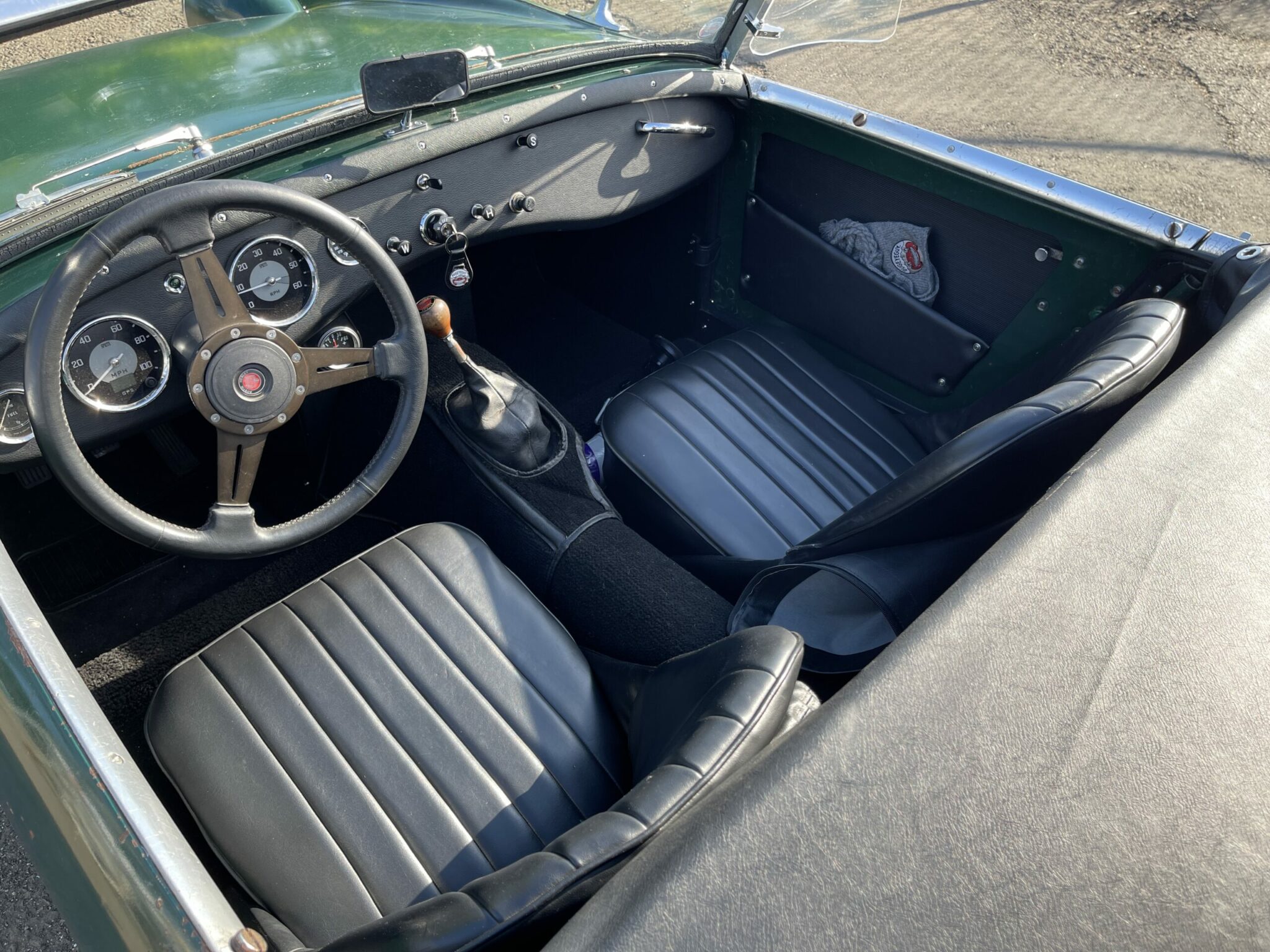 Upon its return to Bugeyeguys World Headquarters earlier this year, we added new seats with all new parts, new premium foams, seat backs, seat bases, new frames and new covers. We also re-covered the dashboard with fresh vinyl, as well as the front cockpit trim bar. The seats alone were a massive investment.
We also added new air filters and a Moto-lita steering wheel!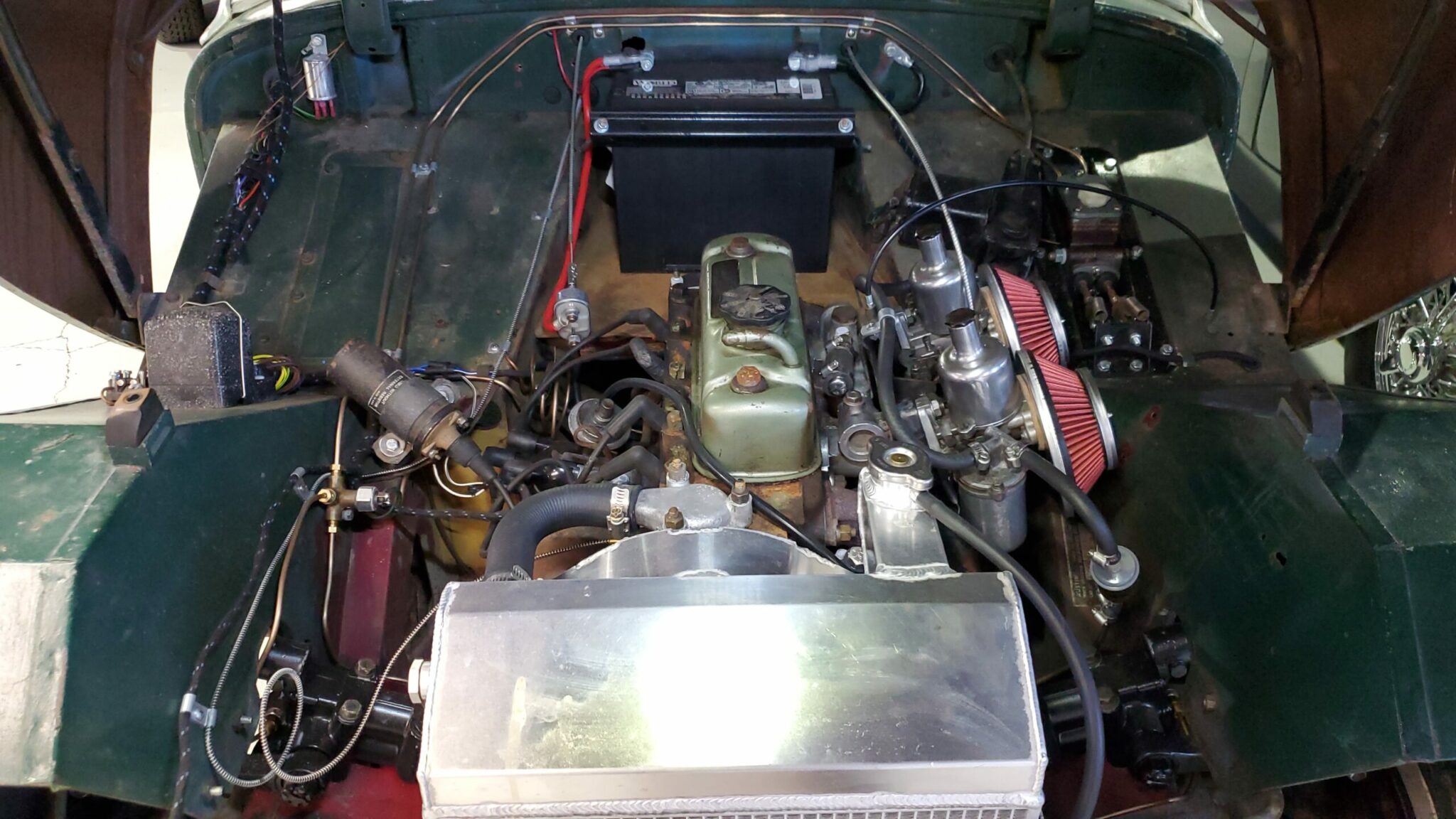 It's a really big list for such a small car, and in the drive video below, you should be able to see that it's really a blast to drive. Original drum brakes are at all four corners, with new hydraulics and lines. It brakes and stops well, tracks well, and anyone can drive this car anywhere. New tires are in order. These have plenty of tread, but they're a bit old. The emergency brake is missing and needs restoration; that's something we can address for the new owner.
Give a call if you'd like to talk further… if you're into sleepers, and you want to keep your upfront cost down, this is a great Bugeye to enjoy this summer! Priced at $21,995, and with $17K in documented recent improvements, it's like getting the car for just $5k!
List of upgrades:
New Mechanicals:
– end to end metal fuel line
– 6 new wheel cylinders and all springs (5-11-22)
– right rear wheel bearing
– right rear axle
– 7/8 master cylinder, premium (5-11-22)
– all new brake hard and soft lines
– new clutch hard line, master to slave
– premium slave cylinder, (5-11-22)
– aluminum radiator
– new water hoses (5-13-22)
– new water pump
– rubber oil pressure gauge line
– solid state voltage regulator
– solid state electric fuel pump kit
– gas tank and sender
– fuel tank to pump line and fitting
– battery cables
– new battery (5-14-22)
– new front shocks
– new rear radius arms
New Interior:
– premium tonneau
– deck fittings for top and tonneau
– restored dashboard with all original configuration, new black correct covering
– GPS speedo
– electronic tachometer
– ammeter upgrade
– ignition switch with guillotine (for superior hold)
– All wiring harnesses
– new switches
– correct new choke and starter pull cables
– new combo gauge (oil and water temp)
– fit the top to the car
– wind wings
– new seat foams
– new backs
– bases
– frames and covers
– recovered front dash bar
– nice Moto-lita steering wheel
– new air filters