Ozzy is an incredible Bugeye we brought in last month after spending the past 10 years in the Pacific Northwest, where it was completely restored. Since we got it here, we have done a HUGE number of upgrades intended to make Ozzy into its best form, including all-new hydraulic parts including a new master cylinder, wheel cylinders, and new brake and clutch lines, a new fuel line from front to rear including our solid-state electric fuel pump upgrade, new front tapered wheel bearings, and so much more! This is truly the epitome of what a well-sorted, great driving, great-sounding Bugeye should be! Give us a call if you'd like to make Ozzy your own!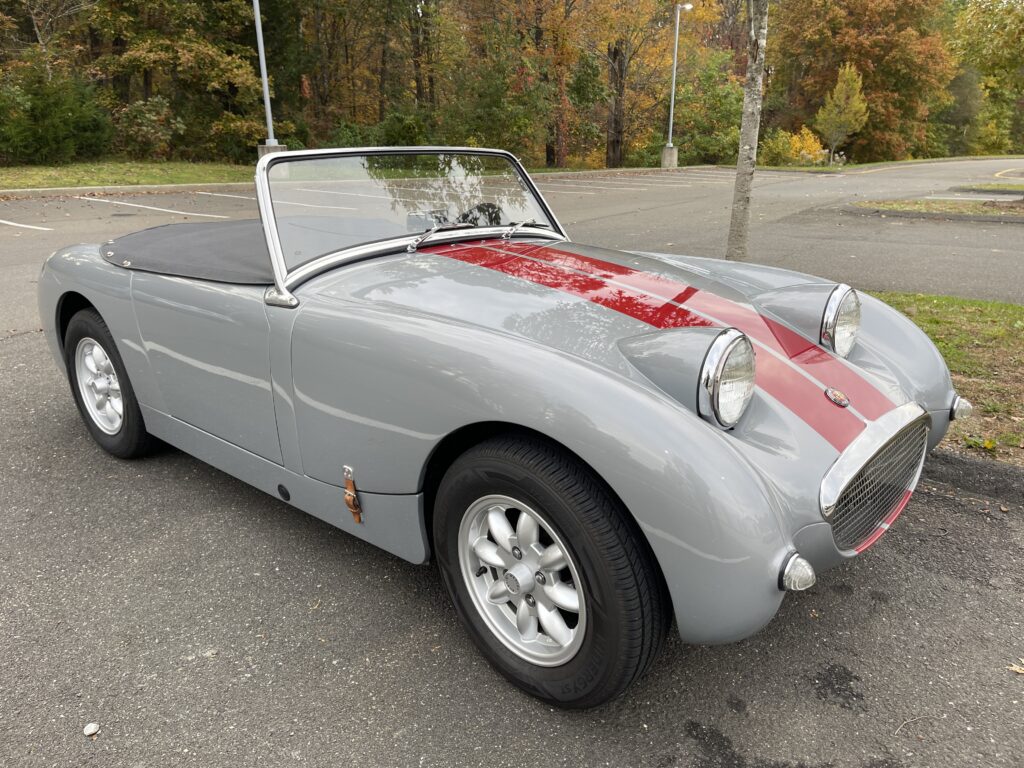 If you like tastefully modified Bugeye Sprites, here's a wonderful modified Bugeye for sale called "Ozzy." The car has all the right modifications and is painted in a striking color scheme with broad appeal. This one ticks a lot of boxes! The car shows 3039 miles on the odometer, I am guessing that's the total mileage put on the car since the restoration about 10 years ago. The car still feels freshly restored.
We owned, upgraded and sold this car in 2013, (around the time that it was restored by another enthusiast) and then sold to a collector in the Northwest, who drove it sporadically during his ten years of stewardship. He sold it back to us in October of this year.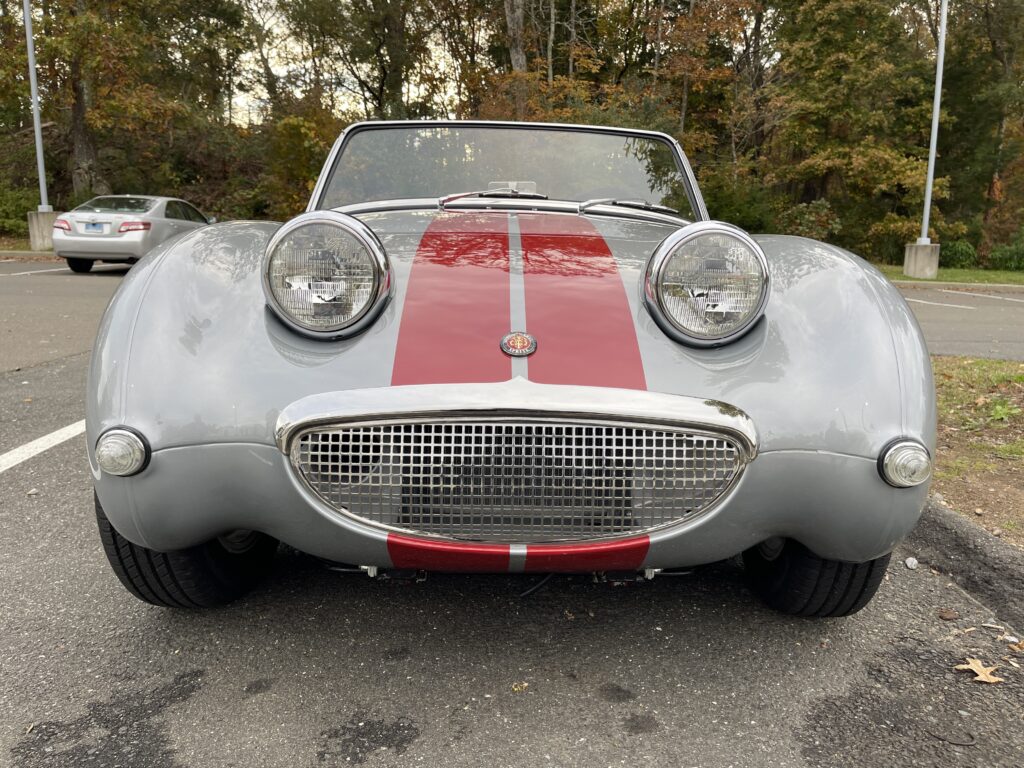 When we received the car this year, we spent 40 hours going-through it… we performed a major service and also made additional upgrades to make Ozzy even better. Ozzy now has all the most desirable performance upgrades, including front disk brakes, sway bar, strong 1275 engine, aluminum radiator K&N lifetime air filters and a performance exhaust, so you have a sweet little package. This is a nice car…. solid, straight, well-finished, rust-free.
Ozzy makes all the right noises-we've just installed our twin-tipped muffler, and the sounds great. Seats are nearly new too, with new firm seat base foams and new covers. Ozzy is easy to love. The flip-forward nose makes for easy engine bay access too!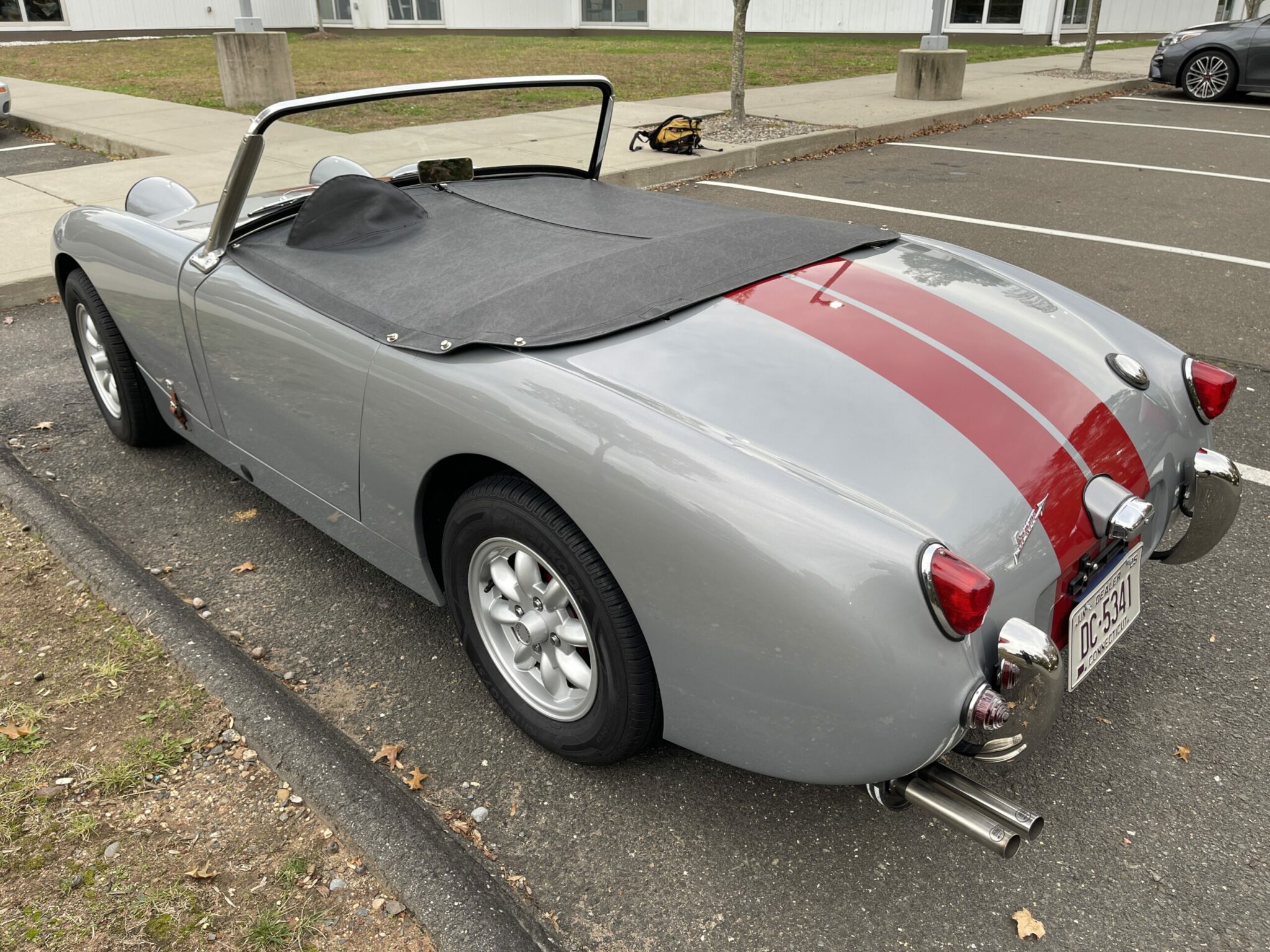 Here's a list of the service work and modifications we made just this week:
New stainless steel header and exhaust including our twin-tipped muffler (hence the great sound in the video)
New hard brake and clutch lines throughout
New rear wheel cylinders
New rubber brake hoses
New rear wheel bearing on passenger side
New master cylinder
New solid state electronic fuel pump,
New fuel tank pick-up line and rubber fuel lines
New water hoses
New heater valve
New dip switch harness
New rubber oil pressure gauge line
New front tapered wheel bearings
New tank to carbs metal fuel line
New easier to use T handle locking choke assembly
These were the pressing items to make the car better than ever. The car runs and drives wonderfully, as you can see in the driving video below, which we made earlier this week.
As with all these classic cars, there are still some issues that the new owner may choose to have us address. For example, the tachometer and speedo both read too high… this is easy to fix… we sell a GPS speedometer and matching electronic tachometer and that will get the new owner more accurate readings, if so desired.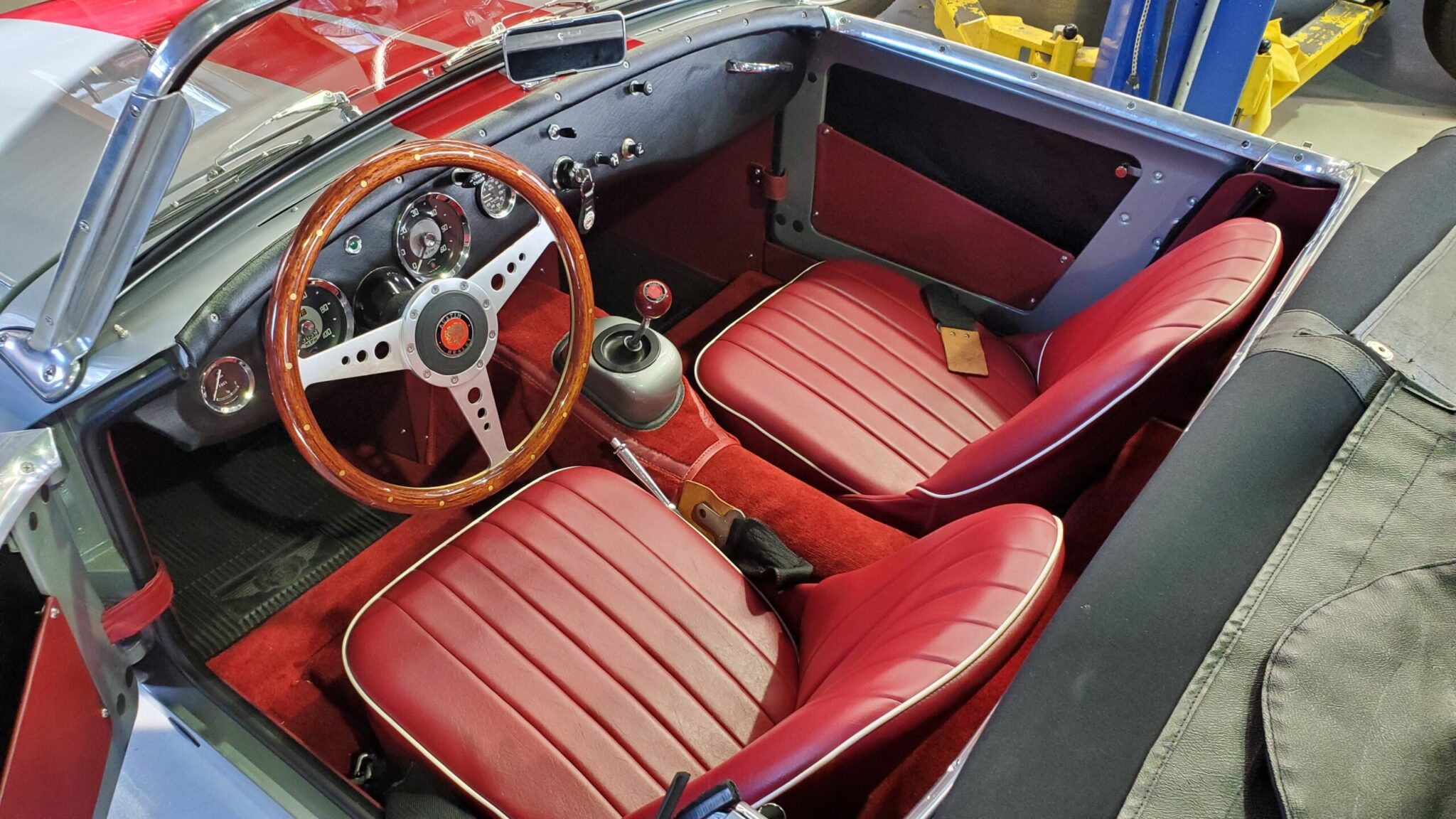 Also, first gear whine is a bit louder than on the rebuilt ribcase transmissions we sell… (they all whine and I would leave it, synchros are excellent, the car up and down shifts without complaint)… but this could open-up an opportunity to install a five-speed conversion… the car is well-worth investment in a five- speed upgrade. That said, I drove my Bugeye "Gumby" for 20 years with first gear making a lot more noise than this one, so it's an issue you should know about if you're thinking about the car, but it's not something that needs immediate attention. If it bothers the new owner, a five-speed would be a nice opportunity while the car is still in our possession.
The seat belts currently installed are a vintage racing lap-belt variety belt, but I much prefer three point retractable shoulder belts, and we have those in stock in red or black-again, the new owner gets to choose.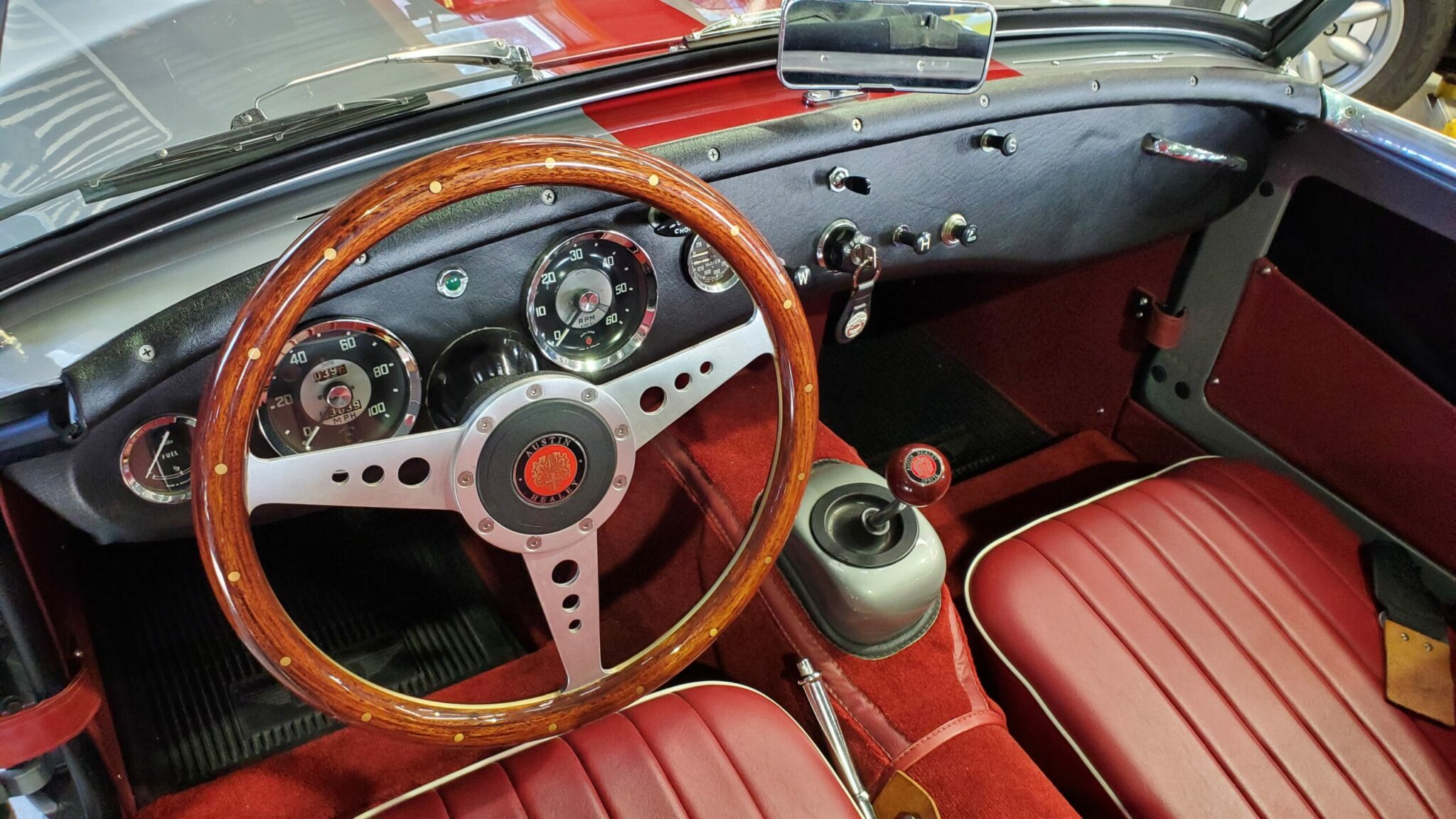 The dashboard is perfectly nice, with a handsome fat wood steering wheel that feels right. I would refinish the dashboard and change the dash and dash trim bar covering to red and I would also put on a red tonneau because the silver and red color combination is quite striking and I would like to emphasize those strong colors. These are opportunities that we can address (while the car is here) before it gets shipped to the new owner.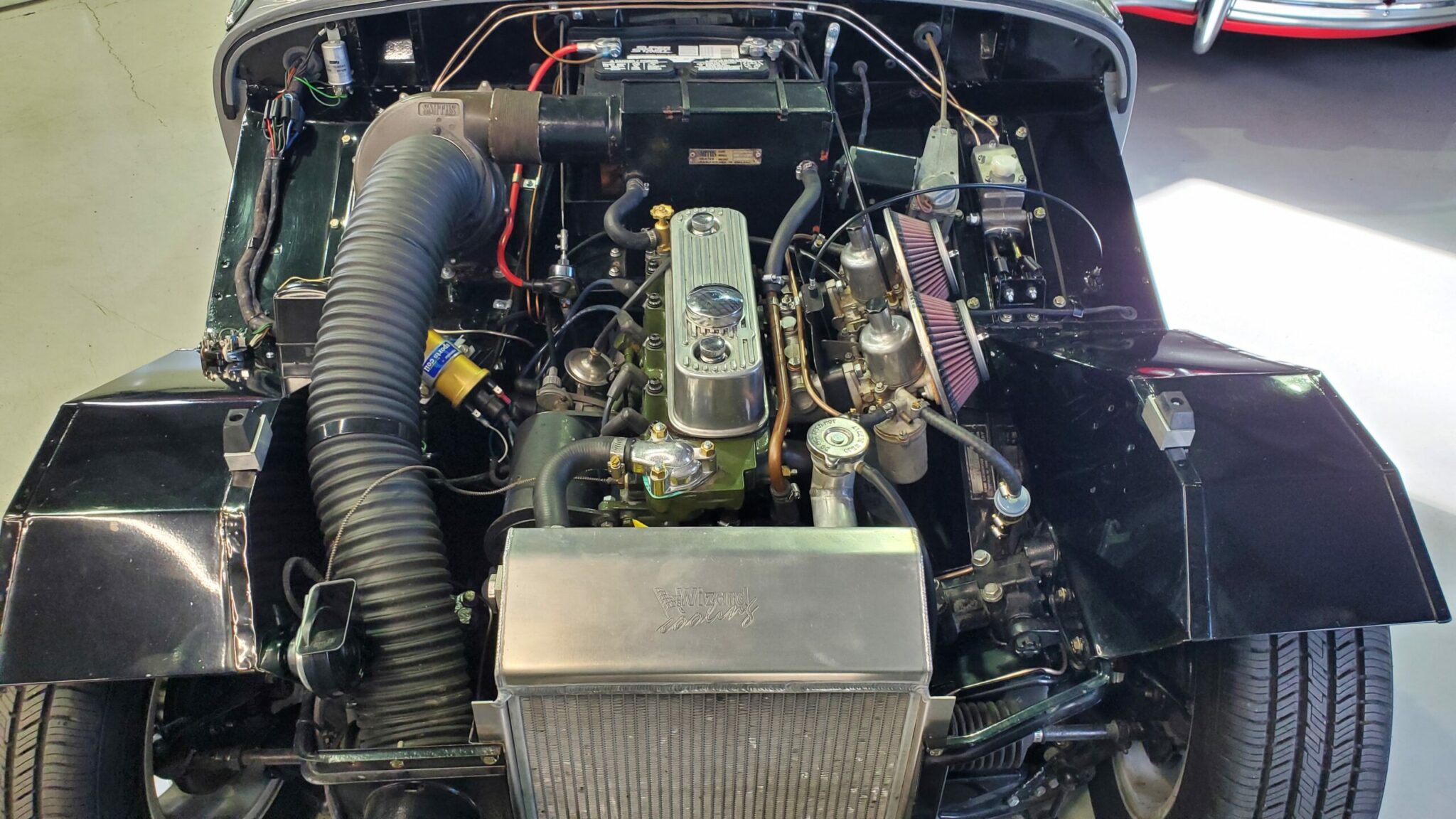 The engine bay is stunning all new hydraulic hard lines, premium aluminum radiator and lots of upgrades. If you're interested, click "read more" below for the full assortment of photographs and give us a call!