Now SOLD! Congratulations to the new buyer!
If you are looking for a stunning car with which you make a statement this summer, take a good look at this car. This is one of the sharpest and most striking MGAs you'll find. And the car has been built to be used and enjoyed. You'll find all kinds of practical features to improve driveabilty (front disk brakes, five speed, supercharger, upgraded cooling, wind deflectors, etc), in a striking and head-turning package. Once this car sells, there will never be another like it, without a massive investment that far exceeds the asking price, so take a good look to see if maybe this can be the sweetheart in your garage this summer!
I love MGAs. I have owned and sold many of them over the years!
This one is the product of a masterful and obsessive owner who improved the car in every way. Call it a restomod if you like, but I would say this is just a pure MGA made into an ultimate driving machine. It has multiple impressive upgrades to make this car both visually spectacular and a delight to drive, courtesy of disk brakes in front, supercharger, Ford five speed conversion, lower rear end ratio and many more modifications.
The colors, while non-stock, are exceptionally elegant, and based on the reactions I have witnessed out on the street, Champagne is the perfect color for an MGA. People go nuts when they see this car.
Most of the colors of the era were without metallic, and perhaps a bit flat. Take your average Olde English White MGA, for example, and while elegant, the paint is often somewhat milky. This car is vibrant and alive, much more to modern standards. The elegant MGA form is dramatically enhanced by this elegant color… and the result is outstanding.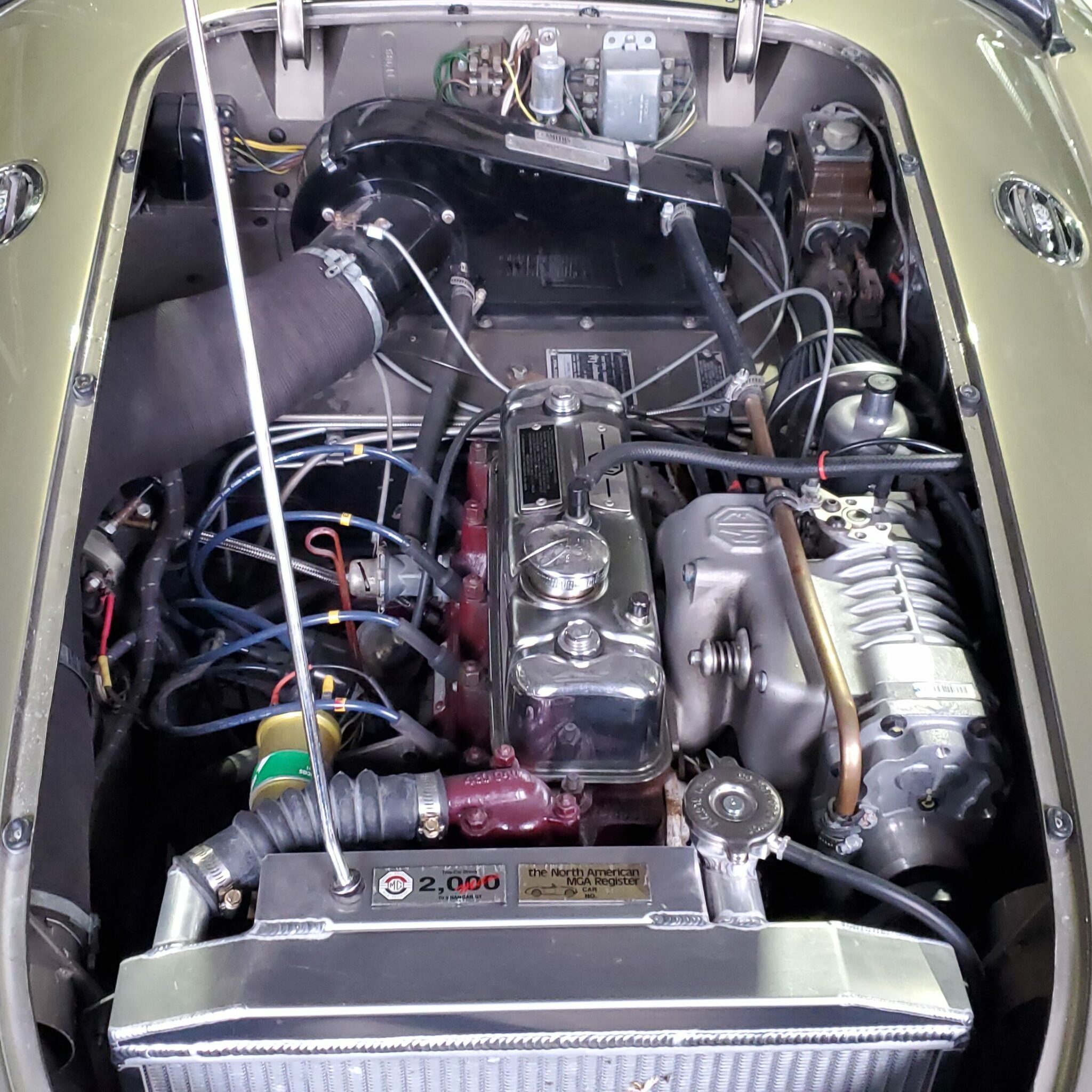 The rebuilt 1800 MGB five main bearing engine is excellent, and it benefits from an Eaton modern supercharger and new HS6 SU carburetor. Power is excellent, even with boost is low to keep engine longevity in mind (boost is only about three pounds, and a boost gauge on the dash allows you to watch the supercharger at work). The boost gauge is tastefully mounted on the removable speaker grill so that the original dashboard did not need to be modified.
The exhaust is an upgraded stainless Flowmaster system, quiet but with a deep roar. The five speed Ford gear box is a delight in every way. The ratios feel right, all gears are fully synchronized, and the overdrive fifth gear is dreamy.
There are quite a few other wonderful touches as evidence of the commitment of the builder to build the ultimate MGA. For example, he fit a custom cockpit wind block screen for the back edge of the cockpit, to reduce wind noise. It's an exceptional custom build, that is artfully integrated with the edge of the cockpit so it looks like it belongs. The head pillows on this wind blocker match the interior perfectly. The steering wheel is custom wrapped in matching leather. The underside of the trunk lid is artfully covered with carpet, to simply make a nicer finished product. The hood/top is matching stay fast deluxe material, as are the amazing side curtains, works of art by themselves. A back up electric fuel pump is fit, with a switch to toggle between pumps behind the seat in case it is needed. Two twelve volt battery are fit (instead of the stock twin 6 volts to make 12) for a more robust electrical system. The list goes on, but unlike a lot of "improved" British cars, this one is simply done right.
The paint is excellent. There is one small blister on the aluminum trunk lid (both boot and bonnet are aluminum). You can see that imperfection in the photo gallery. It's a small impurity under the paint and not a rust blister because the sheet metal is aluminum, not steel.
I wish there were more skilled builders making British sportscars like this one… It would cost a whole lot more to recreate this unique example!
Call or email if you want to make this great car yours!