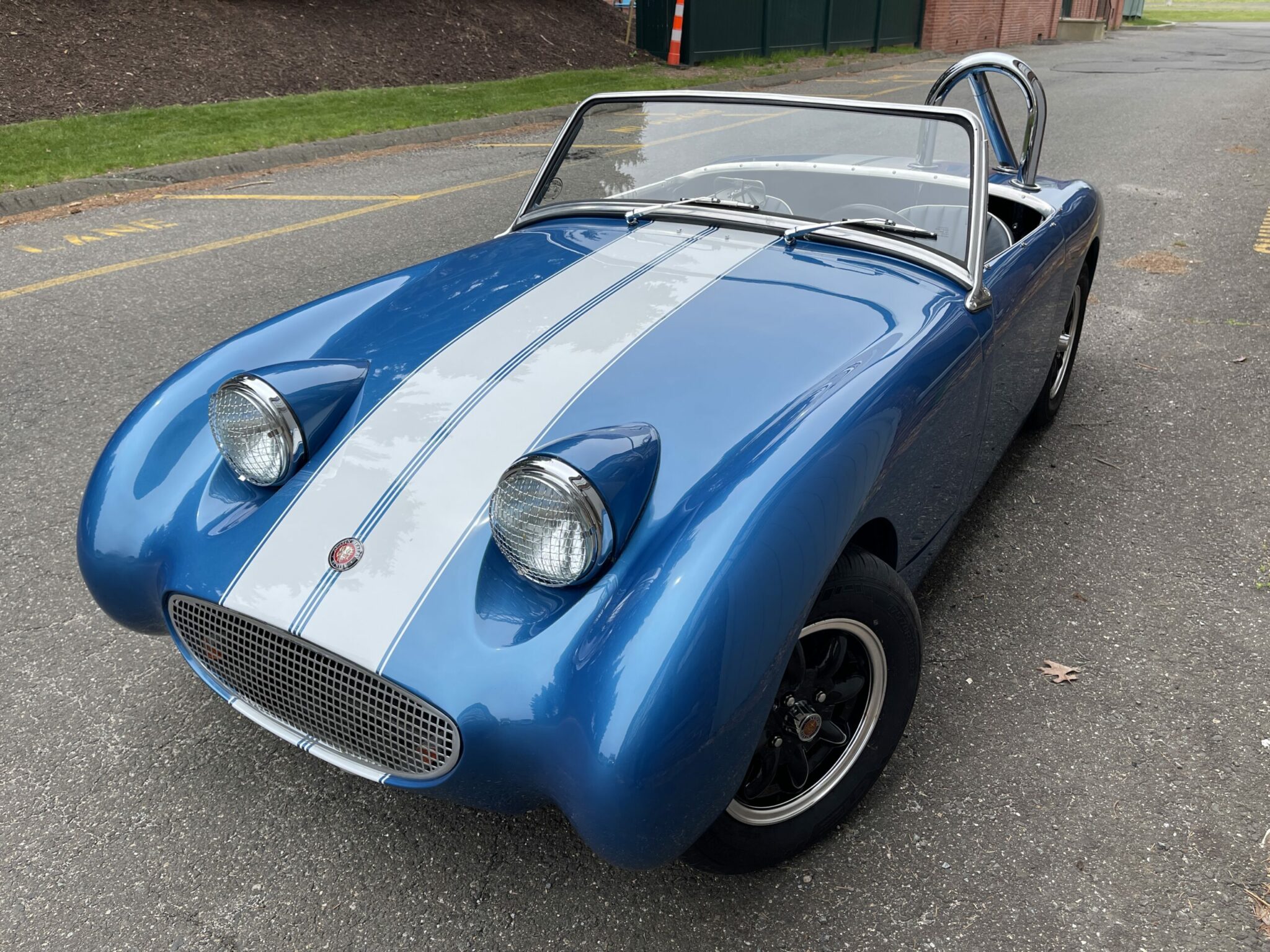 Now SOLD to Rich in Pennsylvania! Bugeye #387 is on its way to the Keystone State, where it will live in the same neighborhood as Bic!
If this car looks familiar it's for a good reason! We've owned "Shelby" (AN5L 33967) three times before, and the car has never been better. With this car, we have come to know three different great clients, all of whom have become friends of Bugeyeguys, and before her latest visit to Oklahoma for the past year, Shelby enjoyed another round of improvements, including a new Ford five-speed transmission and a new wiring harness.
You'll see Shelby below on the cover of the September 2013 issue of Hemmings Sports & Exotics magazine, right after we prepared the car for Scott, our first Shelby owner. Notice the white wheels… we have just mounted new black and stainless rims on the car, for a new look that we all like best.
Since that story was printed, Shelby has been upgraded with leather seats, and a supercharger. We've just trimmed the dash bar in matching blue, added new black wheels and 175 tires for a more aggressive look, and now Shelby is pretty much in what we believe is her final form.
If you've liked our high-end cars like Gumby and Gray, Shelby is an excellent alternative, with tons of premium features. The 1275 engine and Ford five speed transmission are a wonderful combination especially, when boosted with the Eaton supercharger and new single SU carburetor as shown. You'll enjoy the driving tour video you see below, taken shortly before the car departed for its last home in the summer of 2022, as well as a sizzle reel of driving highlights above taken just this week!
Currently, Shelby is fit with front disk brakes, a new fuel tank fitted in 2021, and a strong twin-tipped exhaust with a sweet note (as heard in the driving videos).
There is no other Bugeye quite like it, with a custom license plate mount, fender-top seams removed, turn signal housings removed (they're now integrated into the brake lights and in the grill) and custom chrome roll bar. Shelby is custom car show ready, and a creative interpretation of the original car. She's cleaner and smoother in every way.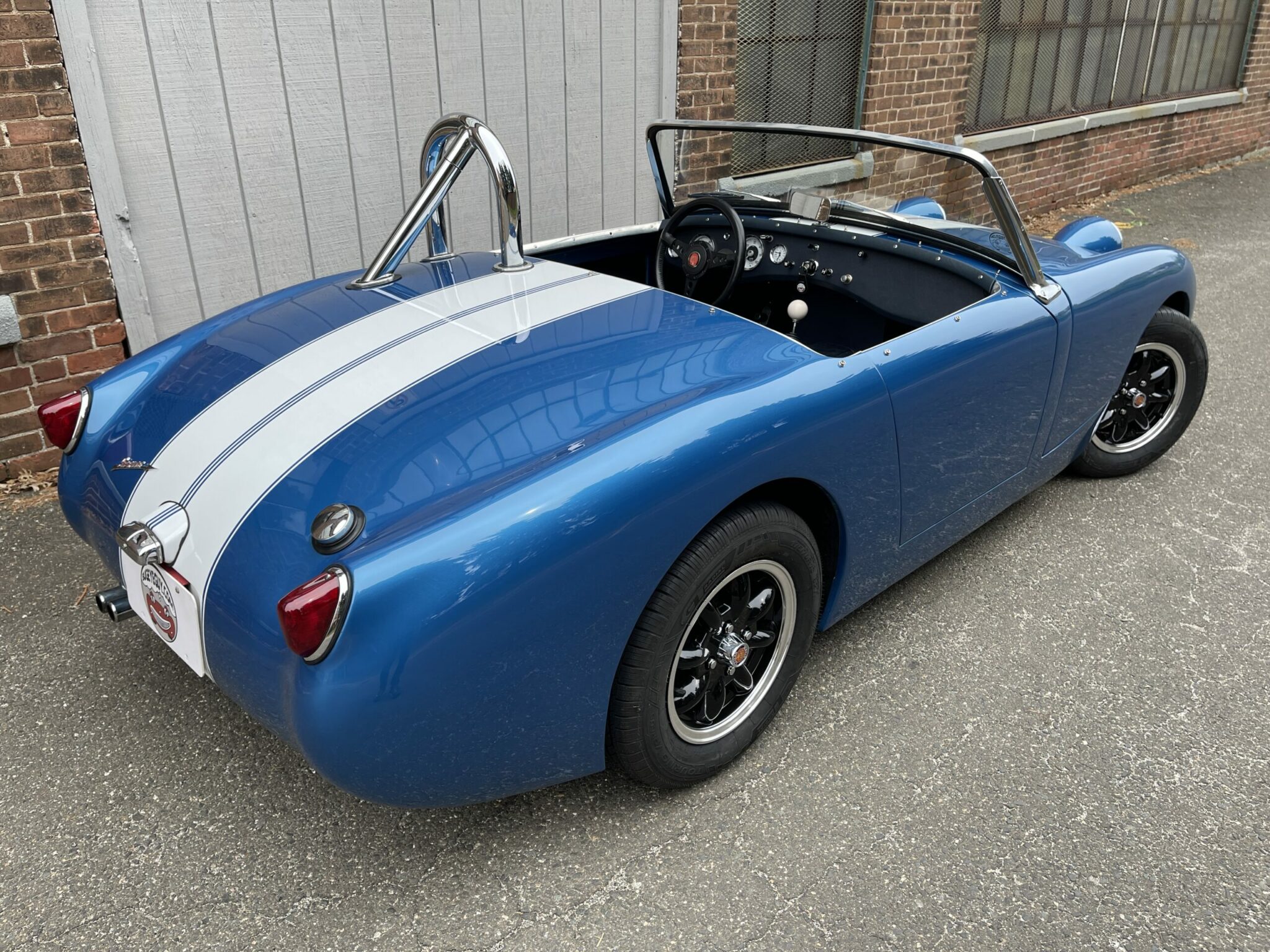 There is a strong market for custom Bugeyes (and stock ones, too). Mild and wild Bugeyes co-exist nicely, and the buyer for this car is someone who wants a performance Bugeye that is extreme eye-candy, with a hot-rodder vibe.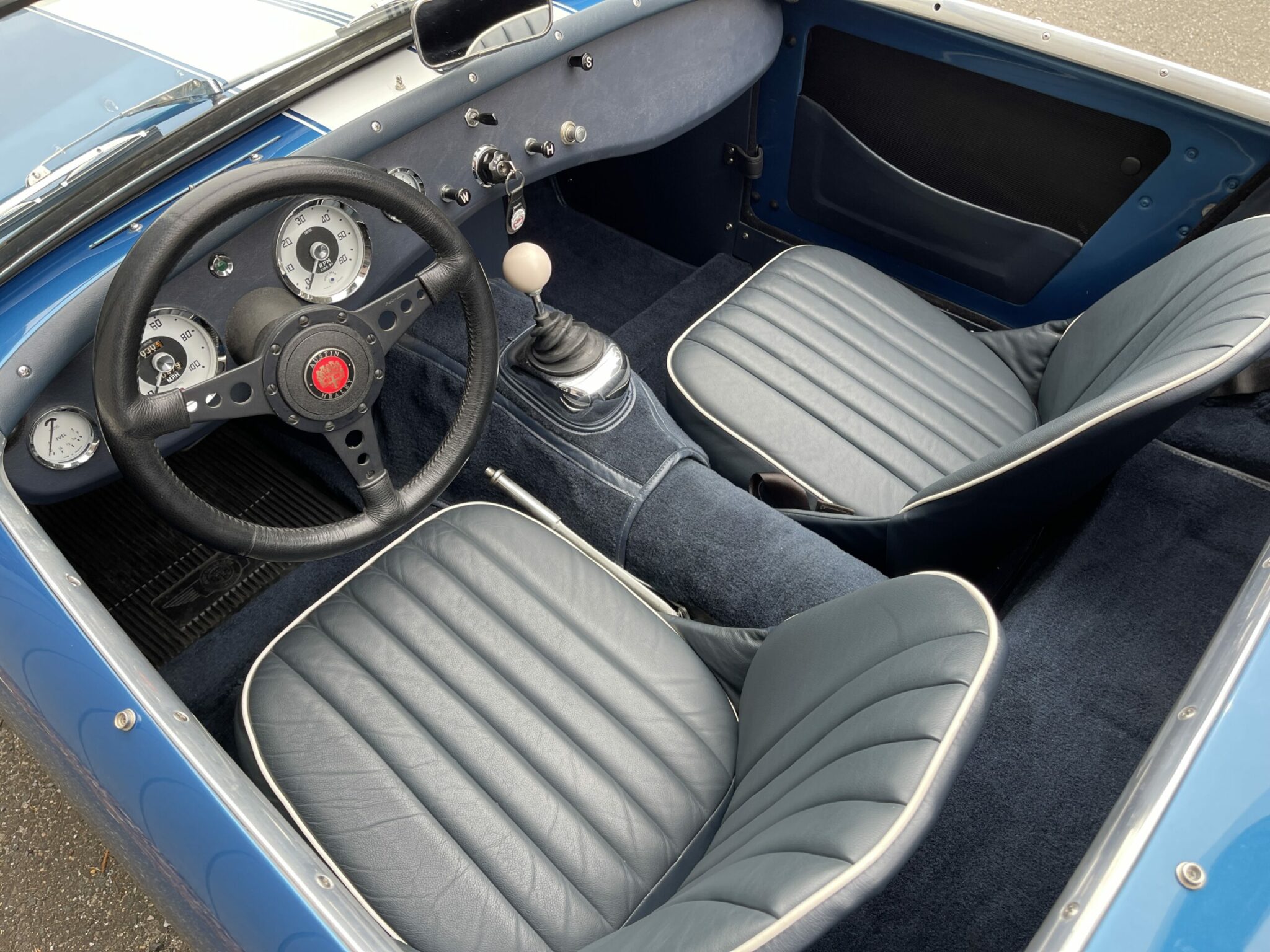 The car was completely restored and painted in Florida in about 2010. We then completed the car for our client Scott in April of 2013. It was an impressive build with new tires, new wheels, an entire new interior with new navy carpet, side panels, door pockets, custom blue leather (not vinyl) seats with white piping, new leather dashboard and my favorite, original Smiths gauges re-screen printed with white bezels to match the car. Scott could have gone with white VDO or other brand gauges, but he chose to keep things British to better complement the car.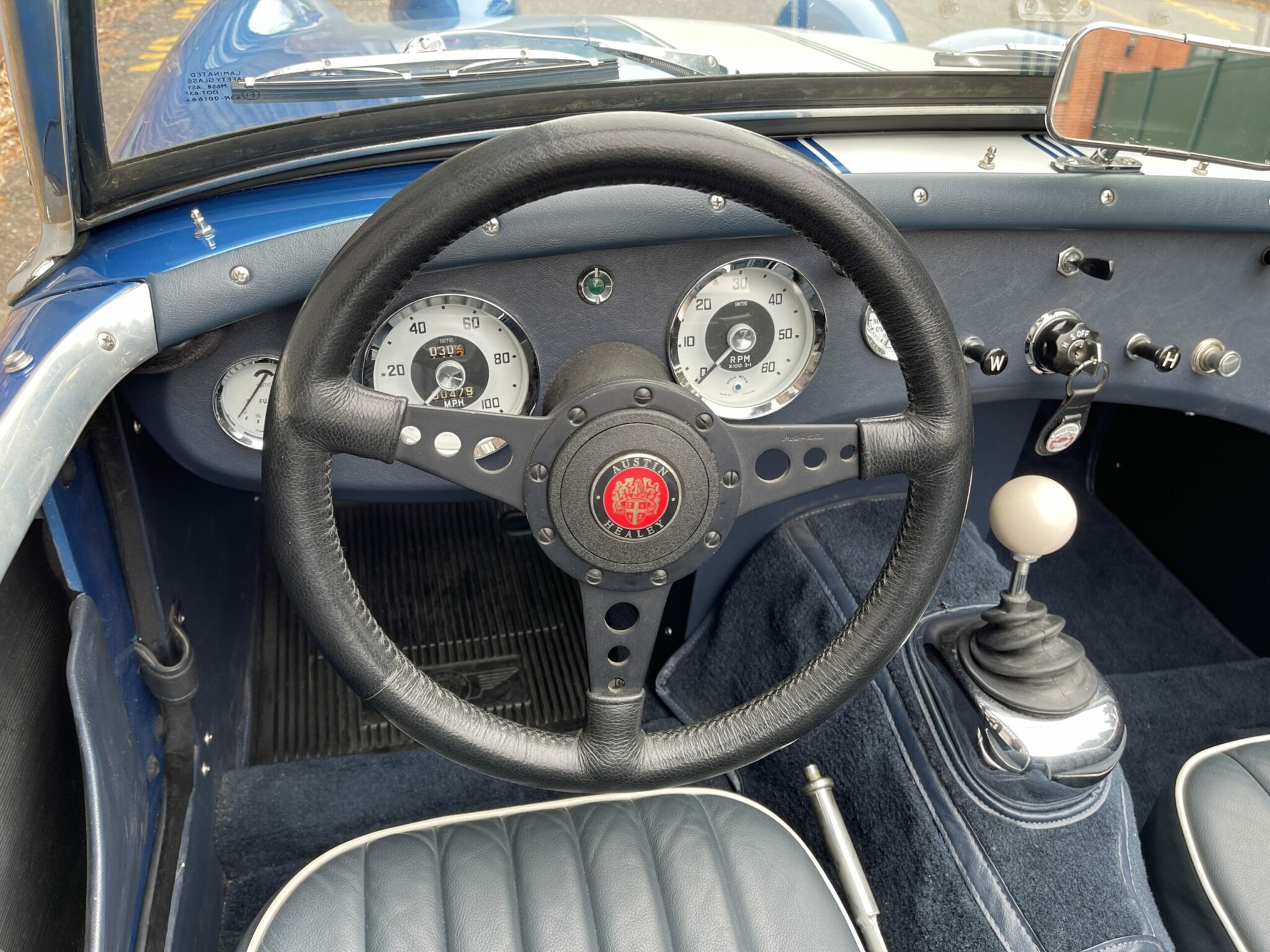 We fully serviced the car at that time, and Scott put 364 miles on this beauty (he has a large collection, so none get driven too much). In November of 2015, we sold this car to Bill who stored the car in the Hamptons, and he too only put a few hundred miles on the car. We got the car back for a third time in 2021, and it was sold to another client, Vernon, in the summer of 2022. He opted to install the Ford five-speed for his needs, which we think was the final missing piece, along with the black wheels, to set this car apart!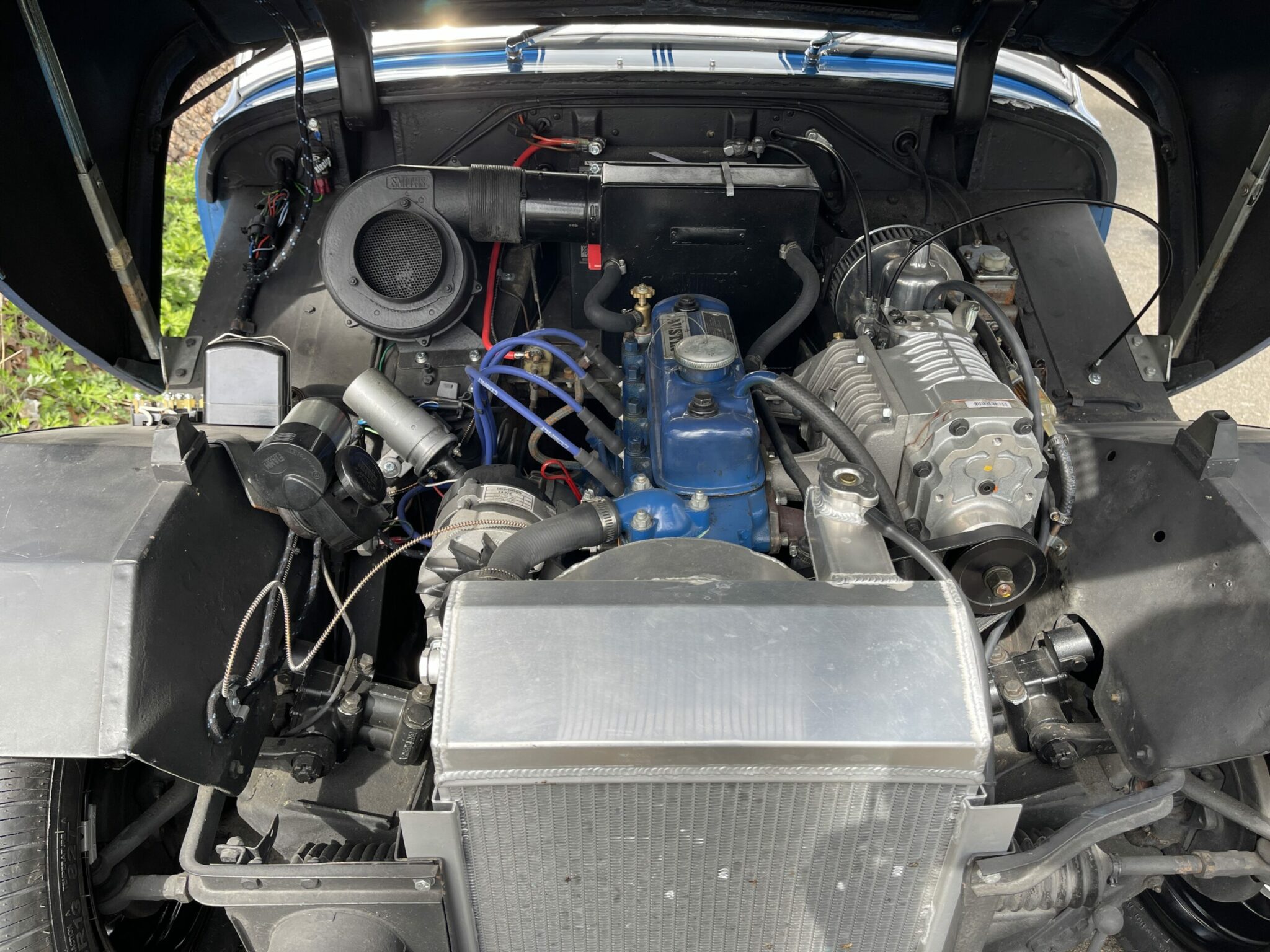 If you like show-stopping custom classic cars, this is a great and rare find! Call or email if you're interested in taking Shelby home!