We are pleased to offer this 1966 MGB GT for sale this week.
I have a profound love affair with these cars; while I don't talk about it much, I have for many years owned a 1967 British Racing Green BGT a car that feeds this particular love affair whenever I need a fix. I'm really tempted to keep this car too, but I can't justify two so we hope to find this one a good home.
Let me explain why I think this could be the perfect classic British car.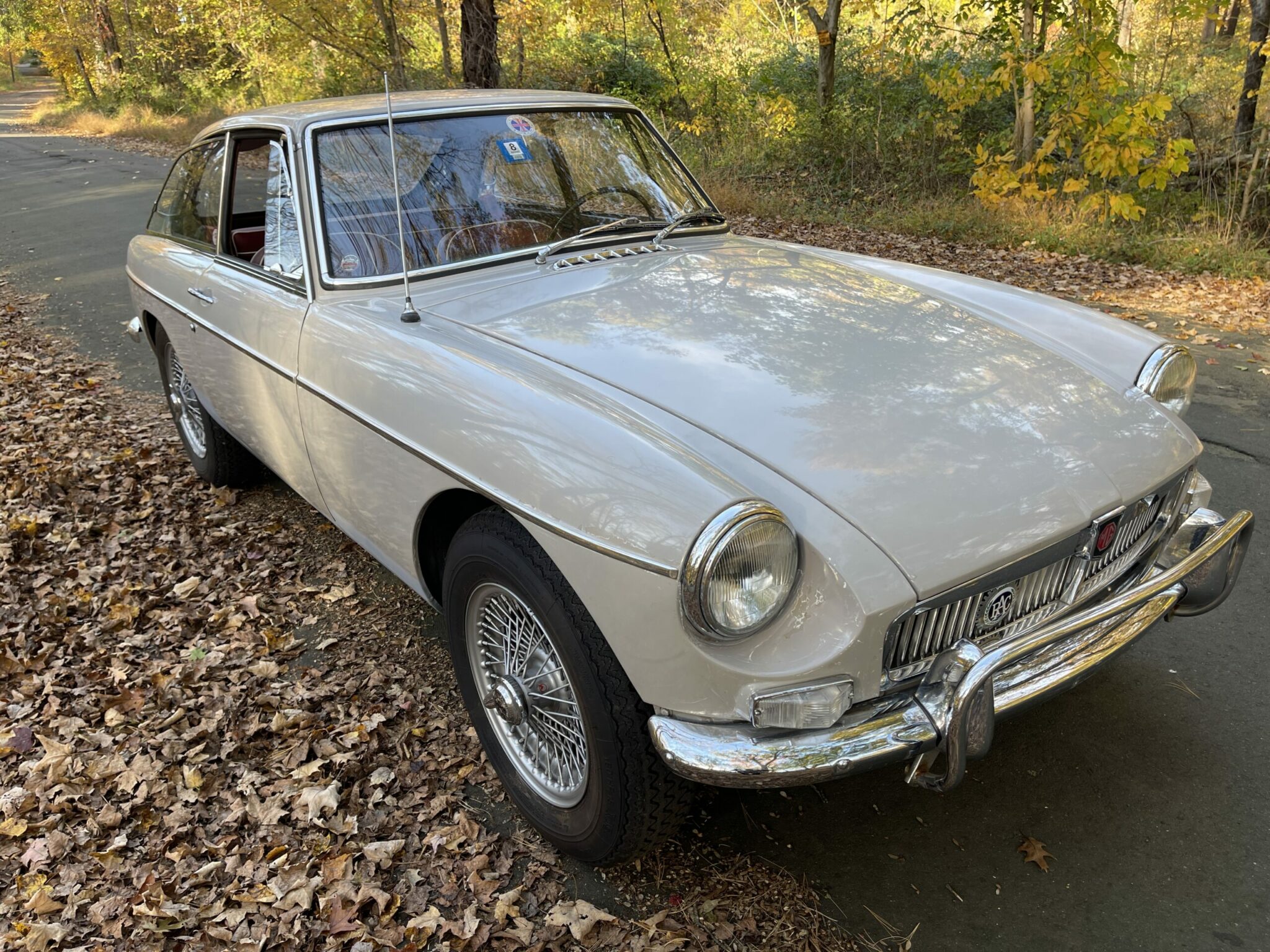 The pre-67 MGBs are really the nicest of the series (made from 1963-1980). The metal dashboards are heavenly, pre-padding and protection, they were raw steel armed only with a factory crinkle finish. The hatchback is quite practical-fill it with a weeks worth of groceries at Costco.
You can really use this car in a very different way than all the vintage British convertibles that we know and love. It's more rigid, it's quieter, it holds more stuff. It has more headroom. It's easier to get in and out. And it's really pleasant to drive with respectable handling and acceleration too.
The shape is pure artistry… I've heard these cars called baby Aston Martins, and while that name doesn't speak to me, what is apparent is that the car is in the league of a high-dollar Aston. This is a striking artful object that punches above its weight. It looks right.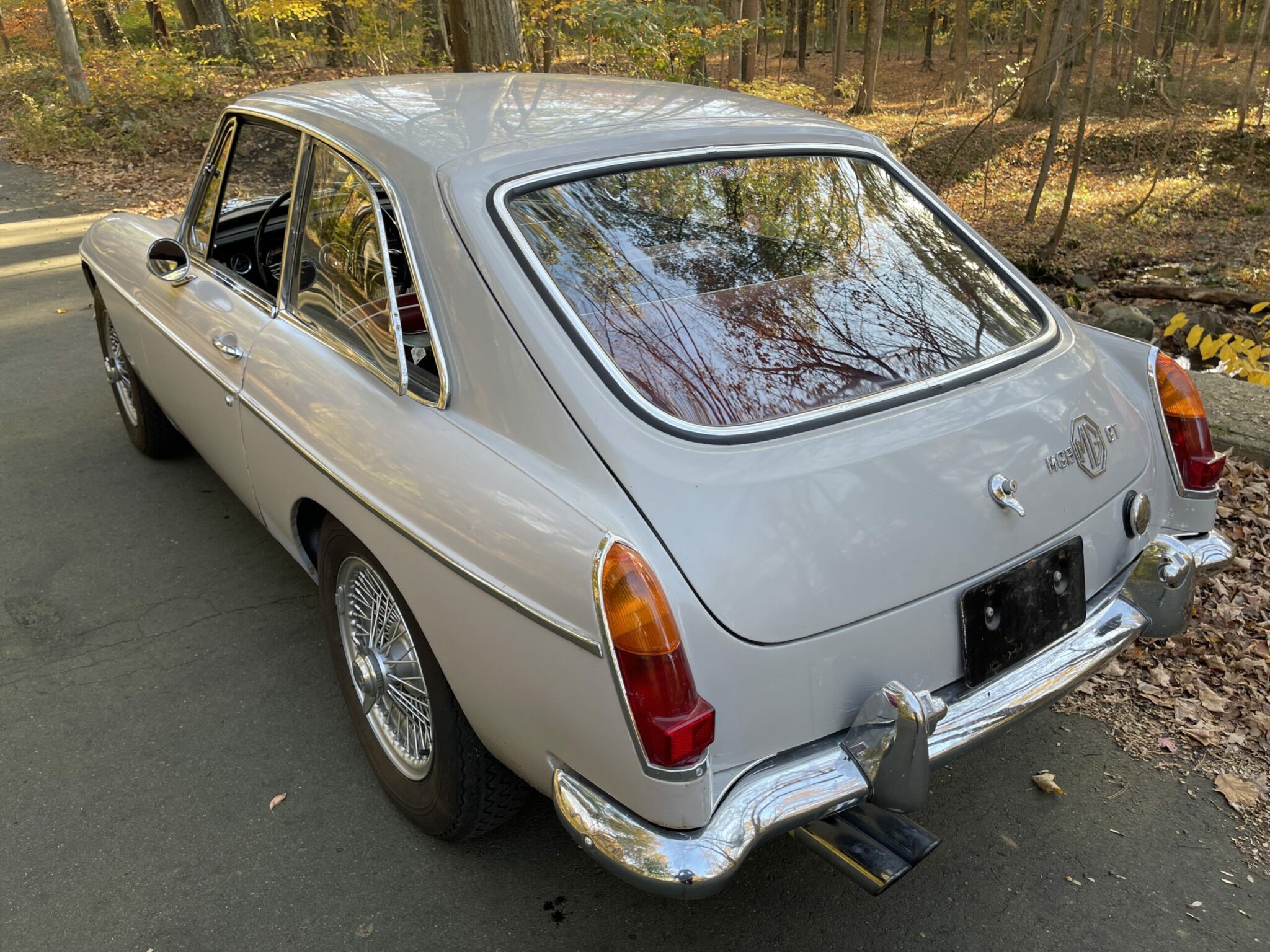 This is, in my opinion, the sweet spot of the 1800 MGB engine line-up, devoid of all emission controls, so you get really good power and performance. It has perhaps 90 horsepower and it shows- the engine is far more powerful than later detuned MGB models, this one is spirited and fun to drive.
Unfortunately, this one is not an overdrive car. There is an overdrive switch on the dash that's a placeholder, but it's not connected and there's no overdrive transmission installed. That said, we can get a rebuilt original overdrive transmission and put it in, which would really enhance this car. (We're happy to make that happen for the new owner!)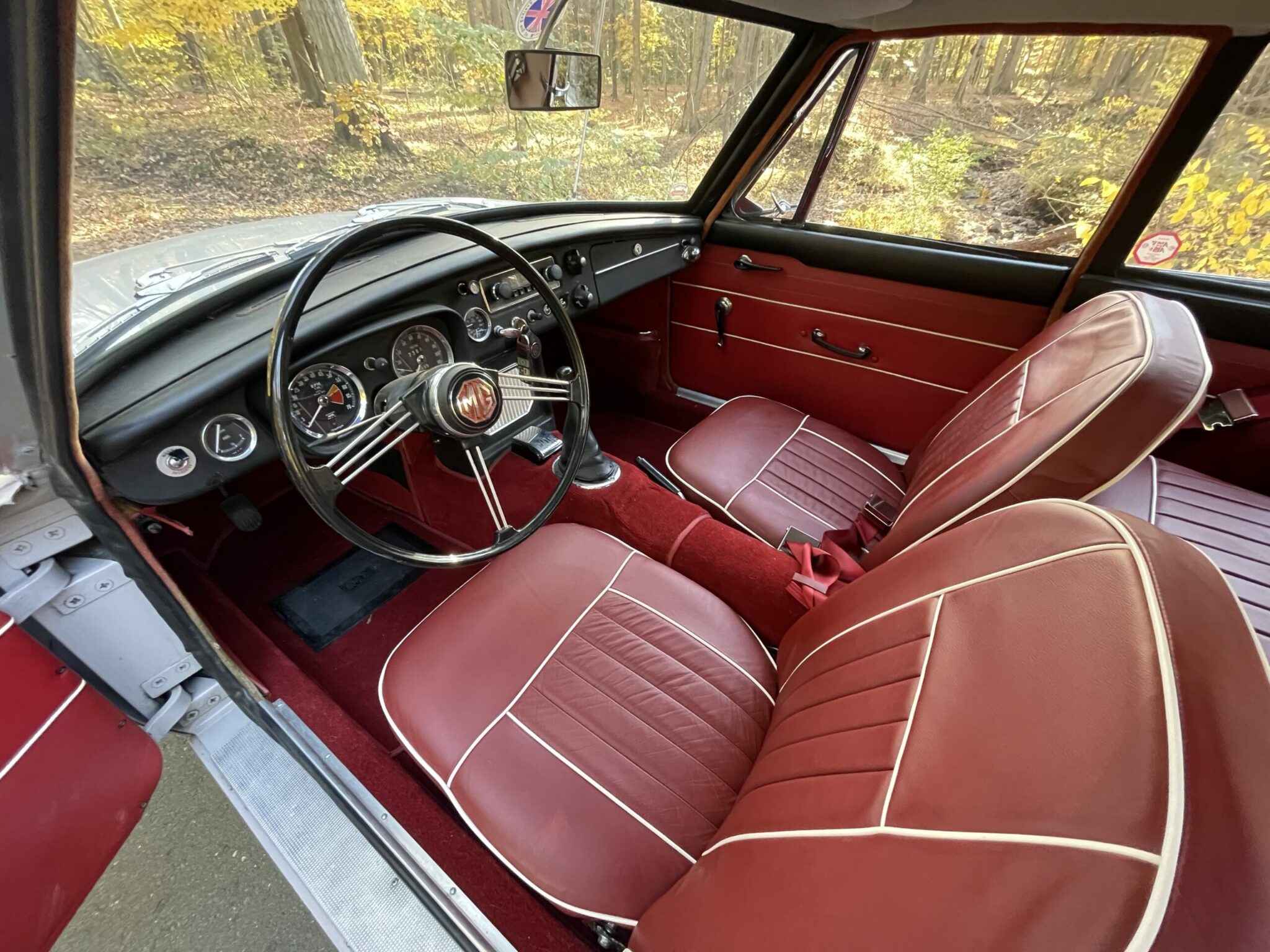 The rocker panels and fender bottoms between the doors were rusty at some point on this car and the rust has since been cut-out and replaced with new sheet metal. The repair is complete, but the bodywork was not finished, so if it matters to you, you would need to have a bodyshop fill and sand the rockers and fender bottoms and paint this area. Or maybe some people would want to strip and repaint the whole car.
That said, I think this car is just perfect as is. It's weathered with patina, and the primed rockers look fine given the overall finish of the car. The paint throughout the car is still good… there are some nicks and scratches but it looks like a nice classic car. Leave as is, spot paint rockers or complete repaint… this is ultimately up to the new owner.
We just last year put in an all new leather interior and carpet set, so the interior is strikingly nice. We installed three-point retractable seat belts when we re-did the interior, which required custom brackets to be fabricated to facilitate them, and entire interior is now beautiful. We also went through and replaced any perishable mechanical items, such as new rubber hoses and oil cooler lines, as well as new rear wire wheel splines and brakes, so the entire car has been refreshed. This one is easy to drive, and beautiful!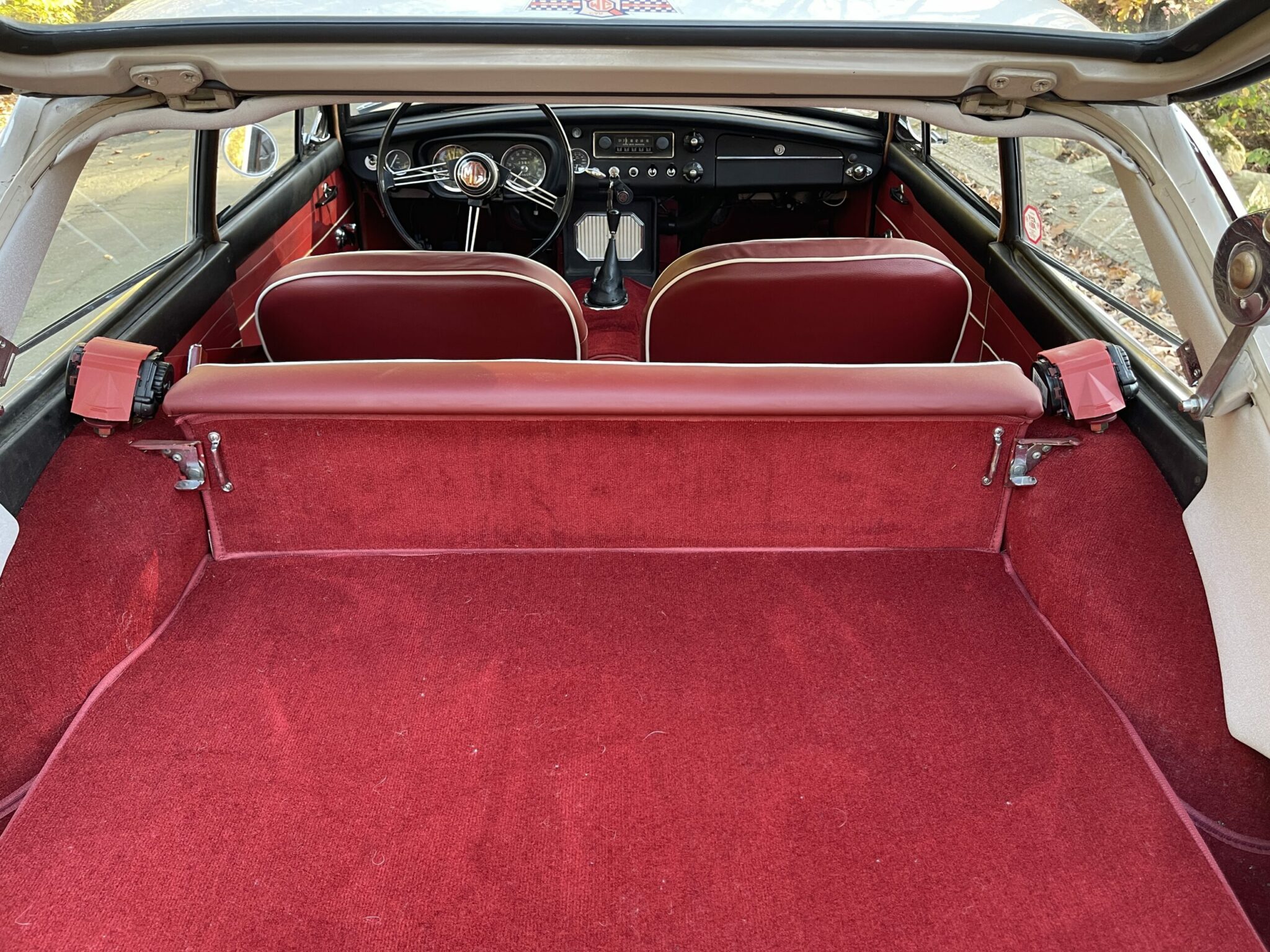 As part of the recent refresh, we put on brand new 15 inch painted wire wheels and Michelin upgraded XAS tires, which are quite striking and beautiful, and reminiscent of a time when tires really meant something on these cars. The original GT's came with 14 inch wheels, but the six-cylinder MGC GT came with 15 inch wire wheels, so there's reference for this. The reason they went with the larger wheel is that more sidewall makes for a nicer ride, and these taller 15 inch wheels just add a little bit of extra comfort and pleasure to an afternoon drive in this beautiful machine.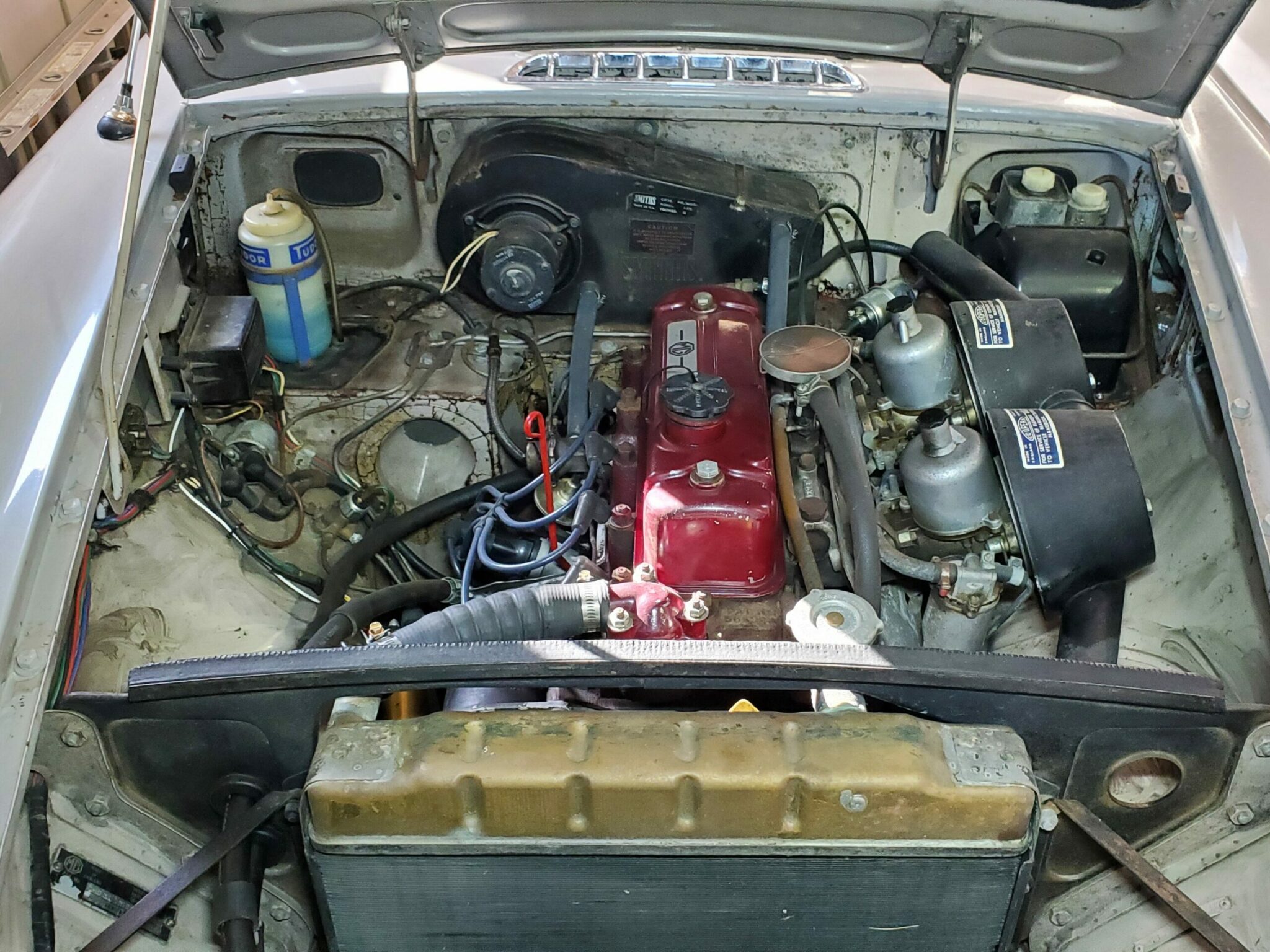 Whomever ends up with this car is a lucky and smart enthusiast. If I had to just choose one British classic car (other than a Bugeye, of course), I would choose a BGT. This one is nice enough to drive and celebrate but not so nice that you need to worry, and there is something very liberating about a car in such condition.
Thanks for allowing me a moment to indulge my passion. Give a call if you are interested in adopting this car!
Check out the driving and underside videos above, click "read more" below for more pictures, and give us a call if you'd like to make this awesome MGB your next British car!