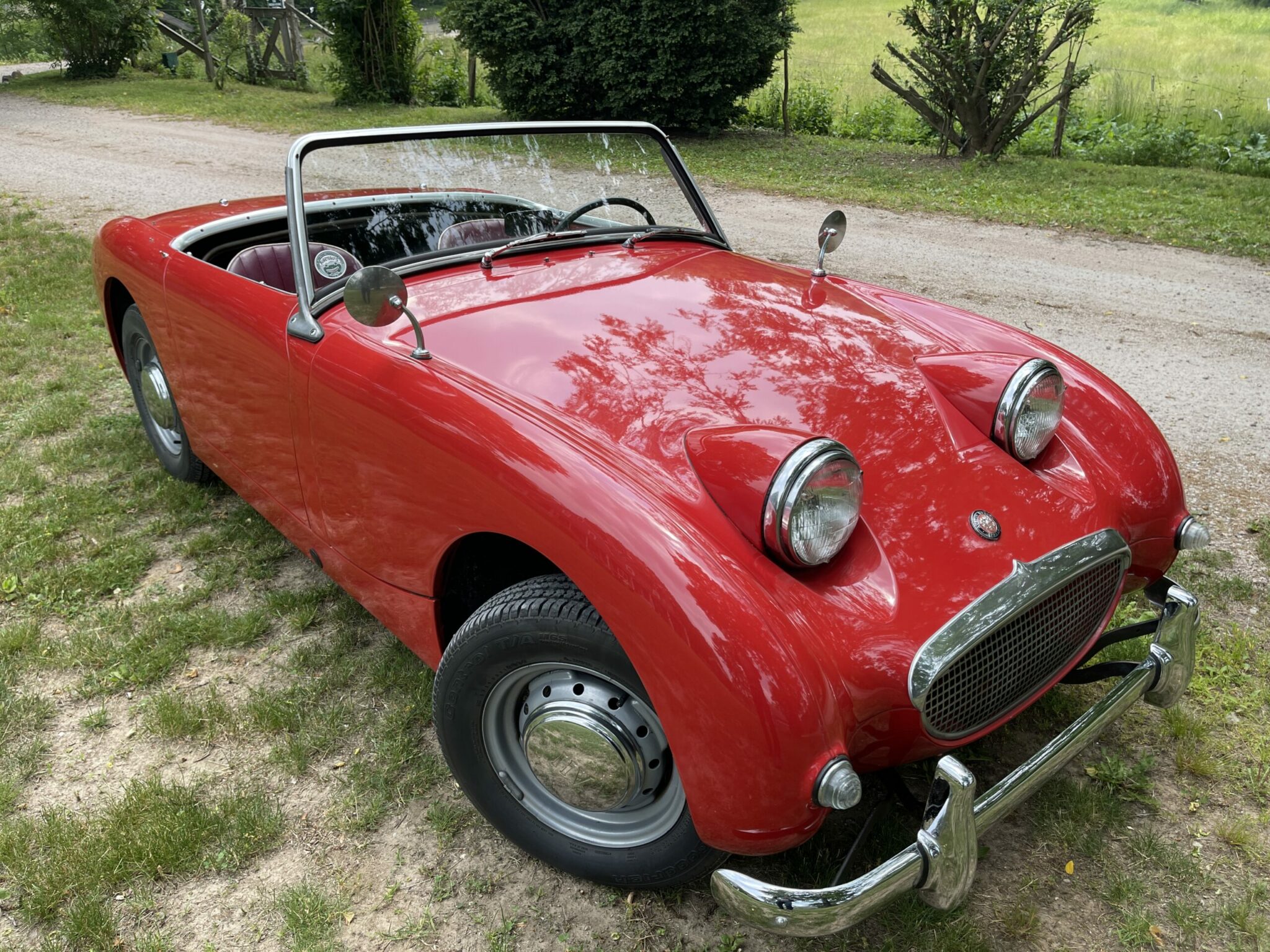 Tate is a solid early 1959 Bugeye with an all-stock configuration of a 948 engine, smooth case transmission, and drum brakes. This Bugeye is incredibly fun to drive! It sports brand new front shocks, a new master cylinder, and a new electric fuel pump, among many other improvements! You won't find a better driving stock Sprite for the money! Check out the driving video and give us a call to make Tate your next Bugeye!
I've owned about 500 bugeyes in the last 15 years, so I am quite clear about my criteria for what's necessary to have a nice driving car. This car, "Tate," is just such a nice driving car.
AN5L 7879 is a solid car built in 1959 that appears to be a relatively low-mileage car (the odometer shows approximately 83,000 miles but actual mileage is unknown) with the stock configuration of 948 engine, four-speed transmission, and drum brakes all around.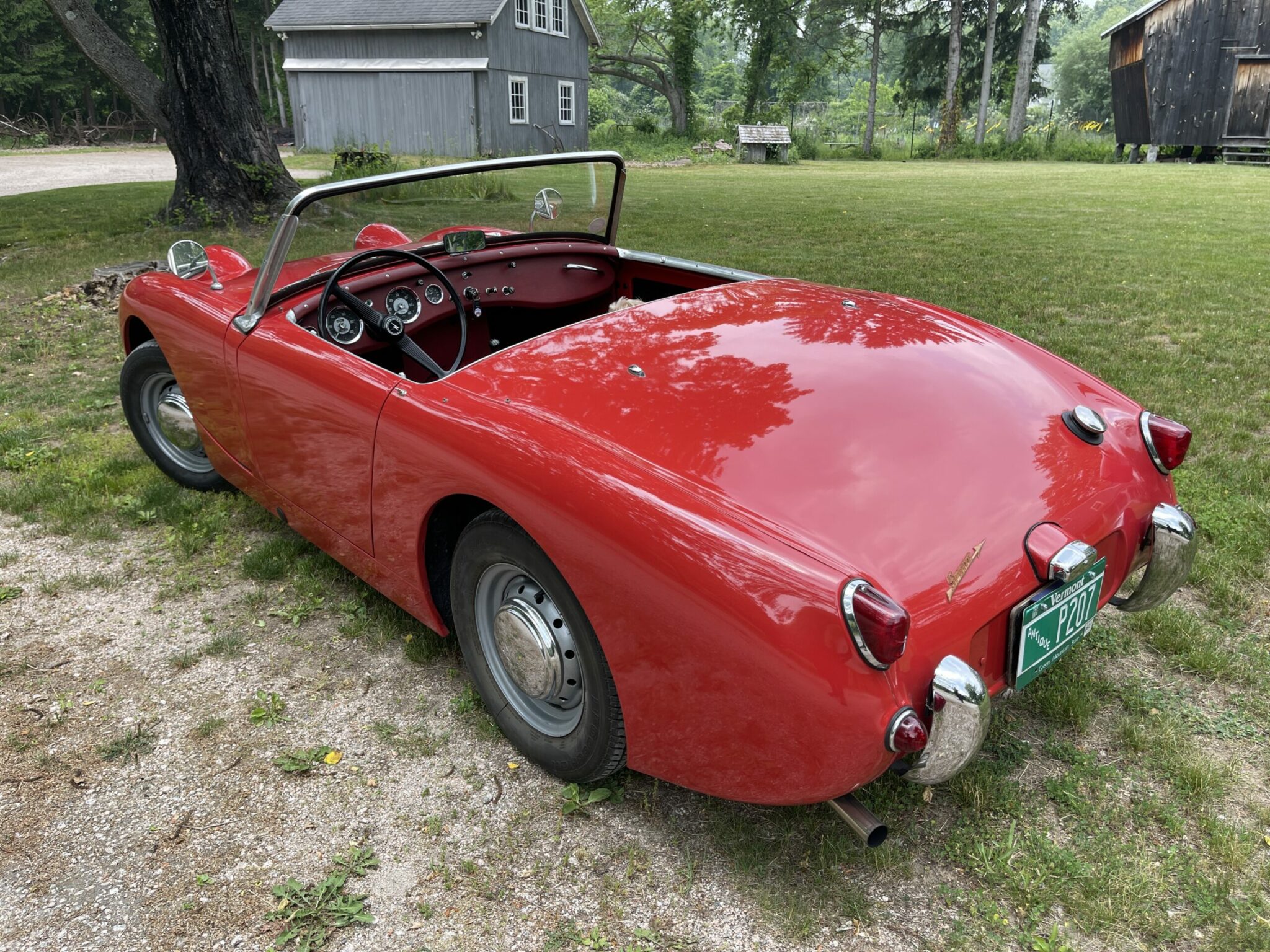 Most sellers claim their cars to be sorted and delightful to drive but I am more and more skeptical, being a buyer myself (I had to buy 385 Bugeyes in order to sell them all!). This one checks all the boxes. Tate is a nice driving, mostly stock Bugeye, and I wanted to try to convey that to you by taking a ride with my dog Bodhi, which you can check out below in my newest driving video!
What I like about this car is that it was a solid survivor that had been stored in a collection in Florida for a long time with sporadic use, enough to keep it fresh, but certainly no abuse. It was owned by an older collector and it was part of a collection of cars that mainly sat idle. We refreshed the car with a new master cylinder and new carpet kit and matching red door seals. We took out the engine and changed the throw-out bearing, and put in a new clutch, a whole new fuel line with an upgraded electric fuel pump, and new front shocks. So as of this moment, the car is ready to go and a delight to drive.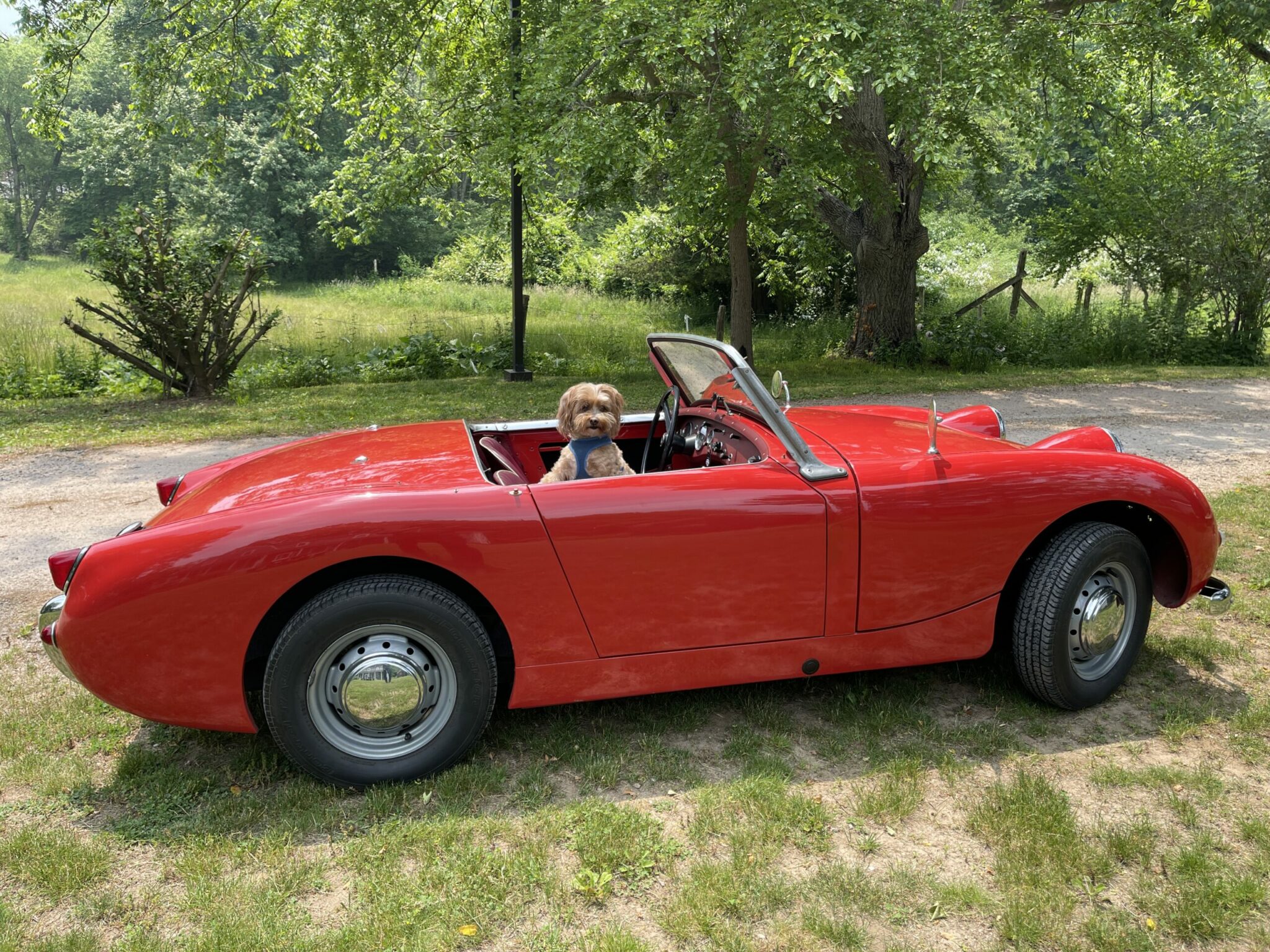 If you are looking at other Sprites online (or other old British cars for that matter), many of the sellers may claim that their cars are nice to drive, but I am more and more skeptical, and as a buyer myself, the quality of the cars that show up here has continued to decline. It makes our work harder and punch lists longer than ever, but once we get the cars sorted out, while there is always more to do, a car from us is going to behave very differently than one that you find elsewhere online.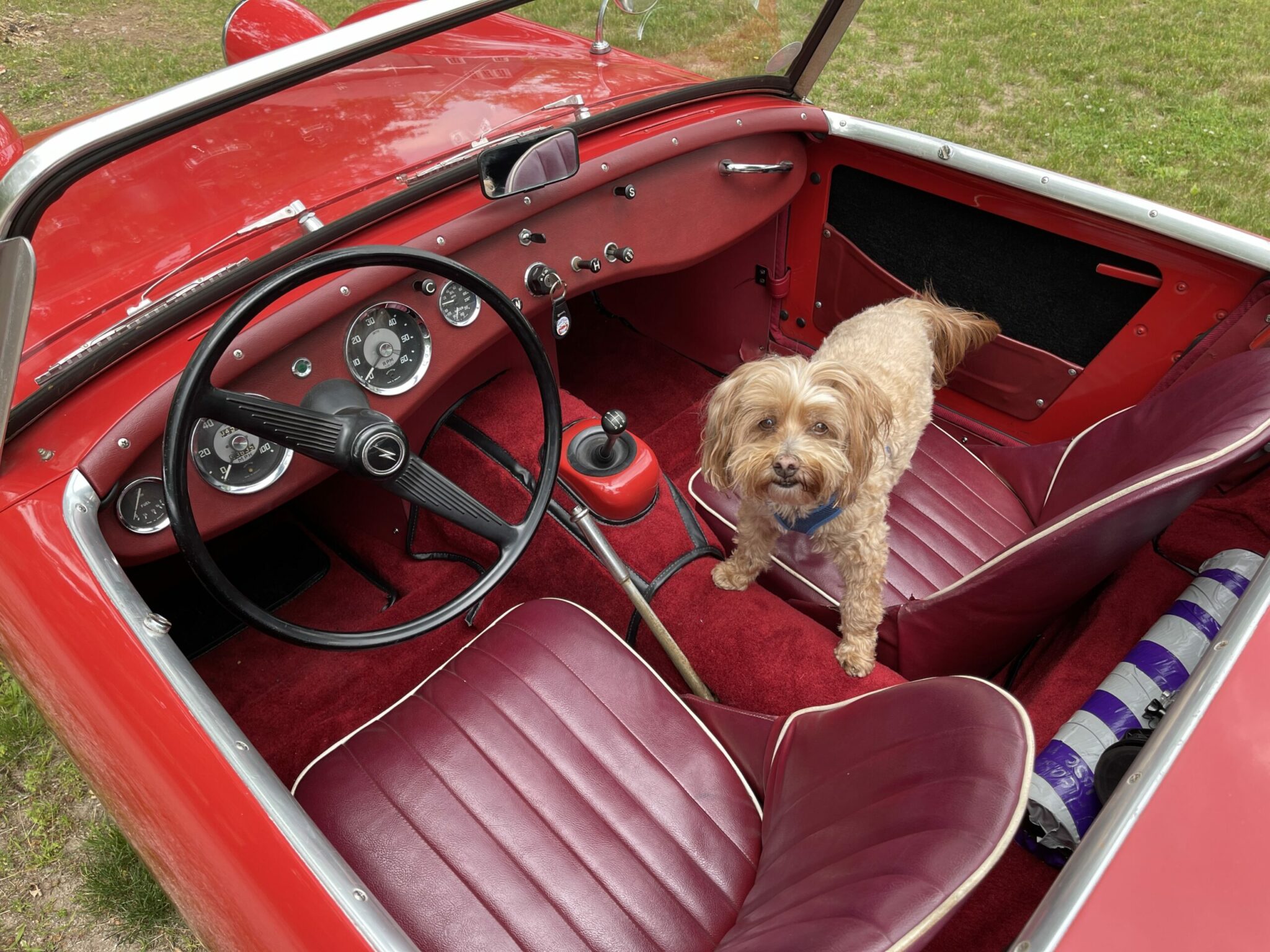 So I want to encourage you, if you're shopping for an old English car, to consider that you're really buying the seller not just the car. If you like our work and what we stand for, then you'll really like this car. It's a delightful, mostly original Bugeye that you can use and enjoy… and bomb around the neighborhood with confidence.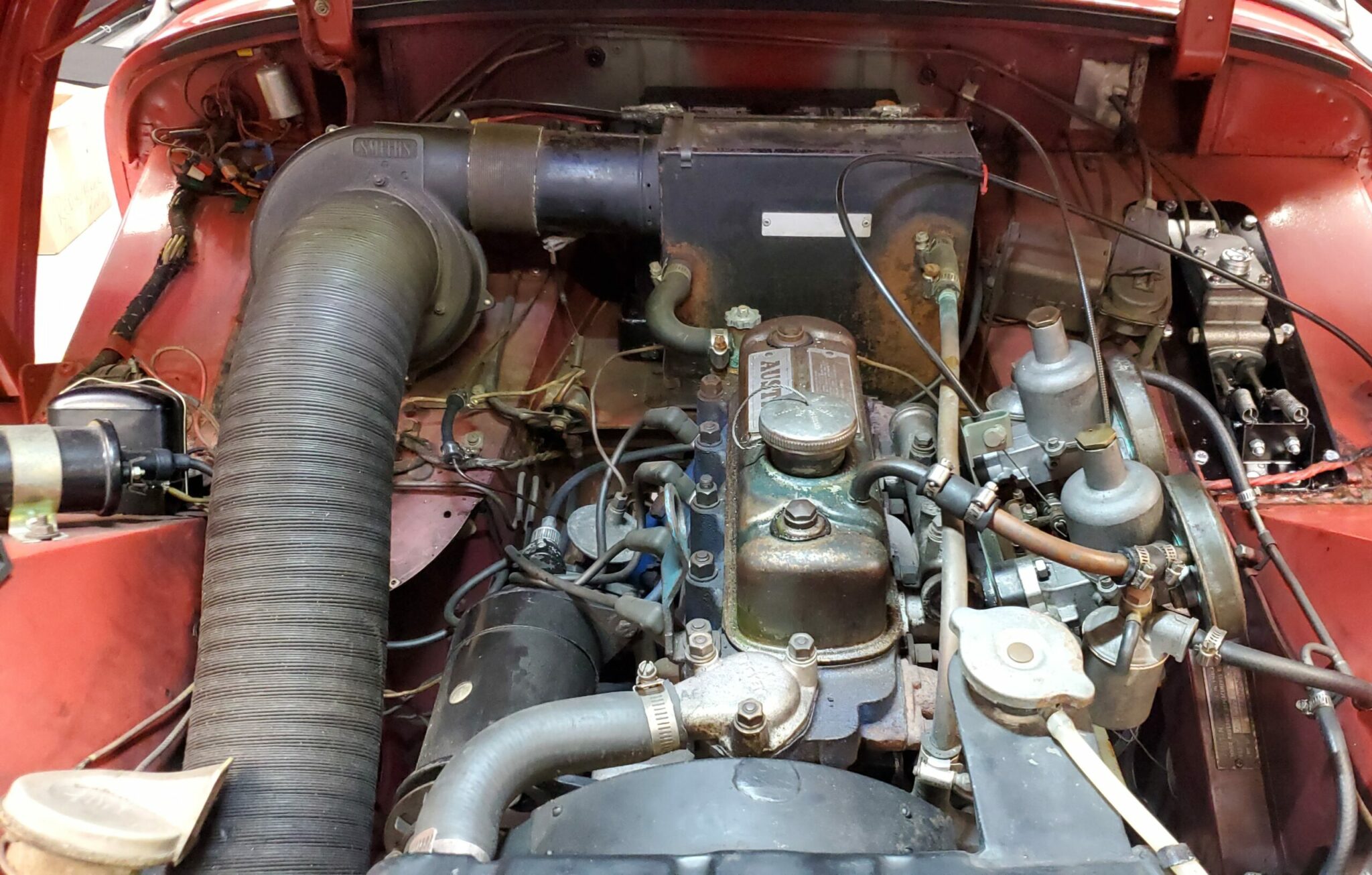 The paint is older and shows a little bit of wear, but still shines and presents very nicely. The top has some yellowing in the back window but fits very well, and the tonneau fits well, also. The floors are quite solid, so if you're looking for a good driver Bugeye that will put a smile on everyone's face, take a serious look!
This week, we also installed new door seals. The ones on the car were too thick, and the doors were a tad proud. The new correct seals look right, match the originals, and all the doors to close flush with the rest of the car. This is another nice enhancement.
Give us a call and let us build out Tate with specifications designed just for you!